Philadelphia Eagles go soaring into their bye week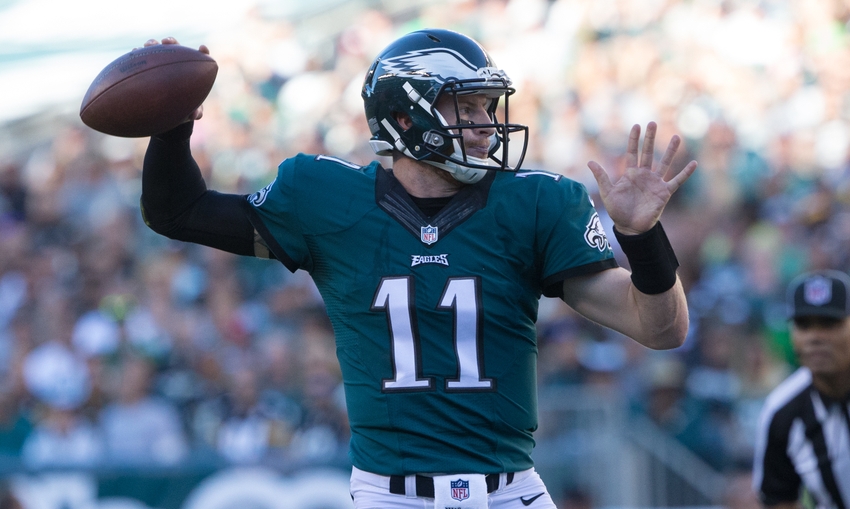 The Philadelphia Eagles are flying high into their week four bye.
The Philadelphia Eagles turned all of Pennsylvania into Wentzylvania on Sunday afternoon. Rookie quarterback Carson Wentz has dominated NFL talk shows the past three weeks and that will only continue after his impressive Week 3 performance against a solid Pittsburgh Steelers defense.
The Eagles dominated the Steelers in all three phases of the game on Sunday. Wentz was sharp, but the most impressive part of the win was definitely the defense. Safety Malcolm Jenkins led the charge as the Eagles only relinquished three points to a dangerous Steelers offense. Bennie Logan blocked a field goal attempt and sacked QB Ben Roethlisberger as well. Linebacker Jordan Hicks flew around and tallied two passes defensed, as well as a QB hit. Corner Nolan Carroll also managed to have four passes defensed. As a unit, the Eagles held the Steelers to just 2.9 yards per carry.
The offense was equally impressive on Sunday. The offensive line did a tremendous job in pass protection for the Eagles. The Steelers were held to zero sacks and just three QB hits. The running lanes weren't always there for the Eagles, but overall the run blocking was improved. The receivers came to play and made a few impressive plays. Darren Sproles provided his usual spark by scoring a 73-yard receiving TD. Wentz rolled right and floated a perfect pass to Sproles, where the veteran tailback did the rest of the work. Steelers LB Ryan Shazier froze on the play and allowed Sproles to get behind him.
Head Coach Doug Pederson once again deserves a ton of credit for the convincing victory. He continues to have an impressive gameplan against each opponent he has faced. He has his team prepared to play each and every week. It will be interesting to see how the first-year head coach handles the bye week.
The Eagles will travel to face the Detroit Lions in Week 5. It's safe to say that expectations will be a tad higher for the team from Philly. One would think that the Eagles have revenge on their mind after last year's Thanksgiving day embarrassment.
This Eagles team may just be for real after all. A win in Detroit would mean the Eagles would be 4-0 and thinking playoffs. Yes, the bumps in the road are coming. There are numerous challenges ahead, but that does not mean the excitement surrounding this team isn't justified. The Eagles have a plan for the future in place and are still good enough to be competitive right now. That's rare to see in the NFL. The team in midnight green is fun to watch, which is something that Eagles fans haven't been able to say for quite some time.
More from Inside the Iggles
This article originally appeared on