The Eagles are surrounding long-term QB Carson Wentz with short-term help
The Philadelphia Eagles came into the 2017 offseason with one goal: Surround Carson Wentz with talent. With a young quarterback at the helm, the best thing a team can do is provide him with reliable, consistent playmakers on offense.
The Eagles didn't have those type of players last season, and it's a big reason they limped to a 7-9 record. Wentz obviously went through his share of struggles – no one is saying he was great as a rookie – but he didn't get much help from his receivers or the running game.
The Eagles were aware of this development and admitted that they needed to provide their young quarterback with better playmakers.
"It's our job to make sure he understands that we take it very seriously building this team around him," Howie Roseman said back in January. "This isn't a hobby for us. We're going to surround him and do the right thing for that kid so when he looks back on his career he knows he had every chance to bring a championship to the city of Philadelphia."
We're now four months removed from both the end of Wentz's first season and Roseman's acknowledgement, but how have the Eagles done when it comes to addressing their needs? On the surface, it looks like they've given Wentz the necessary players to have long-term success. When you dig deeper, though, the view is much different.
The Eagles are building a roster around their franchise quarterback by signing short-term solutions.
Yes, they signed receivers Torrey Smith and Alshon Jeffery in free agency – two moves that are sure to help Wentz in 2017. They also just signed LeGarrette Blount, who's a much-needed enforcer at running back for a team that has struggled in that department for years.
But let's take a closer look at each of those signings. Smith is 28 years old and is coming off of a stint with the 49ers in which he caught 53 passes for 930 yards and seven touchdowns in two seasons. San Francisco's quarterback situation had plenty to do with that, but Smith has only one 1,000-yard season in his career and is mostly just a deep threat.
His three-year contract indicates that the Eagles are absolutely not committed to him long-term. Heck, if they wanted to cut ties with him this offseason, they could. He received $500,000 guaranteed, meaning they're not tied to him for even this year. Don't be surprised to see him out of Philly by 2018.
The Eagles are slightly more committed to Jeffery. However, how sold on him can they really be when he's only under contract for 2017? He can walk away next offseason as long as the Eagles don't slap him with the franchise tag, opting for a big contract in free agency. That's the sort of player Philadelphia is surrounding a young franchise quarterback with?
The same goes for Blount, who will be more of a role player than a bell cow for the Eagles. He'll primarily handle first and second down, while getting most of the goal-line opportunities. He's on the wrong side of 30 and has had one good season with a team not named the Patriots. He's also on a one-year deal with very little financial commitment from the Eagles.
If things go poorly and all three players perform at a level below their expectations, we could see the Eagles even thinner on offense a year from now. Jeffery can walk, Blount isn't a long-term option and Smith has no guaranteed money beyond 2017. Meanwhile, Jordan Matthews, Ryan Mathews and Darren Sproles will all be free agents next offseason.
In what way have the Eagles surrounded Wentz with long-term stability? By drafting Donnel Pumphrey in the fourth round? They haven't taken a single offensive skill-position player in the first three rounds the past two years. Obviously, some of that has to do with the compensation Philadelphia surrendered to get him, but there isn't a player on the roster who he can develop alongside for years to come.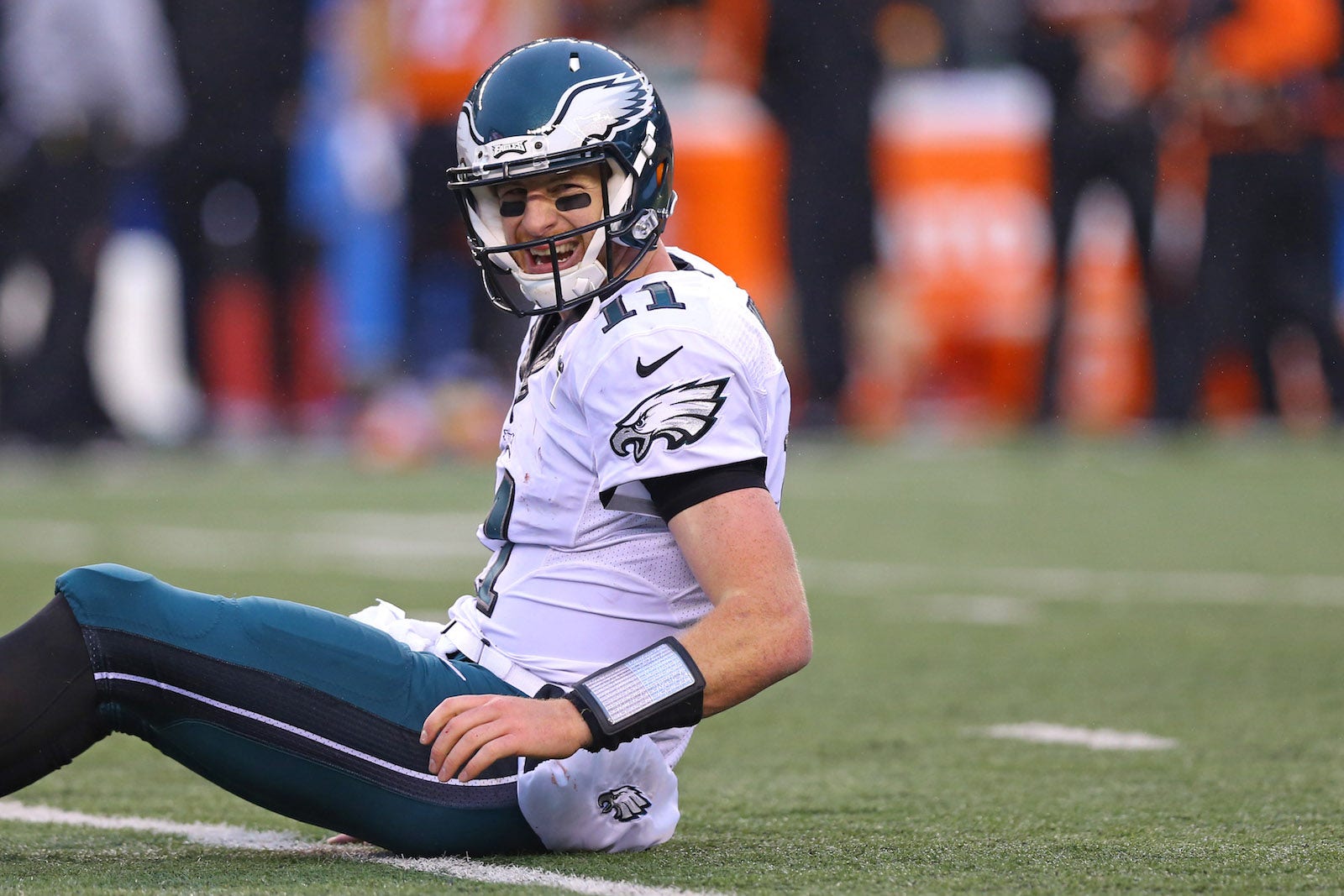 Dak Prescott has Dez Bryant and Ezekiel Elliott. Jared Goff has Todd Gurley and Tavon Austin. Deshaun Watson has DeAndre Hopkins and Lamar Miller. Marcus Mariota has Corey Davis, Derrick Henry and DeMarco Murray.
Granted, some of those players were in place before the quarterback was drafted, but they all have young, high-ceiling playmakers to grow with – to build a rapport with. Wentz doesn't have that, and it's all because the Eagles haven't committed to a single Pro Bowl-caliber skill-position player for the long-term besides tight end Zach Ertz.
Wideout Nelson Agholor is inconsistent and is trending toward being a bust, and Matthews has been plagued by drops. Smith and Jeffery will replace both players on the depth chart this season, but neither is locked up contractually.
So while the Eagles did a decent job adding necessary pieces on offense, they didn't make the necessary moves to ensure their franchise quarterback has a stable cast of playmakers as he develops for the next few years. And ultimately, that's likely to come back and bite Philadelphia down the road.
There's a balance between being financially smart – which the Eagles were – and ensuring stability for the future. Philadelphia failed to find that happy medium, and the turnover each year will hinder Wentz's development.
Next season will be telling in how the Eagles truly view their offensive playmakers and whether any of them will stick around in 2018.