Philadelphia Eagles are still an untested squad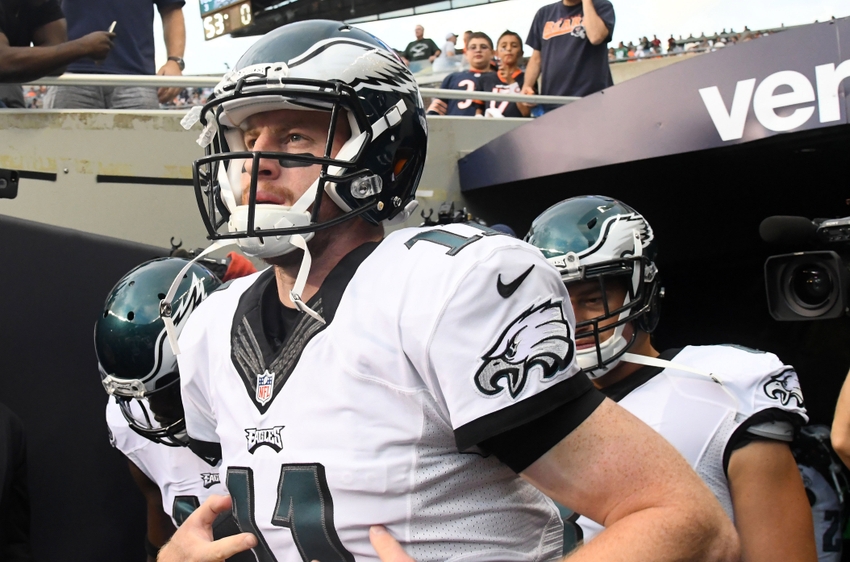 The Philadelphia Eagles will face their first real test against the Steelers Sunday.
Philadelphia Eagles fans might be rejoicing after seeing the team go 2-0 under the helm of their two new assets Doug Pederson and rookie quarterback Carson Wentz, but rejoicing might be premature going into Week 3 in the NFL.
A new era under a new head coach brings change and, for the Eagles, it's been quite a bit of change. Chip Kelly is gone. His man in the pocket was Sam Bradford and he headed for more purple pastures. Other men drafted or picked up during the Kelly period of Eagles football have been traded away. There are only a few left, including Jordan Matthews and Nelson Agholor. Not much else remains, which isn't necessarily a bad thing.
This 2-0 Eagles team is entirely a creation of Pederson's. Strategic decisions were made so the team could get back up to a competitive level. Losing draft picks for quarterback Wentz was a big risk, but he was stellar throughout OTAs and training camp until an injury during the preseason sidelined him.
Originally, Wentz was going to be the third string quarterback until news broke that things would be changing.
Wentz started and there was no doubt that Pederson's gamble paid off. Wentz isn't struggling like most rookies trying to adjust to the NFL. Seasoned veterans are the ones who complete passes, not wet-behind-the ear rookies. However, Wentz is showing that he is ready to be the face of the team and the man to trust in the pocket. He's had three touchdowns and zero interceptions, reasons for the team to be hopeful moving forward. Yet there is an issue: Wentz and Pederson's Eagles haven't been tested.
Upcoming

Schedule

9/25

Pittsburgh Steelers
10/9
at

Detroit Lions
10/16
at

Washington Redskins
10/23

Minnesota Vikings
10/30
at

Dallas Cowboys
Eagles Play First Two Against NFL Benchwarmers
Eagles coaches can't get too excited about the team's start. 2-0 is a good record and the Eagles are only one of three NFC teams who boast that achievement. However, they were against some of the third-string teams in the NFL—the Cleveland Browns and Chicago Bears. The Browns couldn't show up on either offense or defense. Wentz looked like a franchise player, racking up 278 passing yards and two touchdowns. He also finished 22 of 37 for a passer rating of 101.0. Jordan Matthews had a touchdown reception on the opening drive and Nelson Agholor had one in the third quarter.
Playing the Bears was an equally similar situation for the Eagles. Offensively the Bears couldn't compete with QB Jay Cutler getting injured and, defensively, couldn't pressure Wentz enough in the pocket. He took hard hits from the Chicago defense, but didn't let it wrack his confidence. 190 yards and a touchdown were added to his record and the Eagles soared over the Bears with a 29-14 win. The team is a contender with a 2-0 record, but there are changes on the way.
Tougher Tests Face Eagles in Weeks Ahead
Week 3 for the Eagles will be their first real test against a strong AFC team. Pittsburgh Steelers fans will see the interstate rivalry come to a head. Steelers QB Ben Roethlisberger and their offense is going to be a tough test. Secondary players for the Eagles will be pushed by a strong offense and Steelers head coach Mike Tomlin is going to be ready for it. However, Tomlin knows that the Eagles' new QB is the real deal. According to ESPN, Tomlin said "Carson is doing a great job of making reads and getting them in good plays and maybe getting them out of some bad plays."
Talent like that is going to be tested. Pittsburgh's secondary is going to test the reaction time of Wentz and force players like Matthews and Agholor to be on their toes. Eagles defense will not have been tested with a seasoned offense like the Steelers. It will be the first real test for Pederson and his new team. They will need to prove that they have a man in the pocket who can maintain his poise and precision on pressure. It won't be a fluke game in their schedule. Minnesota, Dallas and New York all come to them in the middle of October, when it's essential to maintain a winning record and lead the division. Moving forward will not be easy for the Eagles but if they can trudge through their first real test, the NFC East could be theirs for the taking.
More from Inside the Iggles
This article originally appeared on