Philadelphia Eagles: 5 Reasons to Bring Back Terrell Owens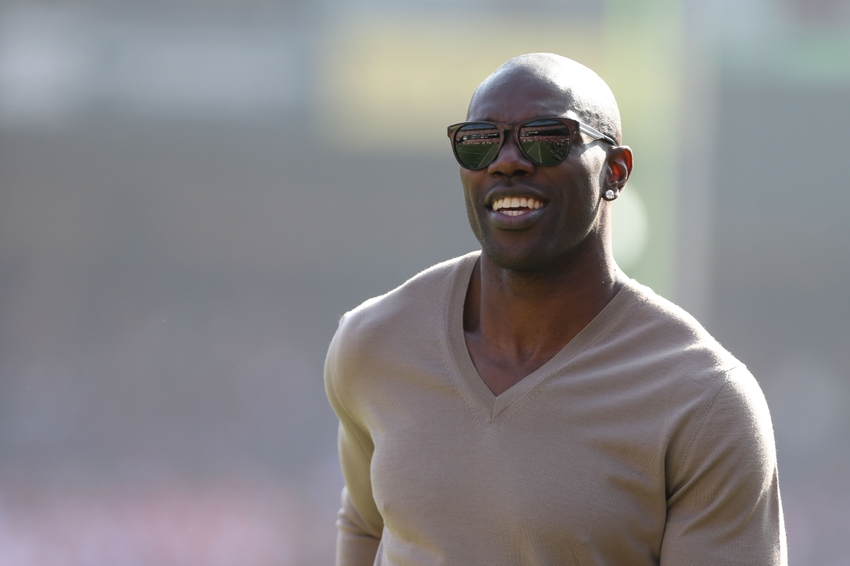 Here are five reasons why wide receiver Terrell Owens joining the Philadelphia Eagles makes sense.
If there were anything to take away from the latest loss by the Philadelphia Eagles to the Dallas Cowboys, it would be this team definitely needs help in the wide receiver department. Believe it or not, Terrell Owens has somehow found his name in the mix of players the Eagles need to consider bringing on board.
Owens found his name in discussion thanks to a simple response on Twitter in which the wideout said he was "available" after a fan asked if he would consider coming out of retirement to join the Eagles. As crazy as it sounds, the addition of Owens wouldn't be the worst thing in the world for Philadelphia when taking a closer look at their current situation at wideout, as Sunday's game against Dallas is the perfect example of just how much help this team truly needs.
So will the Eagles take the response by Owens serious? Even if the chances of this happening seem highly unlikely, Philadelphia has to at least be considering all options at this point to figure out some sort of improvement, including Owens. And considering that they didn't make a move at the trade deadline, that makes the need even more glaring.
Take a look at these five reasons as to why the Eagles should strongly consider bringing Owens back to see why it's not as crazy as most people would think.
Lack of Deep Threats
One of the most frustrating factors from Sunday's game against the Cowboys was the inability by the Eagles to produce any big plays down the field. In fact, it was so bad against Dallas that the only time Philadelphia attempted a pass beyond 20 yards wasn't even by Carson Wentz as it turned out to be Josh Huff.
So what's been stopping the Eagles from taking risks down field? While it's tough to figure out exactly what the reasoning is, maybe Philadelphia's current group of wide receivers just isn't developed enough to be considered deep threats.
When Jordan Matthews, a player that sees most of his success in the slot, is a team's No. 1 wide receiver, it's never a good thing as he's clearly not the answer for the Eagles when it comes to being the top option. During his glory days, Owens was always considered one of the top deep threats. It's not even a debate when it comes to the type of impact he would make compared to the rest of the players on Philadelphia's roster.
If anything, the addition of a player like Owens would make Doug Pederson more comfortable about Wentz taking more shots down the field .
Mentor to Younger Players
Before anyone freaks out over the idea of Owens being a mentor to the younger players of the Eagles, keep in mind how much experience the veteran wideout has.
At 42, Owens has 15 years of NFL experience. While he certainly had his controversial moments, he can't deny the type of impact he made when on the football field. From his amazing 2004 season with the Philadelphia Eagles in which he caught 77 passes for 1,200 yards with 14 touchdowns to the three years spent with the Dallas Cowboys from 2006-08 where he caught 38 touchdowns, it's amazing to see what Owens accomplished on the field throughout his career.
Obviously, the chances of Owens matching these outstanding numbers are slim, but that doesn't mean his presence and advice couldn't help some of Philadelphia's younger players. When considering Matthews, Nelson Agholor, and Dorial Green-Beckham all have less than three years of NFL experience, Owens may be the unexpected veteran leader they need to take their game to the next level.
It sounds crazy, but it may certainly be worth the shot from Philadelphia's perspective when looking at how much the unit has already struggled this season.
Strong Work Ethic
He may not have played in the league since 2010 during his only season with the Cincinnati Bengals, but when Owens was in the league, he was always praised for having one of the best work ethics among active players. With this in mind, it's safe to say Owens would be ready to go right away if given the opportunity to play again.
Otherwise, why would the wide receiver be pushing so hard to land another chance in the NFL?
Just watching Owens warmup each week when he was still playing was always fascinating to watch as the wide receiver would always go all out to make sure he was ready to go for the game. Plus, when looking at the size and strength of Owens each time he suited up, it wasn't difficult to figure out how well of a job he did with keeping his body in good shape.
Even if he's technically been "retired" over the last couple of seasons, that hasn't stopped Owens from staying in good shape when knowing there was always that possibility of a return to the NFL. From Philadelphia's perspective, it's safe to say there wouldn't be any concern from the organization's standpoint over Owens' work ethic when looking back at his history.
Nelson Agholor Brings Nothing to Table
Expectations were high for Agholor when the Eagles used their first-round pick on the former USC star back in the 2015 NFL Draft. Unfortunately, it looks like Agholor is going to end up being one of the biggest busts from that class when looking at how the wideout has performed over his first two seasons.
As if the numbers from his rookie season (23 catches for 283 yards with a touchdown) weren't frustrating enough, Agholor has barely shown any improvement in 2016 as he only has 21 catches over the first seven games for 216 yards with a touchdown. To top it off, Agholor has recently been drawing criticism for saying everyone is overreacting about the dropped passes he and the rest of the receivers have been dealing with over the last couple of weeks.
The frustrating thing about Agholor's play is he's been given every opportunity in the world to prove himself as an elite wide receiver with the team, and yet he just ends up being a disappointment each time. If the Eagles were smart, they would just give up on Agholor and find someone that is going to be more effective in the passing game—kind of like Owens.
Numbers From 2010 Season
At first glance, most people would say any team considering Owens would be foolish at the age of 42. But his 2010 season with the Cincinnati Bengals is the perfect example of how he's still capable of making an impact.
Even when he was 37, Owens was still causing problems for defenders after catching 72 passes for 983 yards with nine touchdowns during that lone season with the Bengals. Even if that was six years ago, there's every reason to believe he's still capable of doing the same in 2016. Owens has spent years waiting for an opportunity like this. And despite how ugly this divorce was in 2005, both parties know what took place in the past shouldn't impact the current situation.
It's clear Philadelphia needs to make some sort of move before it's too late if they're going to have any chance at overtaking the Dallas Cowboys in the NFC East. The idea of bringing back Owens may not seem like the team's top desire at the moment, but the Eagles need to take a good hard look at how bad this current group of wide receivers is.
Obviously, a big change needs to be made and the addition of Owens needs to at least be taken into consideration, especially with him already being on board. It's crazy, but maybe like a fox.
This article originally appeared on