Philadelphia Eagles: 5 Moves to Help Carson Wentz
Jeremy Klump/FanSided via NFL Spin Zone

Fansided
Here are five moves the Philadelphia Eagles need to make so they can help their franchise quarterback, Carson Wentz.
Any average football fan could see how below average the Philadelphia Eagles roster was in 2016. They made a splash in the 2016 NFL Draft when they made a bunch of moves to move up to the second overall pick to select former North Dakota State quarterback, Carson Wentz.
With all of the excitement Wentz brought to Philadelphia, it was quickly brought back down to earth when he had no legitimate No. 1 wide receiver, no real every-down running back, and a defense that has more holes than a good slice of swiss cheese.
Even with the obvious needs for the Eagles, the outlook on the future is bright because Wentz is a cornerstone player. However, just because it is bright does not mean that it will remain that way, which is why the Eagles need to attack the 2017 NFL offseason with a thorough plan.
When you have a player like Wentz, you need to build around him and surround him with weapons to further his progression. By getting him help, his progression could lead him to become one of the best quarterbacks in the entire NFL. But, if you do not get him help, Wentz could fail miserably and the move to get him could be a major setback for the franchise.
So, with that in mind, the Eagles need to have a great offseason to ensure that their rising star quarterback can take a leap in his sophomore season. Here are five moves the Eagles need to make in the 2017 offseason in order to help Wentz.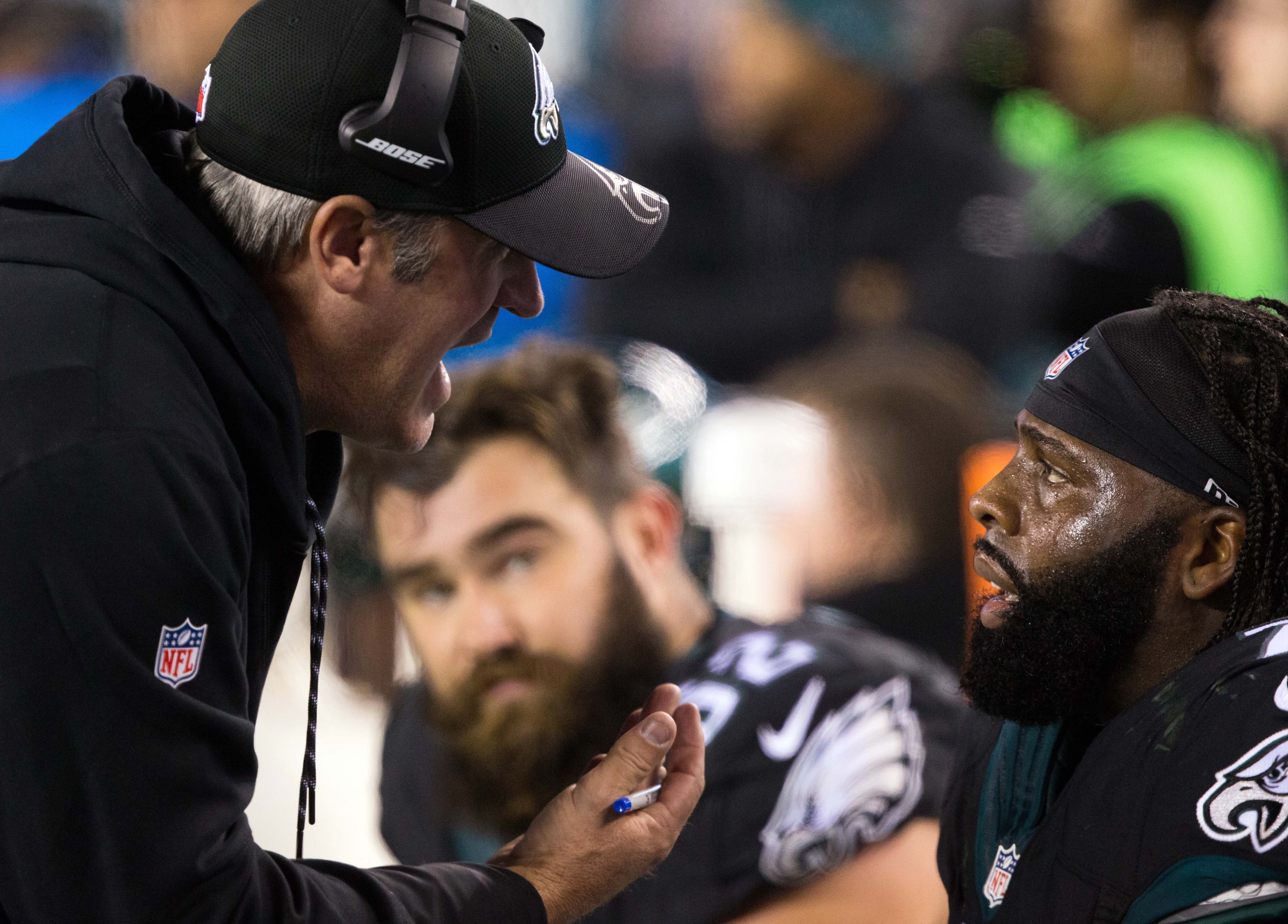 5. Keep Jason Peters and Jason Kelce
A lot of talk on the radio station 94.1 WIP in Philadelphia is that the Eagles need to get rid of their starting left tackle, Jason Peters, and starting center, Jason Kelce. A big part of the Peters talk is that he is currently 35 years old and is surely going to decline as time goes on. The biggest problem with that point, which is valid, is that Peters had a dominant year again in 2016.
He showed that even though he is getting older, his play is still among the best in the NFL. So, getting rid of Peters would actually hurt Wentz. First of all, who are you going to get to replace a future Hall of Fame left tackle? It isn't like elite talents at left tackle are just floating around free agency and it is never a guarantee that if they are that they'll sign with you. I know that Lane Johnson could bump over, but then you need to find a right tackle because I do not believe that Halapoulivaati Vaitai is the answer. Peters is on the books for $10.3 million next season, which is only 10th highest in the NFL. The Eagles need to keep him and make sure that Wentz has his left tackle.
The same goes Kelce, Wentz's center. He is only 10th for centers in terms of salary, so the Eagles are okay with what they are paying him. He may have had an up and down year, but Kelce is important to the Eagles. They do have 2015 draft pick Isaac Seumalo, but he is no guarantee to play any better than Kelce. Getting rid of two starting offensive linemen is never a good idea, even if they have price tags you wish you could change. If Wentz is going to progress, he needs a line he can trust to protect him.
4. Create More Cap Space
By keeping Kelce and Peters, the Eagles are obviously going to need to clear cap space in other ways. Maybe both of those players will restructure their contracts for the better of the team, but if not, let them be. There are many other ways the Eagles can create cap space, and the purge has started with their worst starting cornerback, Leodis McKelvin.
By getting rid of McKelvin, the Eagles cleared up $3.2 million in cap space. Another player that is sure to be gone, unless he restructures his deal immensely, is defensive end Connor Barwin. If the Eagles were to cut Barwin, they would save $7.7 million. And after his poor 2016 campaign, that move is a no-brainer. Adding to the players who will be gone, running back Ryan Mathews showed he is nothing more than an average injury prone back this past season. Cutting ties with him would free up another $4 million. Just adding those three players together, the Eagles would free up $14.2 million.
Then you look at guys that have a chance to be cut or traded, which are running back Darren Sproles (traded) and/or linebacker Mychal Kendricks (cut or traded). Trading Sproles to a contender would free up another $4 million in cap space. Add in the $5 million the Eagles could save when they get rid of Kendricks and there is another $9 million.
That gives you $23.2 million, to add to the almost $8 million the Eagles already have, giving them over $30 million to spend in free agency. These are moves that need to happen so they can get the right players around Wentz.
3. Sign Alshon Jeffery AND DeSean Jackson
All of that cap space is obviously going to be spent by the Eagles. They need to find more pieces to the puzzle and free agency is going to be a big part of that, even if they did fail there in the past. The biggest need on the offensive side of the ball for the Eagles is a wide receiver.
It wasn't even fair to the rookie quarterback this season because his weapons should not be considered weapons. Jordan Matthews is a solid receiver, but he is so far away from becoming a No. 1 that it will never happen. He is a great slot receiver (No. 3 guy) and if you only expect him to put up WR2 numbers then you will be happy with the production. Outside of Matthews, every wide receiver on the Eagles is not very good.
Dorial Green-Beckham has the potential, but it seems his work ethic and drive is going to never allow him to reach that. I think it would be wise for the Eagles to give him one more year and see what he can do as their fourth wide receiver. That means the Eagles need two wide receivers to fill their No. 1 and No. 2 spots. And since they freed up so much money in my hypothetical scenario on the previous slide, they can attack free agency to fill those voids.
DeSean Jackson needs to be a target for the Eagles. The "Kenny Stills over DeSean Jackson" talk is just foolish in my eyes. The NFL isn't Madden where you need younger players because they will progress more. Stills isn't Jackson and never will be. Jackson may only have a couple more years ahead, but he should use those years running nine routes for the Eagles. Wentz needs a player like Jackson who can stretch the field and make big plays.
Jackson would be a great No. 2 option, especially if the Eagles go out and sign Alshon Jeffery, which is exactly what they should do. Jeffery may have had a down year and also had a suspension, but he would easily be the best receiver on the Eagles. He would give Wentz a legitimate No. 1 target and someone he can trust.
If the Eagles sign Jeffery and Jackson, while keeping Matthews and DGB, their pass catching targets would be Jeffery, Jackson, tight end Zach Ertz, Matthews, and DGB. That is a very solid corps to help a young quarterback progress.
2. Trade Back in the 2017 NFL Draft
This will be a very unpopular opinion, but it is one that I feel makes more sense than staying at 13/14 (coin flip) for the Eagles. Eagles Twitter has been lobbying hard for the Eagles to either select Western Michigan wide receiver Corey Davis or Florida State running back Dalvin Cook. Both of these young players look awesome on film and I feel that they will make an impact in the NFL. However, the Eagles should make a more practical move and get more picks than just that one player.
Trading back could get them another second-round pick or, at best, another first-round pick in 2018. I know that Philadelphia fans want the Eagles to win a Super Bowl as soon as possible, but adding Cook or Davis isn't going to help the Eagles win the big one in 2017. There is no shot the Eagles win the Super Bowl this year, and maybe even in 2018—but they are on the right track. They need to continue to build for the future and not let fan pressure influence their decisions. Adding another firs- round pick in 2018 could be huge and it could help the Eagles get even better. The future is bright with Wentz, so the Eagles need to focus on that bright future by making moves to make it brighter.
The Eagles biggest need is at cornerback and this is one of the deepest cornerback classes for a long time. Adding more picks and allowing the Eagles to get two or three players to the one they could have gotten is a great move. There is no guarantee that the players the Eagles get will be good, but there is also no guarantee that Davis and Cook will be good either. However, I would rather have three chances at finding a good player than one. So, trading back will not only help the Eagles find talent, it will help Wentz and the Eagles' future.
1. Draft A Cornerback (Or Two) and a Running Back In the First Three Rounds
By trading back, acquiring more picks, the Eagles will be able to fill more than one hole. Like I said before, cornerback is very deep this year and the Eagles need to address that position first. They had the worst starting cornerbacks in the NFL this season, so they need to make sure they can find a real starter in the draft.
Some first round cornerback options for the Eagles include Florida's Quincy Wilson and Teez Tabor, Alabama's Marlon Humphrey, Ohio State's Marshon Lattimore and Gareon Conley, and Washington's Sidney Jones.
These are players that would plug right in as the Eagles No. 1 cornerback and play alongside 2016 seventh round pick Jalen Mills. Mills showed promise, but he also showed that he will never be a No. 1. That's okay, though, because if the Eagles can get a starter in the first round, they will not be pressed to take one in the second. However, if I was the Eagles, I would think about taking another cornerback in the second round and letting the second-round pick and Mills battle it out for the No. 2 spot and put the other guy in the slot.
If they decide to wait on another cornerback, I would go running back next. 2016 fifth-round pick Wendell Smallwood isn't the answer at running back, so if someone like Stanford's Christian McCaffery drops to the second or if the Eagles take Tennesee's Alvin Kamara in the second, they would have a starter. Another intriguing option is Oklahoma's, Joe Mixon. He has obvious and blatant off-field red flags, but the Eagles showed in the 2016 NFL Draft that they will look past that (Mills and Smallwood).
Regardless of where they go in the second or third, it needs to be a cornerback in the first round. Adding two corners and a running back in the first three rounds of the draft will be huge for Wentz and even bigger for the Eagles.
This article originally appeared on