Patriots vs 49ers: Week 11 Grades and Analysis for San Francisco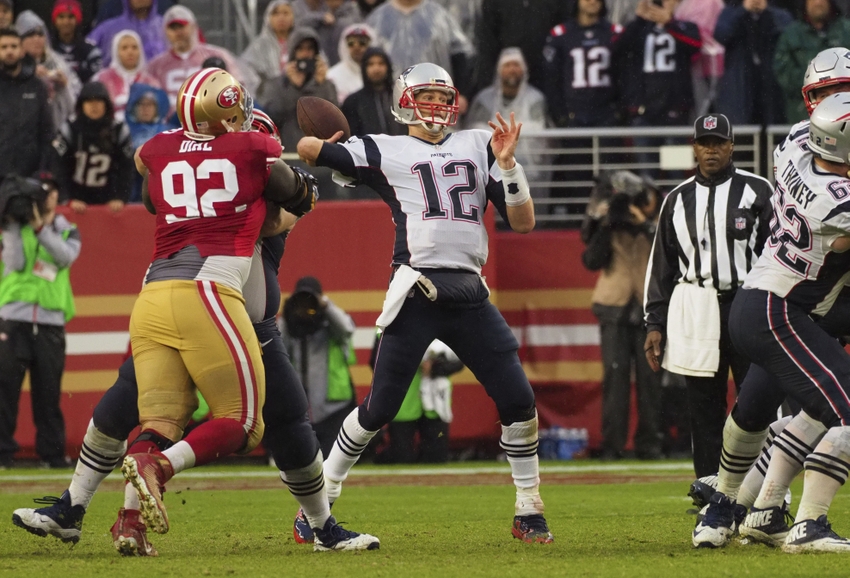 The San Francisco 49ers put up a fight against the Patriots on a rare rainy day in Santa Clara. Unfortunately, it was not enough to stop the bleeding. The 49ers match their franchise record of nine consecutive losses with a 30-17 defeat on Sunday.
For the second time in San Francisco 49ers franchise history, the club has lost nine games in a row. Chip Kelly is the first 49ers coach to preside over all nine losses — then head coach Pete McCulley was fired partway through the 1978 losing streak.
Tom Brady, meanwhile, claimed victory in his homecoming. A 49ers fan in his youth, Brady powered through the showers to give the many Patriots fans at Levi's Stadium another victory.
The 49ers kept the game close into the fourth quarter. On the first play of which, Brady somehow escaped pressure and delivered a miracle throw to Julian Edelman in the back of the end zone, putting the Patriots up 20-10. A few minutes later Brady delivered another beautiful pass to Malcolm Mitchell for a 56-yard touchdown to ice the game.
Colin Kaepernick's passer rating remained relatively high as he was able to avoid turnovers. He delivered a few nice balls too. Yet Kap unsurprisingly struggled to hit receivers in stride and consistently underthrew his intended receivers.
The 49ers have a lot of work to do this offseason. Seeing them compete with the Patriots, if only for three quarters, was promising, however.
Offensive Grades
Quarterback: C
For Colin Kaepernick, this was not a bad game — at least until the fourth quarter. For an NFL quarterback, it was very, very mediocre. Hence, a C is quite appropriate. Kaepernick took good care of the ball but needs to deliver passes to his receivers. Kap's bad throws are way too common.
San Francisco's offense fell apart in the second half. Kap's inability to complete big throws played a big part in that. At 16/30 on the day, his completion percentage certainly needs to improve.
Running Back: B
Welcome back, Carlos Hyde. Hyde finally had another good game rushing 19 times for 86 yards The play calling had a bit to do with that.
Hyde plays his best when the designed run is between the tackles. He has a knack for finding the smallest of holes and turning them into 5-6 yards or more. In a sense, he has a bit of the Frank Gore talent there.
Too often this season the 49ers have had Hyde on sweeps or off-tackles. This may work with DuJuan Harris, but it is much less effective than running up the middle with Hyde.
Wide Receiver: D
The receivers did next to nothing on Sunday. Kaepernick hit his tight ends and running backs much more often than his receivers.
Torrey Smith was dealing with a shoulder injury, but Jeremy Kerley needs to get more targets.
Tight End: B
The balls that did not go to receivers went to the tight ends. Vance McDonald scored the 49ers lone touchdown and Garrett Celek got involved with a couple of grabs as well.
Offensive Line: D
The offensive line opened some nice holes for Carlos Hyde. But allowing five sacks for 29 yards cancels that out and then some. Kaepernick struggled, but his offensive line needs to give him some help
Trent Brown had a big heads-up play in the first half recovering a Kaepernick fumble, however.
Defensive Grades
Defensive Line: C-
When you give up 124 yards rushing to one player (on 19 carries, no less) and struggle to get pressure on the quarterback, what do you expect? The defensive line did play fairly well, by 49ers standards, in the first half, but struggled down the stretch.
Linebacker: C-
The criticisms here are similar to those for the defensive line. The 49ers managed to keep the Patriots contained for two and a half quarters, but that was it. The offense's ineptitude is partially to blame, but the defense needs to find ways to get off the field too.
Defensive Back: C
I'll be generous and give the defensive backs a "C" since they were up against potentially the greatest quarterback of all time. I'll always pick Montana over Brady, of course, but Brady has earned a spot in this conversation.
Four touchdowns is a lot to give up through the air.
Special Teams & Coaching Grades
Special Teams: A
Phil Dawson remained reliable on a day when 12 extra points were missed across the league, including one by the Pats Stephen Gostkowski. Bradley Pinion did not have his best day punting, only averaging 41.6 yards per punt. Not a bad day, per se, but not his best.
So why the A? Phil Dawson made his 400th career field goal. That's worth celebrating — and not just because little else is this year.
Coaching: C+
FINALLY the coaching staff figured out that Carlos Hyde should be running between the tackles. That's deserving of a C+ in and of itself in my book.
Sticking with the impressive Patriots on the rainy Sunday afternoon for two and a half quarters also was impressive — by 2016 49ers standards, which are exceedingly low.
Cumulative 49ers Grade for Week 11: D
The 49ers showed some good things on Sunday against the Patriots. The defense hung tough for a half and a bit more. On offense the running game improved and Kaepernick avoided turnovers.
San Francisco clearly has a ton of work to do. The Niners will look to avoid to become the biggest losers in franchise history next week as they face becoming the only iteration to lose ten games in a row.
The 49ers visit the 6-4 Miami Dolphins next Sunday at 1 pm PT.
This article originally appeared on