Patriots vs. 49ers: The Good, Bad and Ugly from San Francisco's Week 11 Loss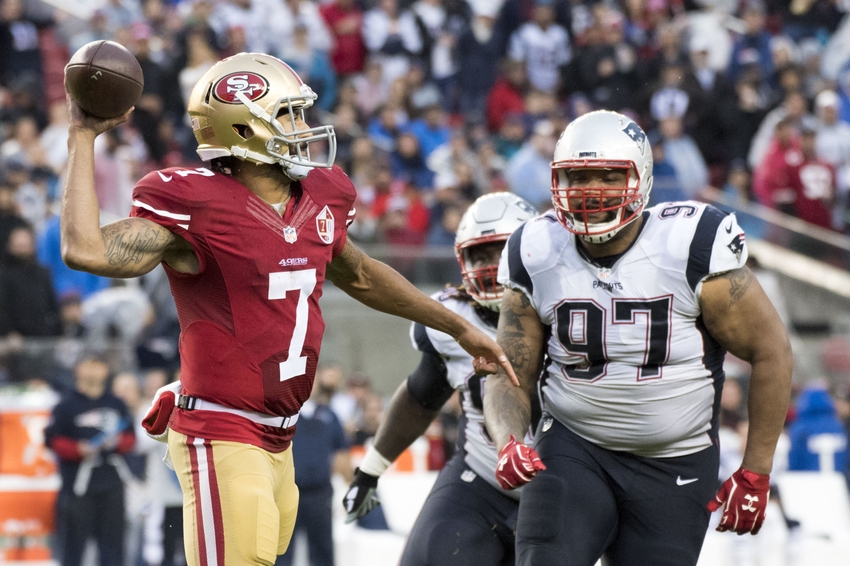 The San Francisco 49ers tied a franchise record with nine-straight losses after falling to the New England Patriots 30-17 in Week 11. Niner Noise looks at the good, bad and ugly from San Francisco's effort.
Yes, the San Francisco 49ers have now lost nine games in a row after falling to the visiting New England Patriots 30-17 in Week 11.
Why 49ers WR Jeremy Kerley Has Impressed the Most in 2016
The nine-game losing streak ties a franchise record, and it's a perfect indication of how things have gone for the red and gold all season long. Amid a rain storm, and a halftime ceremony honoring former owner Eddie DeBartolo, the Niners managed to stay in contention until the start of the fourth quarter.
But San Francisco had no answers for Patriots quarterback, and Bay Area native, Tom Brady. And the Niners' second-half offensive woes only continued.
Let's take another look at the game and try to come away with the good, bad and ugly from Week 11.
In fairness, the 49ers managed to trail 13-10 heading into the fourth quarter. But Brady and Co. tore through San Francisco's defense with 17 fourth-quarter points.
Brady finished with four passing touchdowns on the day against the team for which he grew up rooting.
What else did the Niners deal with on a dreary day in Santa Clara? Let's take a look.
The Good
San Francisco's first-half efforts were commendable, to say the least.
While the 49ers only managed 10 points of offense in the first half, there was a point the Niners were actually outgaining New England in the second half.
A lot of this had to do with running back Carlos Hyde, who ran with much more gusto this week than what we saw out of him a week ago against the Cardinals. Hyde finished the contest with 86 rushing yards on 19 carries — and average of 4.5 yards per attempt.
He didn't find the end zone, but tight end Vance McDonald did. He was the Niners' leading receiver with three catches for 46 yards and the touchdown. Quarterback Colin Kaepernick's throw was right on the money, as shown below:
Kaepernick's first-half efforts were good too. He finished 16-of-30 for 206 yards and two touchdowns — a passer rating of 97.4. He also rushed for 32 yards, which added another element to San Francisco's offense.
Defensive end DeForest Buckner was another positive in what was otherwise a shaky 49ers defense. He nearly was credited for his fourth sack of the season, but his pressure is starting to ascend.
And give credit to San Francisco's defense for holding New England to a mere 13 points over three quarters.
Get this — the 49ers won the time-of-possession battle 30:45 to 29:15. And kicker Phil Dawson netted career field goal No. 400.
The Bad
Linebacker Ahmad Brooks.
He was flagged for two offsides penalties, which has become something of a regularity.
Missed tackles also plagued San Francisco throughout the game, which led to plenty unnecessary games and third-down conversions.
New England managed to convert eight third downs on 16 attempts.
While most of the focus should fall on the inability to stop quarterback Tom Brady, San Francisco's inability to halt Patriots running back LeGarrette Blount was another major issue. Blount finished the game with 124 yards on 19 carries, which makes any feel-good sensation of the 49ers' run defense from a week ago go away.
One might also wonder how Brady threw for 280 yards and four touchdowns. Well, he's Brady.
But San Francisco's pass rush didn't help either. Brady had pressure on three of his four TD scores, like this play below, but the 49ers pass-rushers just couldn't quite get there:
Quarterback Colin Kaepernick had nothing with which to answer in the second half, aside from a garbage-time touchdown pass to running back Shaun Draughn.
More of the same from the 49ers, and these reasons are why they're 1-9.
The Ugly
The 49ers were outscored 17-7 in the fourth quarter. Entering the frame, San Francisco trailed only 13-10.
The Niners' second-half woes certainly continued into Week 11. Stalled drives, failed third-down conversions and a lack of production from wide receivers all contributed to the second-half breakdown.
Chris Harper led all 49ers wide receivers with just 35 yards. The only other wideout to have catches was Quinton Patton, who recorded two for only 17 yards.
So it shouldn't be much a surprise to see the Niners go 5-of-14 on third down.
And so much for a Chip Kelly-led team being disciplined. We talked about linebacker Ahmad Brooks' two offsides penalties. But those were merely a part of the problem. San Francisco was flagged 10 times for 68 yards — mistakes a talent-strapped 49ers team simply can't afford.
Adding insult to injury, or the other way around, the Niners have to deal with some injuries now. Defensive back Jimmie Ward was lost to a concussion. And safety Eric Reid suffered an arm injury, which could be serious, according to Matt Barrows of the Sacramento Bee.
Jimmie Ward was diagnosed with a concussion; Eric Reid has an arm injury that could be serious.

— Matt Barrows (@mattbarrows) November 21, 2016
Worst of all, San Francisco has tied the franchise record for longest losing streaks. It's at nine now.
It's possible the streak continues, as the 49ers have to travel east to face off against the 6-4 Miami Dolphins.
Such is the case for this lowly San Francisco team in 2016.
This article originally appeared on