Past time for the Indianapolis Colts to make a change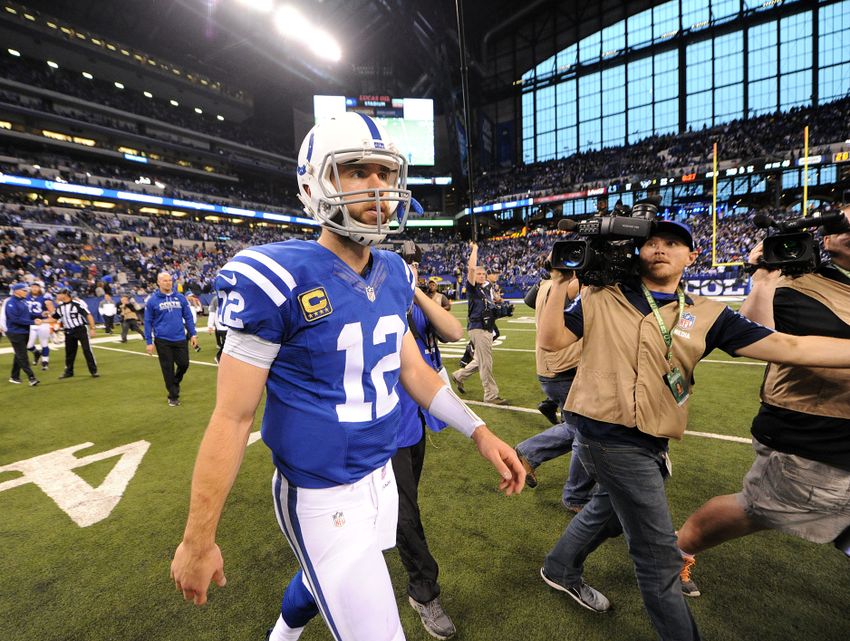 The Indianapolis Colts playoff dreams came to a predictable end with a loss at home against the Houston Texans. Old issues plagued the Colts in the loss that makes a postseason berth a longshot. 
Where to start with Sunday's loss? It should probably start with all of the same problems that have plagued the Colts for five years now. A lack of preparedness to start the game, poor execution, and bad coaching decisions.
Over the past month, the Colts had appeared to turn a corner. Their offense was dominating opponents and the defense was doing enough to keep foes at bay. This looked like a team peaking right when it needed to but that was all fool's gold.
The Colts had so many advantages over the Texans on Sunday but couldn't be bothered to turn this into a game. The past few weeks saw what appeared to be game planning with the Colts exploiting opponents weaknesses. But looking back those flaws were obvious to even casual viewers, and that has been the hallmark of Chuck Pagano led teams. They can only exploit an opponent when they have a glaring weakness.
The Texans weakness on offense was obvious (Brock Osweiler) but the Colts did little to force him to beat them Sunday. On offense, the Colts struggled to get separation from defenders and rarely gave Andrew Luck the time to throw. This could have been a great day for Luck, but he received no help (and had a few mistakes of his own).
So now the Colts sit at 6-7 with a tough remaining schedule and injuries piling up. Had this loss been related to some new flaw in the Colts, that would be one thing, but these are the same old problems that all of Pagano and GM Ryan Grigson's teams have had for their entire tenure.
More from Horseshoe Heroes
Poor game planning, bad game management, and even worse coaching decisions. While not a game changer, Pagano has to know he can't just toss his challenge flag and pick it up when he realizes it won't matter. More discouraging is that his team came out so flat knowing what was on the line. It is on the coaches to make sure their players can execute efficiently, something we'd seen at least on offense over the past month.
But far too often this season we've seen players struggle with the basics of football. Sloppy technique leading to holding penalties from the offensive line or bad tackling from the defenders.
In the offseason, Pagano was allowed to bring in his hand-picked coaching staff and what have we seen from this group? Even worse play than previous years. Last season everyone pointed to Luck's health for the team's failings, so what is the excuse in 2016? He's missed just a single game and played very well for the most part this year.
Pagano and his staff fail to recognize what the Colts can and cannot do well. Look no further than the fourth-and-one play call: a screen to a backup running back. First off, that is a bad call regardless of your team and it is even worse when you know how bad the Colts are at executing screen plays. We rarely see them because they're terrible at running those plays, so why would you ever call one on the most important play of the season?
Couple the poor coaching with a bad roster and you start to see why Pagano and Grigson shouldn't be in charge anymore. Grigson has shown time and again that he doesn't know how to build an effective NFL roster or scout talent. He has whiffed time and again on draft picks and in free agency.
It looks even worse when the coaches can't figure out how to effectively use the meager talent they do have (prime examples being Dwayne Allen and Phillip Dorsett, but after three drops maybe not as much Dorsett). There is clearly a disconnect between Pagano and Grigson that has existed for some time and they have different ideas on how to build a team.
But given what we have seen over the past five years, what makes you think that Pagano and Grigson should keep their jobs? Jim Irsay is wasting the prime years of Luck's career and it honestly wouldn't be surprising if Luck asked for a trade in the near future. He's taken an absolute beating behind Grigson's offensive line with nothing to show for it except scars on his kidney.
Irsay may have extended these two after last season, but that doesn't mean he can't boot Pagano and Grigson the day this horrible season ends. The AFC South has gotten better and Luck can't carry the Colts all by himself anymore, it is time for a change.
This article originally appeared on