Panthers Three Takeaways: Week 12 vs. Raiders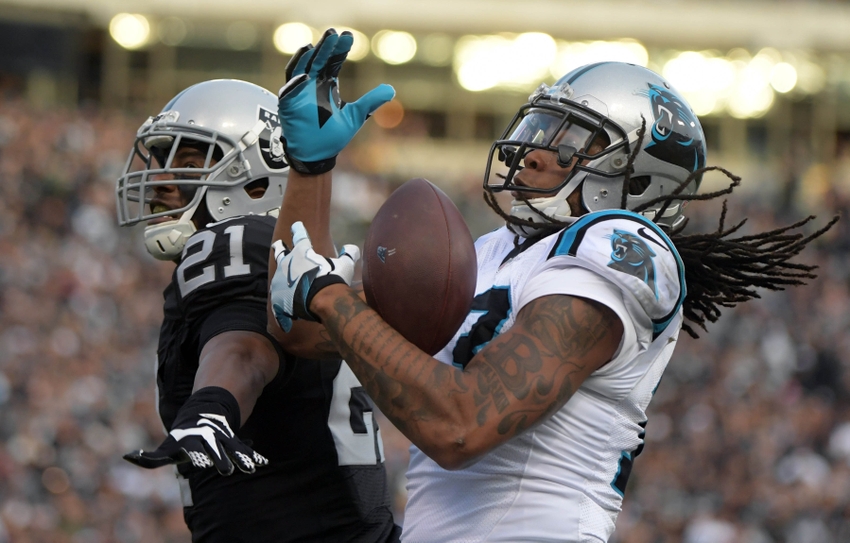 Despite fighting back in the second half, the Carolina Panthers were defeated by the Oakland Raiders…
On Sunday the Carolina Panthers fell into the "Black Hole" and were defeated by the Oakland Raiders by a final score of 35-32. Following a reoccurring theme this season, the Panthers fell down quickly after three consecutive Raiders scores in the second quarter. Tides turned however with Raiders' quarterback Derek Carr leaving the game in the second half with a dislocated pinky finger. Carr returned, but not before Carolina had closed the gap with a quick strike to Ted Ginn for 88 yards.
Carolina took a lead in the fourth quarter just as the Carolina defense crumbled allowing a 12 play, 82 yard drive that set up a game winning Sebastian Janikowski field goal with only three minutes remaining.
Now at 4-7, playoff chances are not mathematically gone, but realistically impossible. This is a Carolina Panthers team who are 0-5 in last second field goal games, who do not have the right tools this year to compete on a high level, and are most likely going to finish at the bottom of the NFC South. Call it what it is, this season is a slice of humble pie compared to the gloating and showboating of last. Now the Panthers will play the role of upset to playoff contending teams and face another tough task at Seattle next week.
OFFENSIVE BLUNDERS
The first half for the Carolina Panthers was one to forget. After an early seven points on the back of Jonathan Stewart and two penalties, the offensive unit sputtered as quarterback Cam Newton finished 3-for-12 with only 18 yards, a career low.
Currently, Newton is on pace for a very underwhelming season and is third worst in completion percentage among all qualifying starting quarterbacks. So far, his completion percentage, quarterback rating, and throwing touchdowns are on pace to be the lowest of his career. This season is a definite step back for the reigning MVP, but not all of it can be attributed to Newton.
One of the biggest factors in Newton's poor play is the design of the offense itself. With a line who has allowed their quarterback to be top five in times sacked, it is up to Offensive Coordinator Mike Shula to draw up short passes with high efficiency. So far, that hasn't happened. Deep throws to targets like Ted Ginn and Kelvin Benjamin take too much time to develop for this subpar offensive line to handle and often plays break down leading to misfires, miscues, and turnovers.
In only eleven games, Carolina has already eclipsed all of last year's total turnover mark. It's been one of the defining reasons for the struggles the Panthers have faced this season.
MACK ATTACK
            Defensive lineman Khalil Mack had a fantastic day for the Oakland front seven. With six tackles, a sack, forced fumble and a pick six to boot Mack was an unstoppable force for the Carolina offensive line. Mack was constantly paired against Mike Remmers and Trai Turner, both of which had little to no chance of stopping the incoming bull rush that was about to happen.
On the offensive line, veteran Ryan Kalil was out again with injury, and Andrew Norwell fell in the game to injury. By the end of the game, every position on the offensive line was played by a backup or a starter at another location.
"It's tough, with your third or fourth center out there and starting right guard at right tackle. It's tough, but it's the nature of the game. You just have to keep going," head coach Ron Rivera said postgame.
While this doesn't excuse the poor play of the line, it definitely gives a reason as to why. But this upcoming offseason will see many of positions in the trenches be evaluated.
LUKE KUECHLY IS THE HEART OF THE DEFENSE
The fact that linebacker Luke Kuechly is the heart of the defense is nearly a given, but this week without him proved it once more. Kuechly was on the sideline sporting a headset and smile, helping out the defense as they tried to navigate the potent Raiders offense led by Carr and running back Latavius Murray.
There is no time table for Kuechly's return and given his concussion last season, Kuechly very well may have to miss more time. But optimistically, Kuechly should see the field sometime again this season. Not only does the defense need him for his play making ability, but the team needs him for his ability to boost others with his high octane in game personality.
Next week, the Panthers travel to Centurylink Field to take on the Seattle Seahawks.
More from Cat Crave
This article originally appeared on