Panthers Three Takeaways: Week 11 vs. Saints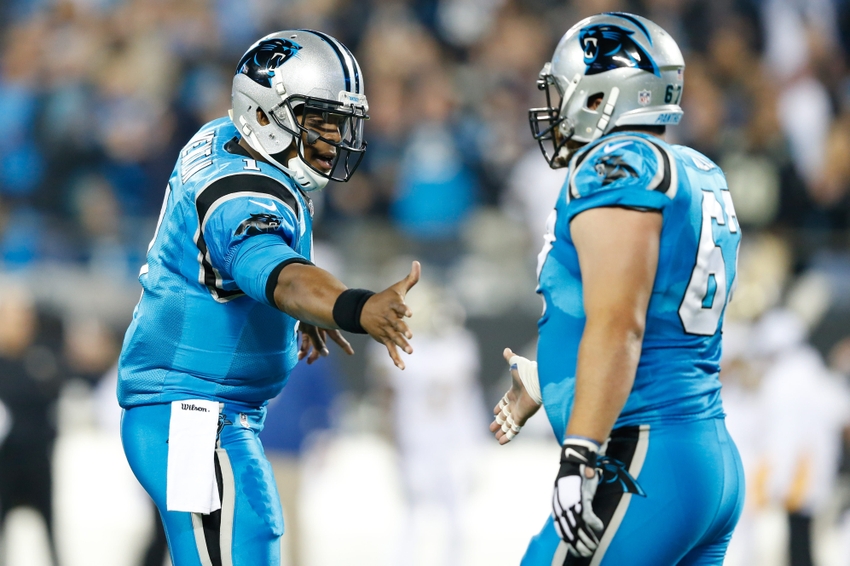 Under the lights, the Panthers were able to emerge victorious over the Saints…
On a quick turnaround week, the Carolina Panthers were able to defeat the New Orleans Saints by a final score of 23-20.
Tables were flipped in this contest and this time it was Carolina who jumped out to a 20-3 lead at the half. However, veteran Drew Brees led the Saints to a 17-point fourth quarter with three surgical drives in succession. After New Orleans trailed only by three, Carolina received the ball back and ran enough time off the clock to ensure that the Saints had virtually no chance at getting into field goal range. An 18-yard strike to Kelvin Benjamin from Cam Newton on third and ten before the two-minute warning was all it took to ensure the game.
Carolina now sits at 4-6 on the season, picking up their first divisional victory on Thursday. With a long ten days to recover, what will carry over into next week?
A Leader Lost
In the fourth quarter, highly praised linebacker Luke Kuechly suffered an injury that rendered him extremely distraught. Friday afternoon, Ron Rivera spoke to the press and gave the news that Kuechly is in concussion protocol. A second concussion in as many seasons, Kuechly was carted off the field while teammates paid their respects to the defensive warrior.
"That's our leader, one of the key components of our team. It's more than that, he's a brother of ours so when we see him down, a guy that's as tough as he is and as mighty and strong-spirited as he is – to see him in that predicament, it really hits home," commented Mike Tolbert postgame about Kuechly.
"I definitely think that we all felt for Luke. He is very loved and respected by all of his teammates," David Mayo added.
As of now, it is not known the extent of time that Kuechly will miss or the severity of the injury.
Newton Struggles and Shines
Offensively, the Panthers struggled to sustain drives, especially in the second half again this week. In all, Carolina put up a measly 223 total offensive yards with only 50 yards coming from the running game.
Ryan Kalil exited the game in the second half citing the same shoulder injury that kept him out two weeks ago as the culprit. Without the veteran center, the Saints defensive line was able to get pressure on Newton, sacking him twice and knocking him down several times after the pass was thrown.
Newton finished a lowly 14-33 for 192 yards. A bright spot was a 40-yard strike to Ted Ginn Jr. in the back of the endzone for a touchdown. But between questionable offensive playcalling and lack of time to execute, Newton struggled to put the pieces together. Still, the team was able to come away with a victory.
"We won. I'm excited that we won, and now we get to go into a mini-bye week and get healthy. That's how I'm feeling," said Newton postgame.
Turnovers Into Points
For one of the first times this season, the Panthers won in the field of turnover differential. The Panthers were able to convert on two Saints turnovers for a total of 10 points. Even better news, there were no offensive turnovers from Carolina, a sight that has only happened now twice this season.
Still, Carolina's -5 turnover differential ranks tied for 26th in the league respectively. But this game marks an improvement, and as long as Carolina can continue to avoid and minimize mistakes than their climb to the top of the NFC South becomes that much easier.
Corner James Bradberry spoke to the media postgame and was excited about the result stating, "It's a huge confidence booster. We're able to breathe again and hopefully get to the playoffs."
Next week, the Carolina Panthers take on an explosive Oakland Raiders team led by Derek Carr and Khalil Mack.
This article originally appeared on