Panthers' Ron Rivera Says Rams Had Illegal Hit on Cam Newton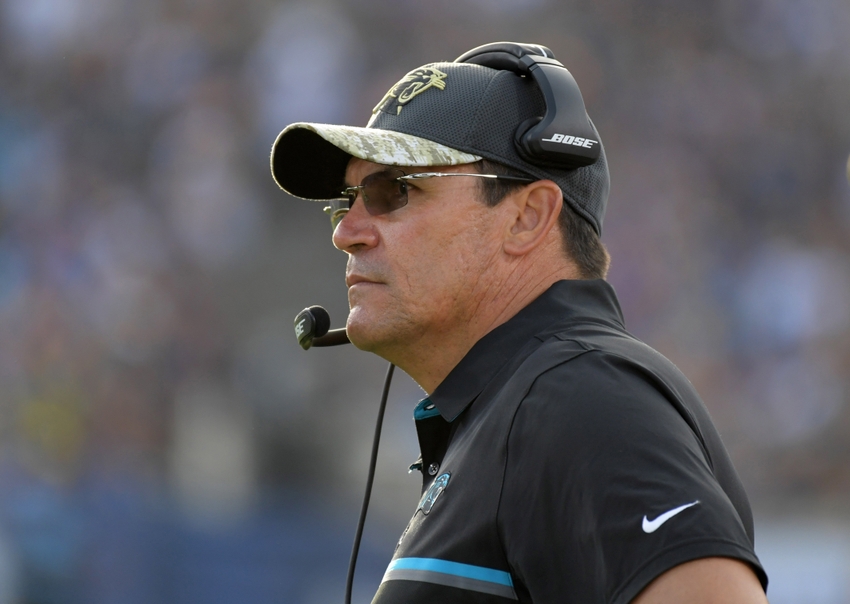 Carolina Panthers head coach Ron Rivera claims quarterback Cam Newton was the victim of yet another illegal hit that the referees missed against the Los Angeles Rams.
Apparently talking to National Football League commissioner Roger Goodell didn't help Carolina Panthers quarterback Cam Newton, as referees appear to have missed at least one illegal hit on him during the Panthers' win over the Los Angeles Rams in Week 9.
Newton has been very vocal about what he perceives as a lack of fairness in regards to the level of hits he has been taking without getting a flag this season. The Panthers signal-caller has been adamant about referees getting calls right, which he is often on the wrong side of.
On Monday, Panthers head coach Ron Rivera spoke to the media and said there was one hit he planned on sending to the league that came from the Rams, per David Newton of ESPN.
Rivera did not go into detail about which hit rubbed him and Newton the wrong way, but he did sympathize with the difficulty of the job NFL referees have. He also admitted the officials missed calls on both sides.
According to another article by Newton, there appears to be two instances where referees missed a call for Newton:
Newton took what appeared to be two shots to the helmet on sacks, one by safety Mark Barron and another by defensive tackle Aaron Donald.

Baron appeared to be leading with his shoulder, which would make his hit legal. Donald went into the air and came down on Newton with his helmet making contact with the helmet of the NFL MVP.
The frustration coming from Rivera – and to a more public extent, Newton – is understandable. Nobody wants to see their quarterback get pummeled by bad hits as a result of missed calls, and the kind of light that has been shined on the subject by Newton will continue to make it a point of contention.
Referees are inevitably going to miss calls and that will never change. However, with the kind of attention that is placed on the quarterback position in this day and age, officials should have no problem focusing in on this one problem that is apparent to everyone watching.
Whether or not the Rams were guilty of it remains to be seen and the league will undoubtedly rule on whatever Rivera sends in. Let's just hope the desire for peace on the matter won't result in the league coming down too harsh on players when it isn't warranted.
This article originally appeared on