Panthers: Ron Rivera's Misguided Comparison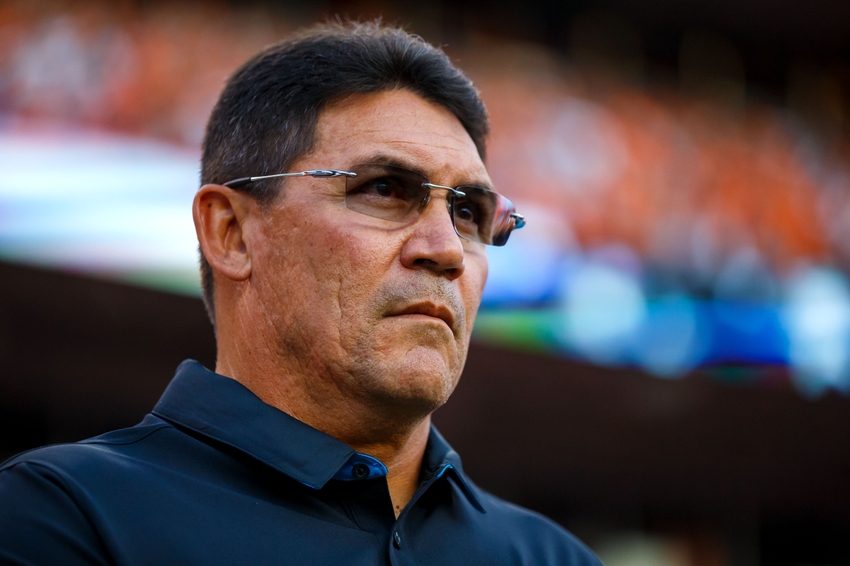 Why the Carolina Panthers are not last year's Kansas City Chiefs…
Recently Carolina Panthers head coach Ron Rivera addressed the status of his team entering the bye week. According to Max Henson of Panthers.com, Rivera is drawing inspiration from the 2015 Kansas City Chiefs who won ten games in a row to conclude their season and make the playoffs. The Chiefs, after winning the season opener, lost five games in a row before rebounding in a big way.
Faced with a Week Nine bye, the Chiefs won two in a row prior and entered the bye week with a 3-5 record. Already a difference. Kansas City had begun their turnaround prior to the break and only needed to keep the momentum not build it from scratch.
Carolina enters the bye week at 1-5, losing four straight and in need of a spark to generate some semblance of life after losing three straight divisional games.
Divisional games. As mentioned Carolina is currently 0-3 halfway through the divisional schedule, meaning only three remaining games will have a definitive impact on the Panthers' standing. Last season Kansas City had played only one divisional game through their 1-5 stretch, providing two additional opportunities to move up in the division down the stretch.
Finally, the Chiefs defense averaged allowing 17.9 points per game for the season, 26.5 during their six game stretch to begin the year. Carolina has allowed almost a field goal more per game to opposing teams this year. During the run of ten straight victories, Kansas City allowed only 12.8 points per game. For Carolina to simulate this improvement would require a reduction of approximately 16.5 points per game. Regardless of a cornerback or defensive end addition, it is doubtful that one or two players make such a dramatic impact.
Before Kansas City, the only NFL team to make the playoffs after beginning the season 1-5 were the 1970 Cincinnati Bengals. It took 45 years for two teams to accomplish this feat making it even more unlikely it occurs in back-to-back seasons.
More from Cat Crave
This article originally appeared on