Panthers Quick Hits: Week 8 vs. Cardinals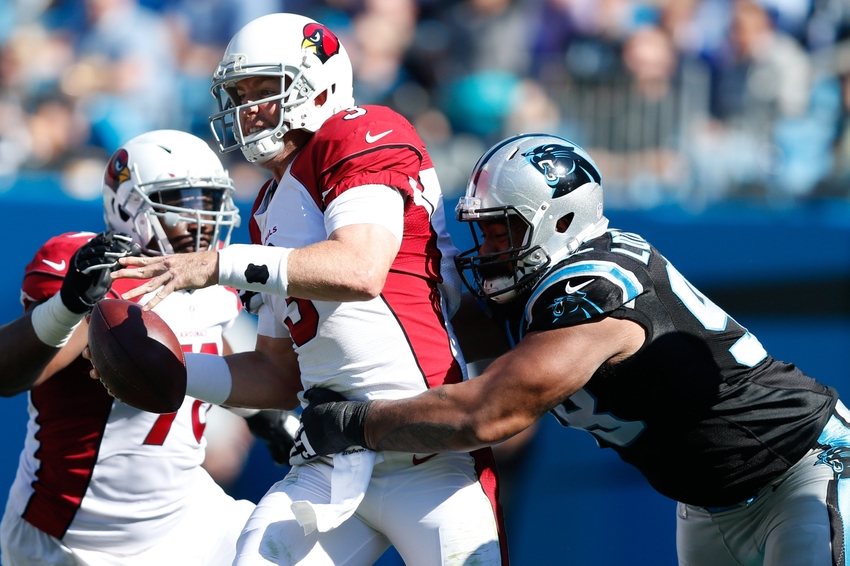 The Carolina Panthers ended their four-game skid on Sunday with a 30-20 win over the Arizona Cardinals and look to be righting the ship at last.
For now at least, it appears as though the Carolina Panthers are back on track after a quality 30-20 win over the Arizona Cardinals on Sunday.
What made it such a quality outing for this struggling squad was that all three phases of the game for Carolina looked to be back to normal and performing well.
The Panthers won the turnover battle (2-1) on the day with the offense looking sharp for the most part while the defense stepped up big and finally looked like the Carolina D of recent years with a big defensive score to go up early and providing a consistent pass rush to help out the secondary.
With positives to go around, here's a few quick hits from Sunday afternoon's Panthers win:
One of – if not the biggest – glaring issues with Carolina's defense and their team in general has been the lack of any sort of consistent pass rush. And today that problem turned to a plus as the Panthers defensive line came alive and got to Cardinals' QB Carson Palmer all day long. Defensive tackle Star Lotulelei had the brightest day notching three total sacks while Kawann Short and Charles Johnson added one each. In total, the Panthers recorded eight sacks on the day with Johnson (forced fumble) and Kony Ealy (interception) causing both turnovers for the team.
While the much improved play of the defense was the highlight of the day, Jonathan Stewart and the Panthers offense deserved some credit for the win as well. Carolina went back to the basics in this one and simple pounded away at the Arizona defense on the ground racking up 212 total rushing yards led by Stewart's big 25 carry, 95 yards rushing day that included both of the offense's touchdowns. Even Newton, who didn't record a single rushing attempt in Week 6, got back to it with 7 carries for 43 yards.
Not even Panthers kicker Graham Gano has been spared of the team's "hangover" start to the season but sticking with the theme of the day, Gano was perfect and did everything asked of him in this one. The Carolina kicker knocked in all three of his extra points and all three field goal attempts including one from 52 yards out to help keep the Panthers rolling and putting up points.
The Panthers will try to keep on digging themselves out of their early five loss hole next week when they travel cross-country to Los Angeles to take on the Rams.
This article originally appeared on