Panthers Put Two O-Linemen On IR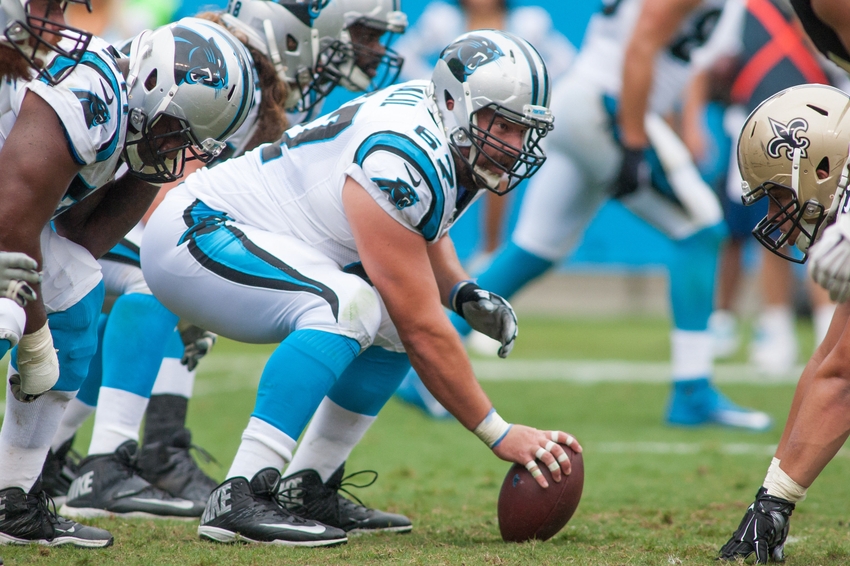 The injury big hit the Carolina Panthers hard once again as both starting and backup centers have been placed on season ending IR.
The hits just keep coming for the Carolina Panthers offensive line as they have officially ended the seasons of the top two centers on the roster, Ryan Kalil and Gino Gradkowski, by placing them on injured reserve.
Kalil, a three-time All-Pro and five-time Pro Bowler, has been dealing with an injured shoulder for much of the season. After coming back in the team's Week 11 matchup with the New Orleans Saints, he was knocked out again and didn't make the trip to the West Coast for the Panthers' latest two-game stretch, prompting the move to IR.
Gradkowski had been filling in for Kalil at center and was dealing with a knee injury that caused him to miss time as well. The backup center started against Oakland on Sunday but left early and clearly will not be healthy enough to go for the rest of the year.
Kalil and Gradkowski add to an already decimated position group that has been without left tackle Michael Oher (concussion) for much of the season and lost fill-in right tackle Daryl Williams last week as well. The injuries forced right guard Trai Turner to move to right tackle, bumped utility lineman Chris Scott to right guard and placed the undrafted Tyler Larsen into the middle at center.
To fill the two linemen's roster spots, the Panthers have signed veteran center Ryan Wendell and tackle Dan France. Wendell played each of his seven NFL seasons with the New England Patriots and was the team's starting right guard in Super Bowl XLIX. France was an undrafted free agent in 2014 and has bounced between the Cincinnati Bengals and Celveland Browns' practice squads making this his first appearance on an active roster.
In addition, Carolina has signed two 2015 draftees to their practice squad in former sixth round tackle Tyrus Thompson and seventh round tackle Jake Rodgers.
As it stands now, the Panthers already makeshift front five is expected to look even more askew as the team finishes up it's five remaining games.
More from Cat Crave
This article originally appeared on