Panthers NFL Draft: Five Offensive Tackle Targets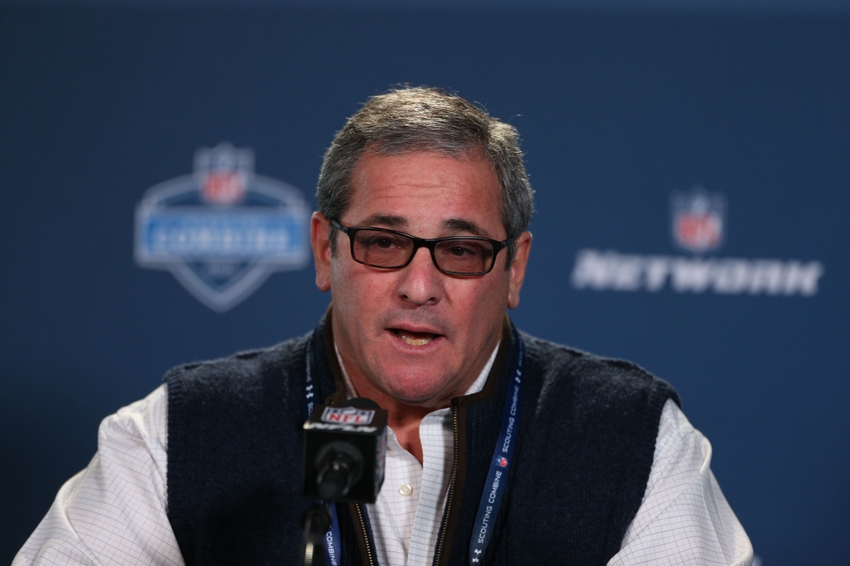 Five offensive tackles the Carolina Panthers could be targeting for the NFL Draft…
Obviously, the 2016 Carolina Panthers (4-7) season isn't going according to plan a year removed from playing in the Super Bowl. The team has lost five games decided on last minute field goals and the reigning MVP, quarterback Cam Newton, has struggled after a dominant season a year ago.
However, much of his inconsistency has been due to the revolving door of players sent out to protect him each week. Last year, the offensive line remained consistent throughout the season. Every week, every game the same five individuals marched out and paved the way to one for one of the most prolific offenses in team history. With each of those individuals returning in 2016, many believed the same production was already a given.
Tackles, Mike Remmers and Michael Oher had earned the right to protect the edge even with Remmers disappointing Super Bowl performance. Guards Andrew Norwell and Trai Turner had quitely secured the interior next to the anchor, center Ryan Kalil. But once Oher was removed and replaced by moving Remmers to the opposite side, the slow unraveling began.
Both Kalil and backup center Gino Gradkowski have dealt with injuries and Sunday brought even more transition with Daryl Williams and Norwell exiting. Oher was placed on the season ending injury reserve list prior to the game and after missing eight weeks with a concussion his future status is in question.
With so many questions, especially at offensive tackle, who might the Carolina Panthers be targeting for next season?
1. CAM ROBINSON, Alabama (6'6″ – 330 pounds) Projected Round: 1
There is a fair amount of debate about Robinson for the NFL. One team said they had Robinson as a top-15 pick and believe that he is a Russell Okung- or Ryan Clady-caliber left tackle for the NFL. Another playoff team graded Robinson late in the first round. That organization thinks a team could get by with him at left tackle, but ideally, Robinson would be a right tackle. One NFC team gave Robinson a second-round grade. That team said that one could get away with Robinson at left tackle, but that he could have problems with speed rushers. They said they project him similar to Tampa Bay's second-year left tackle Donovan Smith. This is a weak tackle draft, however, so Robinson will probably go in the top-20 picks.
*Analysis via Charlie Campbell at WalterFootball.com
2. MIKE McGLINCHEY, Notre Dame (6'7″ – 310 pounds) Projected Round: 1-2
In the 2017 NFL Draft, McGlinchey could be the closest thing to a franchise left tackle. He isn't one of the best tackle prospects to come out in years, but he is very good with upside to be a very good pro left tackle.

McGlinchey has suggested that he is inclined to return for his senior year rather than enter the 2017 NFL Draft, but a year ago around the same time, former teammate Will Fuller said the same thing and now he's playing for the Texans, so it isn't a definite that McGlinchey won't be in the 2017 NFL Draft. Stephon Tuitt said the same thing.

McGlinchey has been very impressive at left tackle for the Fighting Irish. As a run blocker, McGlinchey can get movement at the point of attack. He flashes heavy hands to push defenders out of their gaps and open holes for his back. In pass protection, he looks like a natural at left tackle, and one wouldn't have thought that he wasn't playing the position last year. McGlinchey shows excellent feet to get depth in his kick slide and cut off speed rushers. He also displays a nice ability to bend at the knee, and that in combination with his feet, keeps him from having to reach after edge rushers. McGlinchy's performance has given evidence that he is a future starting left tackle in the NFL and a first-round pick.
*Analysis via Charlie Campbell at WalterFootball.com
3. RYAN RAMCZYK, Wisconsin (6'5″ – 314 pounds) Projected Round: 1-2
Given his relative inexperience, Ramczyk shows impressive balance, agility and patience in pass protection. He eases off the snap, sliding left with light feet and bent knees waiting for the defender to come to him. The coordination between his upper and lower body is impressive, as Ramczyk keeps his feet sliding while shooting his hands into the chest of opponents. From there, Ramczyk's long arms and strength typically take over, essentially ending the play for the defender.

Shows the poise that will earn him high marks from offensive line coaches as well as scouts, maintaining his technique with bent knees and using his trailing right arm to get a final, powerful shove on the rusher.
*Analysis via Rob Rang at CBSsports.com
4. RODERICK JOHNSON, Florida State (6'6″ – 308 pounds) Projected Round: 2
In this writer's opinion, Johnson has struggled this season and should return for his senior year to get better before going pro. He has turned in some underwhelming performances, including rough moments against Louisville and Miami. NFL sources haven't been as hard on Johnson, but they aren't excited about him either. Even scouts from teams that are desperate from offensive line help aren't pining for their team to land Johnson. He hasn't been receiving first-round grades.

Johnson had an ugly start to the season as Ole Miss and edge rusher Marquis Haynes exposed a lot of problems for Johnson. Johnson was beaten for a sack and got zero movement in opening holes in the running game. The junior lacks strength and doesn't generate any push in the ground game. He ties up his blocker, but is not a force at the point of attack to push a defender out of their gap. In pass protection, Johnson has the athleticism to protect against speed rushers, but he is weak to block inside moves and gets bull rushed too easily. Even undersized speed rushers have success bull rushing him. Johnson is a finesse player who needs development.
*Analysis via Charlie Campbell at WalterFootball.com
5. TAYLOR MOTON, Western Michigan (6'5″ – 328 pounds) Projected Round: 2-3
Moton has been a solid offensive lineman for the Broncos the past few seasons and is having a quality senior year at right tackle. Western Michigan has had a superb offense with a dynamic aerial attack for a few years, and Moton's pass protection has contributed to that. As a sophomore, Moton played right tackle before moving to right guard as a junior. He has versatile size for the NFL and could be a player who is a valuable backup for guard or tackle early in his NFL career.
*Analysis via Charlie Campbell at WalterFootball.com
General Manager Dave Gettleman is known for his love of lineman, but if he would select a tackle in the first-round remains to be seen. In a 2017 NFL Draft that is projected to be shallow on offensive tackle talent, his "best player available" approach for the Carolina Panthers may be in jeopardy with an immediate need along the offensive line.
This article originally appeared on