Panthers Game Day: New Orleans Saints – Week 11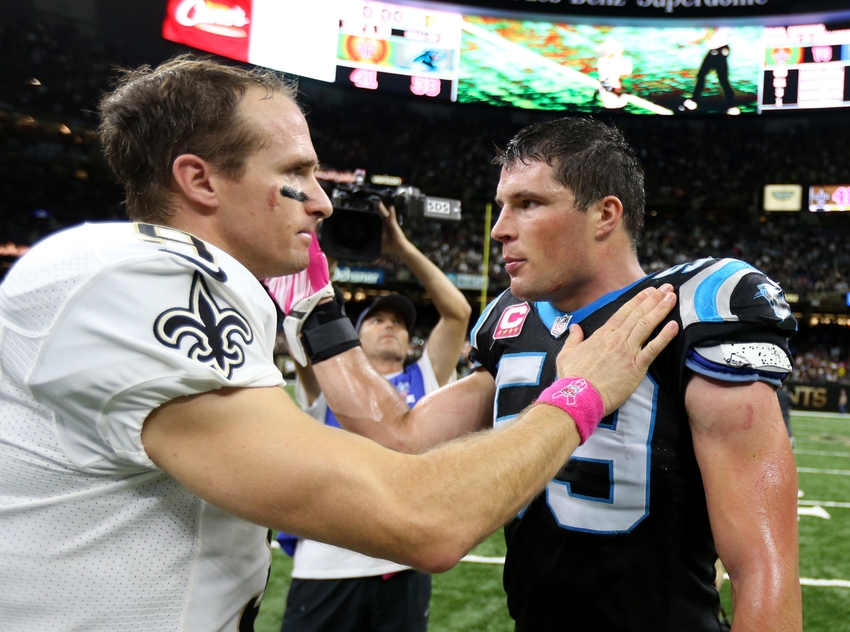 After a heartbreaking loss, the Carolina Panthers face a short turnaround before hosting the Saints on Thursday night…
The Carolina Panthers appeared to be heading in a new direction following the bye week. For two and a half games everything was improving, then a failed 20-play drive and last week's fourth quarter occurred. Carolina let a 17-0 lead slip away by allowing 20 unanswered points and 17 alone in the final quarter of play against the Chiefs. Amazingly, the playoff chances, even the division title, remain a possibility for these Panthers.
Center Ryan Kalil is expected back in the middle of the offensive line on Thursday night. A definite positive after missing two games with a shoulder injury. However, linebacker Shaq Thompson's status is unknown while back-up A.J. Klein entered the concussion protocol on Monday. Carolina needs a win to not only avenge an earlier loss in New Orleans, but maintain any hope in playoff football for this season.
Opposite, the divisional rival New Orleans Saints are 4-5, but playing much better football since the first few weeks of the season. The Saints have a favorable schedule remaining and with every team still in the hunt is also looking to jump start a playoff push of their own. Typically, quarterback Drew Brees and the Saints do not fair as well away from the Superdome, but Carolina has not provided teams to be weary of much, even at home. Since the league's longest home winning streak was snapped in Week Three, the Panthers have dropped two of three inside Bank of America Stadium.
2016 SEASON: CAROLINA PANTHERS (3-6) vs. NEW ORLEANS SAINTS (4-5)
KICKOFF: 8:25 PM EST
TV: NBC, NFL NETWORK, TWITTER
LOCATION: BANK OF AMERICA STADIUM
WEATHER: 53 degrees, 67% humidity, SSW 2 mph wind, 0% precipitation
LAST MEETING: 41-38, NO – Oct. 16, 2016 (Week Six)
KEY MATCH-UP: Carolina Secondary vs. New Orleans Wide Receivers
In Week Six the Saints and Brees were able to exploit a Carolina secondary that was inexperienced and lacking production. Since that time both qualities have improved but the fact remains that the Panthers start two rookies at cornerback. While both James Bradberry and Daryl Worley have improved, they have yet to be truly tested since returning from the bye. Arizona proved capable, but the defensive line provided pressure making Carson Palmer a non-factor. If Carolina hopes to compete on Thursday night, a similar performance from the front seven will be necessary.
Brees threw for 465 yards and four touchdowns just five weeks ago. Receiver Brandin Cooks caught seven balls for 173 of those yards and added a touchdown, while averaging over 24 yards per catch. The Carolina defense is going to need to slow down both Brees and Cooks to be successful in this second meeting. Previously, Brees was only sacked once in the game, a number that the defense must improve upon to help the young secondary.
After hanging on week after week despite up and down performances, it seems the season hangs in the balance on Thursday night. A win could spark a playoff run similar to the 2014 season, but a loss would seemingly sound the death knell. Expect the Panthers to delay that at least another week, rebounding from Sunday and avenging the earlier loss.
PREDICTION: Panthers – 31, Saints – 30
More from Cat Crave
This article originally appeared on