Panthers: First Half Grades – Offense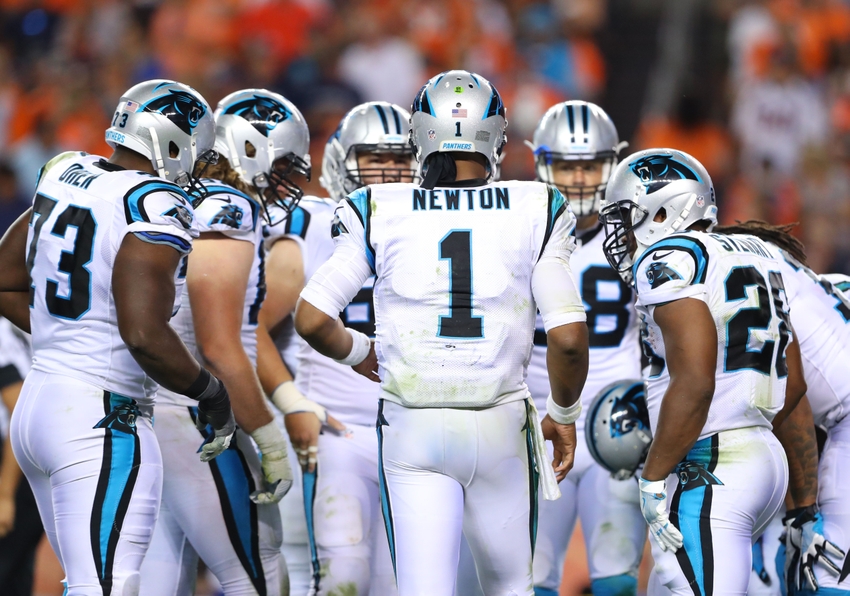 With a 3-5 record and in last place among the NFC South division, the Carolina Panthers are in need of a second half turnaround for a return to the playoffs…
In order to return to the playoffs, or even compete for a playoff position, the Carolina Panthers will need to display some inspired play throughout the second half of the season. Through eight games, Carolina is 3-5 and far below the expectations of both the media and fans entering the season.
How did the offense perform during the first half of the season?
Continue to see grades for each of the individual offensive units as it relates to their first half performance. However, be forewarned that these grades reflect individual performances and the unit as a group. On pace for a 6-10 season after eight games, these are the report cards you hide from your parents and hope that a signature return is not required.
It is not all doom and gloom in Carolina. The team is 2-0 since the bye week and the defensive pass rush appears to be rejuvenated. But alas, this is the offense quarterbacked by the reigning MVP as defensive grades will follow later.
QUARTERBACKS,
Carolina Panthers
C-
The quarterback play for the Panthers has been average to this point in the season. Cam Newton has played in all but one game (concussion) and is on pace for only 18 passing touchdowns, which would tie his career low. He has rushed for three touchdowns, putting him on pace for six and equaling another low for his time in the league. Playing behind an offensive line that has faced injuries and many moving parts, Newton has only completed 57.7 percent of his passes. That's only good for 31st among players who have attempted 100 passes or more. A worse completion percentage than Trevor Siemian, Case Keenum, and Blaine Gabbert. Backup quarterback Derek Anderson started one game in Newton's absence and lost at home to the Tampa Bay Buccaneers on Monday night. Anderson proceeded to throw two interceptions, including a crucial one on the goal line. As the reigning league MVP, the potential for a turnaround is obviously present, but improved play is going to be a necessity moving forward.
RUNNING BACKS,
Carolina Panthers
C
While the Carolina Panthers offense has performed better when lead back Jonathan Stewart is on the field, he has only been available for five of the first eight games. Essentially, half as he was only good for five carries during the Week Two contest with San Francisco. In those five games Carolina was 3-2 and with those being the only wins to date his role is crucial to their success. Meanwhile, in his absence or as a change of pace, both Cameron Artis-Payne and Fozzy Whittaker have been less successful while fullback Mike Tolbert has all but been phased out of the offense completely. With his performance providing such a different look to the Panthers' offense, Stewart's health will be essential for the second half of the season.
WIDE RECEIVERS,
Carolina Panthers
C-
The return of Kelvin Benjamin and emergence of Devin Funchess were supposed to have this group on the fast track to greatness. Through the first half of the season none of this has materialized. Benjamin played a game in which he was never even targeted and Funchess has 11 catches for 178-yards. By comparison, Atlanta's Julio Jones had 12 catches and 300-yards in the Panthers' game alone. Benjamin has been better, on pace for over 1,000 yards, but he currently ranks 46th in receptions (36). The speedster Ted Ginn is, historically, having an average year but has zero touchdowns compared to 10 for last season. While both quarterback and offensive line play obviously contribute to the impact receivers can have on the game, this group has grossly under performed expectations entering the year.
TIGHTENDS,
Carolina Panthers
A+
After a dominant 2015, Greg Olsen is performing even better this season. He is averaging his highest yards per catch, tied a career long, and is on pace for over 1,200 yards. The lone bright spot for the Panthers' offense to this point, Olsen's improvement is somewhat of a shock. Following last season teams are obviously aware of the impact he can have in the passing game, but have been unable to slow him down. Not only is Olsen performing well, but fellow tight end Ed Dickson has also been involved. Dickson is on pace for his highest total receiving yards since joining Carolina and can tie his touchdown performance with another score this year. Both have been impact players for the Panthers and could use some help around them to continue winning down the stretch.
OFFENSIVE LINE,
Carolina Panthers
D
Returning all five linemen from a Super Bowl team initially sounded like a dream come true. Last season, this group paved the way for one of the most dominant offensive performances by a team in the history of the league. However, this season the same group has struggled immensely. Faced with losing left tackle Michael Oher, who remains out and in the concussion protocol, tackle Mike Remmers had to move over on the opposite side of the line. Remmers has been responsible for numerous holding penalties and quarterback sacks/pressures since the move. Most recently, the cornerstone of the unit, center Ryan Kalil missed a game due to a shoulder injury. Needless to say, this group has undergone transition and movement like nothing that was experienced a season ago. Newton has been sacked 21 times, on pace to reach his career high of 43 suffered in 2013. If the Panthers hope to continue winning since the bye, a return of both Oher and Kalil is necessary immediately.
With eight weeks remaining there is still plenty of football left in 2016. The Carolina Panthers have won two in a row and are hoping to continue turning the corner as they prepare to battle for a playoff position. However, as evidenced by the first half grades, improved play is necessary in almost all areas of the offense.
More from Cat Crave
This article originally appeared on