Panthers at Raiders: Preview, Predictions, and More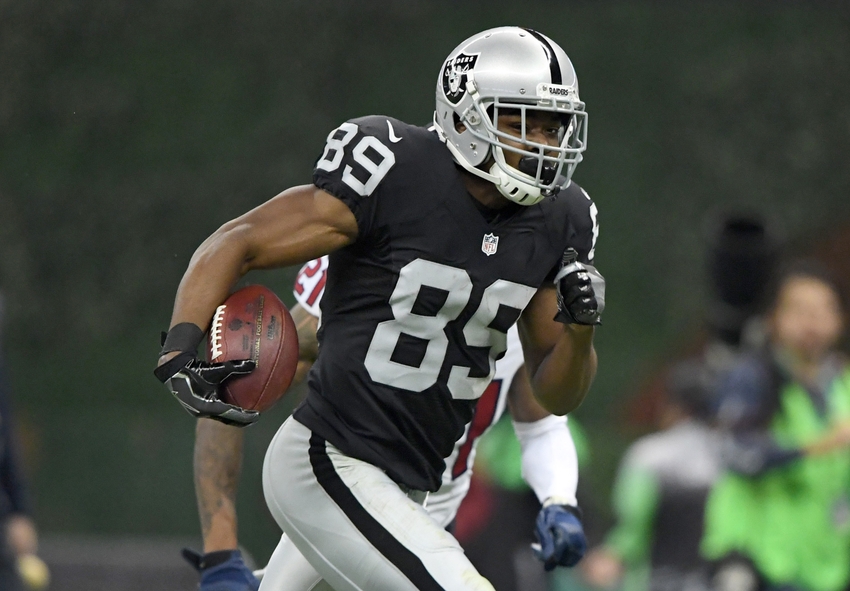 Oakland Raiders vs. Carolina Panthers
Carolina Panthers fans know what it feels like to be an Oakland Raiders fan. Yes, Raiders fans are ecstatic when they see the wins piling up, but they must also feel frustrated at the rhetoric from detractors. Remember last year when people were still criticizing Cam Newton and the Panthers, calling them a mirage no matter how many times they won?
Some Raiders fans feel they are getting the same lack of respect, particularly when it comes to their defense. At the beginning of the season, defensive coordinator Ken Norton Jr. was still getting a feel for things in Oakland. More importantly, the new players themselves were getting a feel for each other. For example, veteran cornerback Sean Smith and fellow free agent addition Reggie Nelson (a free safety) had some communication issues at the beginning of the season, as there were times when Smith expected safety help and didn't get it.
Those miscues have been cut down greatly. After some hiccups to start the season, players like Smith, Nelson, and Bruce Irvin are starting to hit their stride. Khalil Mack is blowing up plays constantly, Perry Riley has enjoyed a Chris Baker-esque breakout season (except Riley isn't with the Washington Redskins anymore), and rookie Karl Joseph looks like one of the best pick-ups in the entire class.
Even though the Panthers are 4-6, it also seems like they are finally starting to find their groove after a 1-5 start to the season. Before the bye week, the Panthers were working on a four-game losing streak and just could not win the turnover battle to save their lives. Following the bye, the Panthers have won three of four games, including a Thursday Night Football victory over the New Orleans Saints last week.
That said, the Panthers must face their toughest battle yet against the 8-2 Raiders. This team has looked lost on defense, and Cam Newton and the offense have been among the NFL's most disappointing units. But if they can pull off the upset this week without Luke Kuechly, Mario Addison, and Ryan Kalil, then it would be unwise to count them out in the NFC South.
Keys to Victory
Without Addison, the Panthers could find it nearly impossible to put pressure on Derek Carr, who has emerged as a clear MVP candidate this season. Carr usually has plenty of time to throw, since he operates behind what could be the best pass blocking offensive line in the league. I'd still give that distinction to the Dallas Cowboys, but Raiders fans gloating about their offensive line's brilliance are well within their right to do so.
If the Panthers cannot find a way to make Carr uncomfortable, then he could have a field day. Rookie James Bradberry has been an underrated find at cornerback, but the Panthers just lack the talent to hang with Amari Cooper and Michael Crabtree all game long. Cooper is guaranteed to notch 100 yards if he gets at least ten targets in a game, and now that he's presumably fully healthy, he could go off this week.
The Raiders need to make sure that the Panthers can't establish a running game. Carolina won last week against the Saints despite only getting 50 rushing yards, and Jonathan Stewart had another awful game. After being a crucial – and unheralded– part of the league's best offense in 2015, Stewart is averaging just 3.3 yards per carry in 2016.
With 4.6 yards per carry allowed, the Raiders run defense is not a strength, and they had some trouble with star back Lamar Miller last week. The Raiders won that game, but, alas, Cam Newton is a superior quarterback to Brock Osweiler. Stewart has been terrible this season, but Oakland can't afford to let him wake up in Week 12.
Odds
Point Spread: Oakland -3
Moneyline: Oakland -170, Carolina +150
Over/Under: 50
Prediction
The Panthers will give the Raiders all that they can handle, but they will need playmakers in the passing game like Ted Ginn Jr. and Kelvin Benjamin to step up if they want to win this. Oakland has so much firepower on offense, and the craziest thing is the fact that Latavius Murray has become a more reliable in-between-the-tackles yard-churner than Stewart this season.
That could prove to be the difference. Newton was the MVP last season and can give Carolina a chance at the upset, but the Raiders are in the better situation. Not only are they at home, but they don't have to deal with injuries to three of their most important players. Carolina is missing its best offensive lineman, its best pass rusher, and its best non-quarterback.
Pick: Oakland Raiders: 31, Carolina Panthers: 24
This article originally appeared on