Packers vs. Titans: Stopping Marcus Mariota and other keys to the game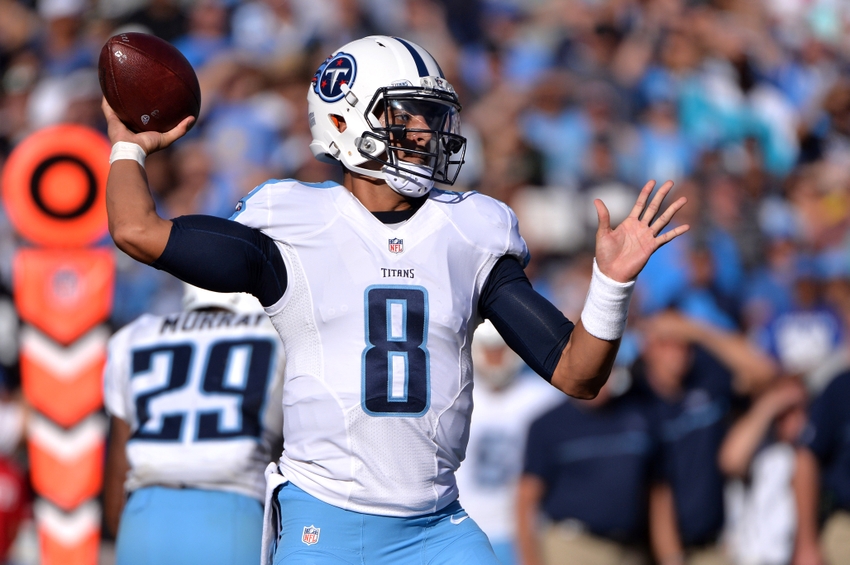 At the halfway point of their 2016 regular season, the Packers are suddenly at a crossroads where another loss this coming Sunday will put them under the .500 mark and add a few more flickers of flame to Mike McCarthy's hot seat that could ultimately reach its boiling point at season's end if he can't right a rudderless ship.
Green Bay's next obstacle comes in the form of an upstart Tennessee Titans team that may not yet be ready to hold any realistic championship aspirations, but have some young and intriguing foundation pieces that give them a legitimate chance of earning a victory most weeks.
The most prominent among these fledgling cornerstones is Marcus Mariota, who in only his second year as an NFL signal caller is tied for fifth at his position in touchdown passes (17) while ranking second to only Buffalo's Tyrod Taylor in rushing yards (235).
At 6-foot-4, the 23-year-old stands tall in the pocket where he throws with accuracy and anticipation along with exhibiting a remarkable sense of awareness to pull the ball down and improvise when trouble is lurking.
Mariota has the ability to put the offense on his shoulders if necessary and lead it to victory, but still alternates moments of brilliance with bone-headed plays where he'll try to force off-balance throws into coverage that often result in turnovers for the opposition (see Week-4 interception versus Houston).
Yes, he's learning, but Tennessee's coaching staff has surrounded their franchise quarterback with a physical offensive line and two bruising running backs that can pound defenses into submission.
When DeMarco Murray and Derrick Henry are piling up big yards, Mariota can utilize the play-action game while also using his legs to threaten his adversaries on bootlegs, roll-outs and read-option plays both from the shotgun and from under center.
In last week's 43-35 loss to San Diego, Mariota showed that he's still prone to making bad reads and missing throws in critical situations, as he did on his second interception recorded by Brandon Flowers that saw the Titans' triggerman underthrow his target (Kendall Wright) too far inside.
There's no doubt that defensive coordinator Dom Capers is hard at work designing ways to disguise coverages that could potentially lead Mariota to turn the ball over.
In only nine games, the young gun has already amassed 12 turnovers—five of which have been returned for touchdowns.
While Tennessee's game plan is to generally play it safe and lean on the running game in order to set up safe passes in the effort of methodically moving the chains, Mariota has been challenging defenses deep with greater frequency in recent weeks with varying levels of success.
Whereas the Honolulu native was averaging 6.58 yards per pass attempt in his first five games, that number has increased to 9.43 over the past month as Mariota has been making a greater effort of hitting his downfield receivers in stride.
The former Oregon Duck still flashes inconsistency in that part of his game and it is incumbent upon the Packers' defense to put him in those types of situations if they hope to achieve a crucial road victory.
Taking Mariota out of his comfort zone will require Green Bay's front seven to limit Murray to minimal yardage on early downs in hopes of forcing third-and-long scenarios and thus neutralizing the play-action game that has allowed Delanie Walker to blossom into a lethal underneath weapon.
In addition, the Packers cannot allow the elusive Mariota to extend plays to pull in the defense and get his receivers open. Those with man-coverage assignments must stay with their guys and leave it to a run-stopping spy (Jake Ryan immediately comes to mind) to keep the quarterback from generating big yards on the ground.
Not having Clay Matthews in the lineup limits a Green Bay pass rush that has lacked its early-season tenacity in its most recent losses.
Leading sack artist Nick Perry in particular has shown signs of wearing down and his matchup against the hulking 6-foot-7 Taylor Lewan doesn't portend to be a walk in the park by any stretch. The Titans' left tackle possesses the footwork and recovery speed to handle attacking pass rushers from the both the inside and outside.
Green Bay's other pass rushers include Julius Peppers, who is very much a part-time contributor at this stage of his storied career along with Datone Jones, who has become infamous for his routine disappearing acts and the promising, but inexperienced Kyler Fackrell.
Producing any type of pressure this week may very much lie in the hands of the relentless inside lineman Mike Daniels who will be up against the heavy-footed and short-armed trio of Brian Schwenke, Ben Jones and Josh Kline at the center and guard positions.
Using blitzing safeties and corners to penetrate the pocket will remain part of the game plan, but hopefully not to the degree it was used versus the Colts.
The one thing that is certain is that Mariota won't be able to shake off defenders quite like Andrew Luck did in Week 9 given the fifth-year pro's extraordinary strength.
Of course, Aaron Rodgers and the offense will need to do their part and force the issue in the interest of striking early and putting Tennessee on its heels.
Dictating to the opposition is always a winning formula especially on the road where an early lead can silence the throngs of Titans' supporters on hand.
But how exactly does the visiting squad from the Dairy State go about putting their plan into action?
Here are two matchups that McCarthy should be looking to exploit.
Is Nelson all the way back from last year's ACL tear? His performances over the past two games indicate that he's back to being the team's top weapon in the vertical passing game as evidenced by his 11 receptions for 188 yards and two touchdowns.
Last week's home meeting with Indianapolis also saw the 32-year-old wideout gain tough yards after the catch on shallow routes.
Nelson will see lots of Perrish Cox, who is well-built at 5-foot-11 ½" and 190 pounds, but is a freelancer that tends to gamble and give up big plays.
The one-time Denver Bronco was responsible in surrendering a 6-yard touchdown catch to Tyrell Williams in the San Diego loss by failing to put himself in position to defend a play in which he was boxed out by the pass catcher.
Cobb was inexplicably underused versus the Colts, but that won't be the case this Sunday with his name absent from the latest injury report.
No. 18's matchup versus slot corner Brice McCain is a favorable one since the veteran Titan is a prone to tugging, grabbing or whatever else he needs to do to stop his man.
Staying with the shifty Cobb will be an arduous task for the 5-foot-9 defensive back, who has also been known to miss a tackle or two.
This article originally appeared on