Packers vs. Seahawks: Snow expected at Lambeau Field on Sunday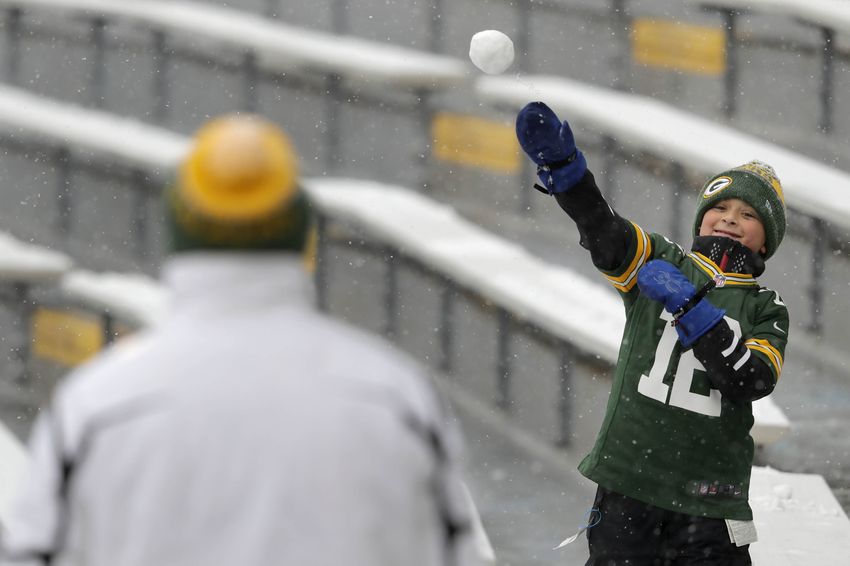 As the red-hot Seahawks prepare for the Frozen Tundra, the Packers' December friend is set to return.
Just a week after the Packers defeated the Texans inside a snow-kissed Lambeau Field, more Christmas weather is expected for Sunday's encounter with Seattle.
Heavy snow (6-8 inches) forecast for GB Sat nt through Sun nt (SEA at GB, 3:25 p.m. Sun) … could be #Packers' snowiest game since 12-1-85.

— Bob McGinn (@BobMcGinn) December 9, 2016
Although the temperature is only set to drop to 24 degrees, or in other words a heatwave to residents of Green Bay, snow is forecast throughout the day. Playing conditions could be every bit as tough as they were last week.
Consider it advantage Packers. Not only are the home team used to Lambeau's testing weather, they will have played in a snow game just seven days prior. Adjusting to the footing is one of the biggest tasks on a greasy surface, something the Packers gained four quarters of experience in last week.
Green Bay's old-timers get it. Aaron Rodgers looked unfazed by a slippery outfield against Houston. He was necessarily cautious not to aggravate his ailing hamstring, but he knows how to play the conditions.
The Seahawks will need to adapt in a hurry. Quarterback Russell Wilson is so tough to defend due to his rushing ability, but this could be limited somewhat in the snow. But Wilson is no stranger to the conditions he'll face Sunday, having played college ball at Wisconsin.
"I can't wait," Wilson said, via the Seattle Times. "It's going to be awesome. Obviously I get to go back to Wisconsin. We know it's going to be a tough environment. We're really looking forward to it."
Richard Sherman is a different story.
Richard Sherman told the local media earlier this week that he has never played football in the snow. Sunday could be fun.

— Aaron Nagler (@AaronNagler) December 9, 2016
Maybe the three-time first-team All-Pro won't be at his dominant best. A slippery surface will put added strain on every defensive back on the field, for both teams, but the Packers know what to expect.
The Seahawks enter Lambeau in red-hot form, winning four of their past five games. As far as the Packers are concerned, the colder the better.
This article originally appeared on