Packers vs. Redskins: Three things to watch in Week 11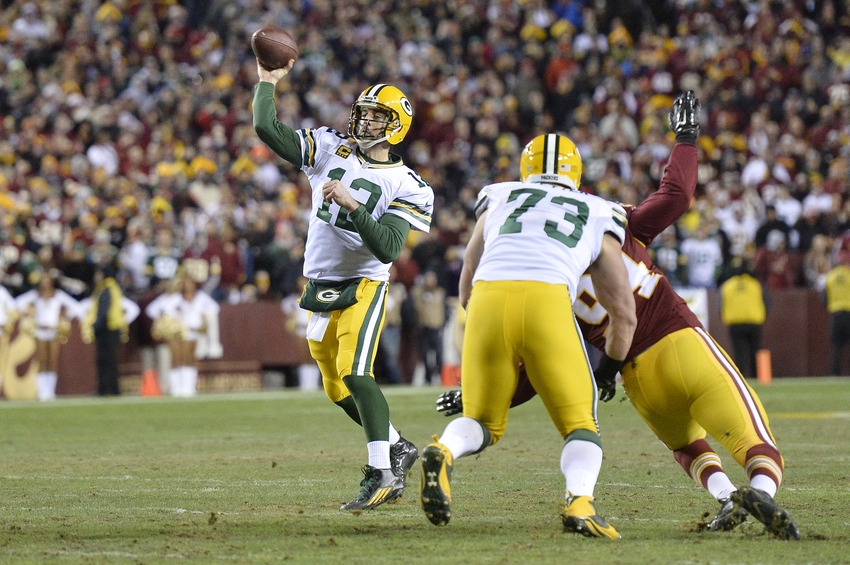 The 4-5 Packers head to FedEx Field this week to face the 5-3-1 Washington Redskins on Sunday Night Football.
Every game for the rest of the Packers' season is now bordering on must-win status, as they can probably afford no more than two additional losses in the last seven games if they hope to make the playoffs.
Here's three keys to the game.
1. Starting quick
After talking about how there is no need to panic and the team will pull themselves together, the Packers have been gashed in the beginning of the past two games. They gave up a touchdown on the opening kickoff against the Colts, and the Titans exposed the Packers in nearly every facet on their way to a 21-0 first quarter lead.
Playing in primetime with their season on the line, there will be no excuse for the Packers to lack energy from the opening kick.
RANKINGS: Potential replacements for Mike McCarthy
DRAFT: Four college prospects on the Packers' radar this week
NFL PICKS: Predicting each Week 11 game
But can they translate that into a first quarter lead?
Aaron Rodgers and the Packers historically have been poor when needing to come back from a multiple-score second half deficit. It's critical that they come out of the gates firing this week if they hope to avoid slipping into a disastrous 4-6 start.
So how do they do that?
It starts with defense and special teams. No opening kickoffs returned for touchdowns. No 75-yard runs on the first defensive play from scrimmage. No touchdowns thrown by halfbacks.
The offense, though, needs to pull its weight as well. The Packers started the Tennessee game with three straight punts due to poor throws from Rodgers, strange play-calling from McCarthy, and porous pass protection.
Even with Christine Michael on board, expect McCarthy to call for plenty of spread formations and passes to start this game. That's what's been working so far, and it's the Packers' best bet to keep pace with the Redskins.
2. Pass defense
I have a confession to make. As some of you may have heard, I was apparently responsible for the Titans putting up 47 points on the Packers last week.
I wrote in my game preview last week that the Titans passing game was "devoid of weapons" and that "Even with the Packers' limited supply of cornerbacks, they should be able to shut down Rishard Matthews, Tajae Sharpe, and Delanie Walker."
Well, someone screenshotted that and tweeted it to Delanie Walker, who proceeded to share it with his teammates and use it as motivation to lay waste to the Packers' secondary.
Lesson learned. Delanie, you certainly proved me wrong.
There will be no such disrespect this week with Washington's Jordan Reed. Reed is an elite tight end and a matchup nightmare for this Packers defense. In just seven games this season, he's already put up 44 catches for 456 yards.
How can the Packers cover Reed, not to mention Kirk Cousins' other weapons in DeSean Jackson, Pierre Garcon, and Jamison Crowder? It's a tall task for Dom Capers and his still-handicapped defensive unit.
Micah Hyde and Kentrell Brice could draw a lot of duty on Reed, but Walker showed last week how badly an elite tight end can expose them. The loss of Sam Shields and Damarious Randall, meanwhile, leaves the Packers extremely shorthanded when dealing with Jackson's 4.35 speed.
If Clay Matthews returns, that will certainly help. But Capers needs to call a very smart game, and the Green Bay secondary needs to play a whole lot better if they're going to make this a game.
3. Aiding Aaron
Aaron Rodgers didn't play well last week by his standards, but he did more than enough for the Packers to win that game. This week, Mike McCarthy and the rest of the offense need to step up to help their embattled quarterback.
Davante Adams has emerged as the Packers' best offensive weapon this year, a shocking development. Jordy Nelson has also put up surprisingly good numbers thus far, despite the lack of big plays that we're used to seeing from him.
It's long past time for everyone else to step up.
It starts with Mike McCarthy. Why are you trying so hard to establish a traditional running game behind James Starks? Why is Richard Rodgers playing so many snaps while Ty Montgomery sits on the bench? (Richard, feel free to use this as motivation for a huge game on Sunday.)
But it continues to the rest of the passing offense. Randall Cobb has been underwhelming this year. Trevor Davis' questionable hands are keeping him off the field. Jeff Janis continues to struggle with tracking balls and running routes.
Even the offensive line gave up five sacks last week.
Rodgers is possibly the most physically gifted quarterback in the league, but he needs all the help he can get right now. He'll need contributions from someone like Cobb or a healthy Jared Cook to crack Josh Norman and Washington's solid pass defense.
Prediction
Redskins 31, Packers 24
I've been a largely optimistic Packers prognosticator this entire season. But after last week's debacle, I've lost some faith.
This team no longer deserves the benefit of the doubt. The Washington Redskins are a good team, and the Packers have shown little to no ability to beat good teams recently.
If Green Bay is to come away with a victory, it will likely need to be behind a huge game from Aaron Rodgers and the offense. With Mike McCarthy facing doubters at every turn, perhaps this is the perfect week to send a message in primetime.
But I think the Packers have too many flaws to come away with a W here. The Redskins have improved since last year's divisional playoff showdown against the Packers. They have a quarterback playing well, offensive weapons, and a good enough defense to knock the Packers back to 4-6.
This article originally appeared on