Packers vs Bears: One-on-One with Bear Goggles On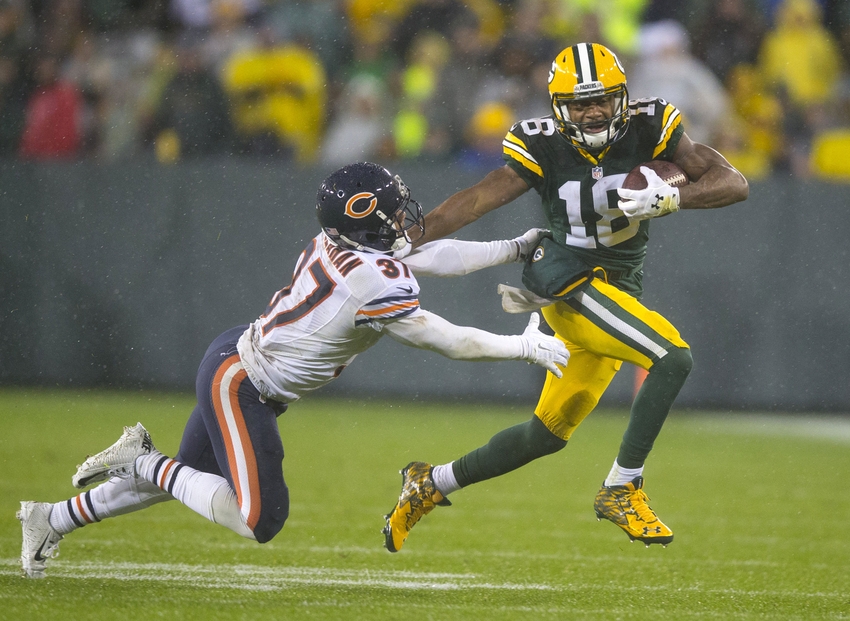 On a very short week Lombardi Ave goes one-on-one with the Chicago Bears FanSided site Bear Goggles On.
 The Packers come in with more questions than answers. What is wrong with Aaron Rodgers? Who will replace Eddie Lacy? Who will replace Davante Adams? Who will step up in the depleted secondary?
 This week, from the rival site of the Chicago Bears, we welcome Mike "Boomer" Burzawa.
Lombardi Ave: The Bears are fourth in passing overall on the season. Yet, they rank dead last in points for. Try to shed some light on how that is even possible for our readers.
Bear Goggles On: First off, thanks to their putrid offensive performance on MNF, the NY Jets secured the spot as the worst scoring offense.
Hall of Fame basketball coach John Wooden once famously said, "Don't mistake activity with accomplishment."
That's a good way to describe the Chicago Bears offense; there's a lot of activity in the form of yardage but not a lot of accomplishment by way of scoring.
Why aren't the Bears scoring?  You can't blame Jay Cutler turnovers, which is usually why the Bears fail to score.
The biggest problem the Bears have had is failing to score touchdowns in the red zone.  The Bears are cashing in on less than half of their red zone opportunities.
Add to that the Bears cut long-time kicker Robbie Gould and replaced him with Connor Barth, who's missed a few kicks this season.
Lombardi Ave: From a Packers' fan base point-of-view, I think many are hoping Jay Cutler comes back this week. Once Cutler is 100% healthy, is it still his team?
Bear Goggles On: Don't count your interceptions until they're hatched Packers Nation.  I think it's safe to assume that Jay Cutler will be manning the clipboard on Thursday night and you'll be facing Brian Hoyer, who's yet to throw an interception this season.  I know, he's DUE!
The Cutler vs Hoyer debate has been going hot and heavy for a few weeks now.  Some people are ready to anoint Brian Hoyer as the starter regardless of Cutler's status.  While he's piled up some passing yardage, he's still only guided the Bears to only one win while facing some very beatable teams.  A lot of Bears fans think Cutler would have made some of the throws to help the Bears win the last two games.  From this fan's point of view, this isn't either Cutler or Hoyer's team.  With the Bears likely headed for a top-5 draft pick, this team will belong to whoever they draft next season.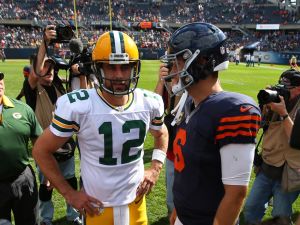 Lombardi Ave: Going away from the teams here somewhat. What is your view on Thursday night games? Also, if you could weigh in on the color rush theme.
Bear Goggles On: I absolutely hate the Thursday night games mostly because the quality of play is so poor.
Teams barely have time to recover from Sunday's beating before they have to suit up a few days later.  I feel like the home team always has a decided edge since they don't have to travel.
At least in recent years the TNF games have been between division rivals, so at least teams have more familiarity with their opponents.  Selfishly, it screws up all of my football pools and fantasy lineups with the Thursday night games.
If the NFL wants to continue Thursday Night Football, they need to consider adding another bye week and having the teams playing on Thursday night with their bye the week before.
As far as the color rush theme goes, you can keep it.
They bungled it right off the bat when they had the Jets and Bills in green and red respectively, leading those who suffer from color blindness to not be able to distinguish between the two opponents.  It's a marketing plot to try to sell some more jerseys.
If I recall correctly, the Bears will be in all Navy while the Packers go in all white.  If it's a color rush, why not go all in and go Bears in Orange and Packers in Green or Packers in Gold and Bears in Navy?
Lombardi Ave: Green Bay is twenty-one spots back of Chicago in overall passing at twenty-fifth. Giving us a view from the rival, what do you make of Aaron Rodgers' struggles this season?
Bear Goggles On: I'll quote a famous cheesehead who said, "R – E – L – A – X."
As soon as there's a slight dip in performance, everyone wants to grab their shovels and start putting dirt on Aaron Rodgers' career.
The Packers have been notorious slow starters the last couple of years, so maybe this year they're starting a tad slower than usual.
It certainly doesn't help that the Vikings are off to a killer start and seem to have the inside track on the division, but I'm sure the Packer offense will come around.  Hey, they get the Bears twice more this season to get right.
Lombardi Ave: Finally, give us your prediction for Thursday night at Lambeau. Can the Bears improve upon that 1-5 record?  
Bear Goggles On: Surprisingly enough, the Bears are winners of their last two out of three games at Lambeau over the last few trips across the Cheddar Curtain.
I don't think Shea McClellin is coming to knock Aaron Rodgers out of the game, so if the Bears want to win this one, they'll have to do it by trying to exploit injuries to the Packers secondary and score some points.
The Bears expect Pernell McPhee to come off the PUP list just in time to bolster the pass rush but I don't think it's enough.
As I said eariler, I feel like the home team has a decided advantage on Thursday night games and this one is no expection.  The Bears keep it close early, but the Packers pull away in the second half.
Packers 27, Bears 20
A big thanks to the site Bear Goggles On and Mike "Boomer" Burzawa for their time this week. Follow them both at BearGogglesOn and Mike "Boomer" Burzawa on Twitter.
This article originally appeared on