Packers must hand Ty Montgomery the keys to the backfield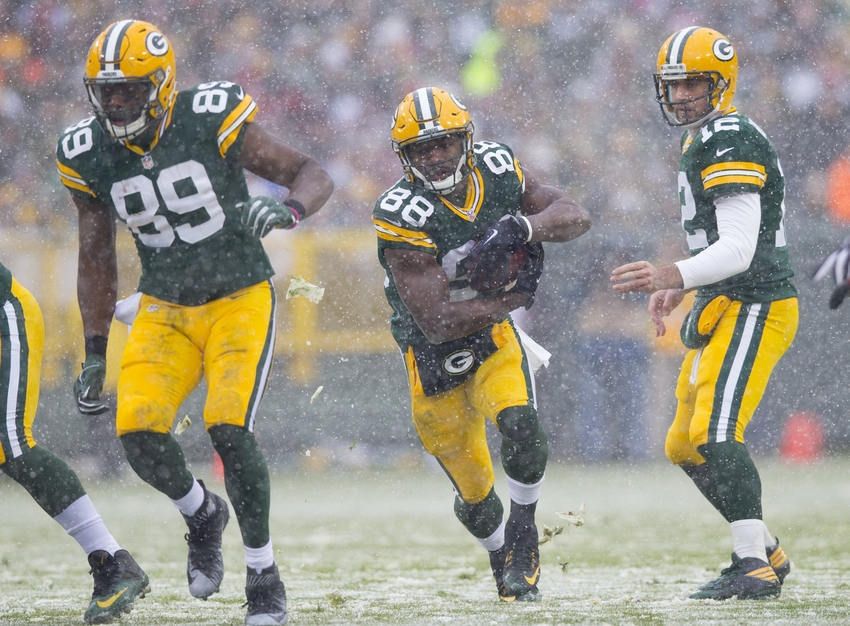 By now it's evident to everyone: Ty Montgomery is the Green Bay Packers' best running back.
Snowy Lambeau afternoons used to follow with a heavy dose of Eddie Lacy. Any hopes of James Starks' replicating Lacy's thumping style quickly dissolved, the veteran running back dancing his way to the bench.
Christine Michael, claimed off waivers in November, showed more energy and burst than Starks after entering the game, but he too struggled to produce. Michael's nine carries returned just 19 yards.
Stuck in first gear with momentum shifting to the visiting Texans, the Packers turned to Ty Montgomery. The receiver-turned-running back obliged, sparking the offense into life with 40 yards from just six carries.
ANALYSIS: Five takeaways from Packers win over Texans
FANTASY: Packers fantasy fallout from Week 13
READ MORE: How NFC playoff picture is shaking out entering Week 14
Facing a crucial third-and-1 from their own 11-yard line, the score tied at 7-7, Montgomery broke free for a gain of 13 to move the chains. He would add another healthy run of four yards on first down later in the drive before Rodgers found Jordy Nelson all alone in the end zone.
On the next drive, Montgomery added gains of three, 11 and four from his three carries. The Packers scored again and wouldn't be caught.
"We're trying to find what personnel group is going to give us that jolt," Aaron Rodgers said postgame. "It turned out to be our three-receiver set with Ty that gave us that jolt. Every game is different."
Michael's role will likely continue to increase, but it's dependant on how fast he learns the offense. Until the Packers can trust him in pass protection, his role will be limited.
Montgomery presents no such concerns, the second-year man looking every bit as effective in the backfield as he was during Starks' absence with a knee injury.
The Packers no longer benefit from Lacy bruising his way through piles of defenders on frigid Lambeau afternoons, but Montgomery is the clear No. 1 in the Packers backfield. His quickness makes him tough to stop in the open field, but he also boasts the strength to absorb hits and break tackles. Years as a returner helped him develop good vision.
Michael and fullback Aaron Ripkowski have plenty to offer, but the keys to the backfield belong to Montgomery.
Rodgers-Nelson connection key in December
Chemistry between an MVP quarterback and Pro Bowl wide receiver is tough to cover, no matter who you are. Moving the ball against Houston was no easy task, and Aaron Rodgers lent on his favorite target time and again to great success.
Nelson caught fire in the snow, hauling in eight of 10 targets for 118 yards and a touchdown. The Rodgers-to-Nelson connection is still one of the best in the league, and the Packers need both on the same page throughout December to ignite a playoff run.
Health on defense key to combat Seahawks
Clay Matthews appears to have returned a week too early, his shoulder injury suffered last Monday night clearly bothering him on Sunday. Jake Ryan aggravated his ankle injury but returned to the game. Nick Perry injured his left hand and played the second half with a club.
Seattle comes to town next week, presenting a far more daunting challenge than Houston. The Texans' wide receivers are a tough cover for any secondary, but the step up from Brock Osweiler to Russell Wilson will be most evident.
Injuries to the linebacker group will concern defensive coordinator Dom Capers. Seattle's offensive line has struggled for much of the year. Not only will the Packers need to generate pressure up front, but also be wary of Wilson's ability to run.
Getting Blake Martinez back would help the cause, as would a healthier Matthews, Ryan and Perry.
The Seahawks are arguably the NFC's second-best team behind Dallas. Beating them at Lambeau might be the Packers' toughest ask of the season. Health on defense is essential.
This article originally appeared on