Packers beat Texans: Quick reactions to Week 13 victory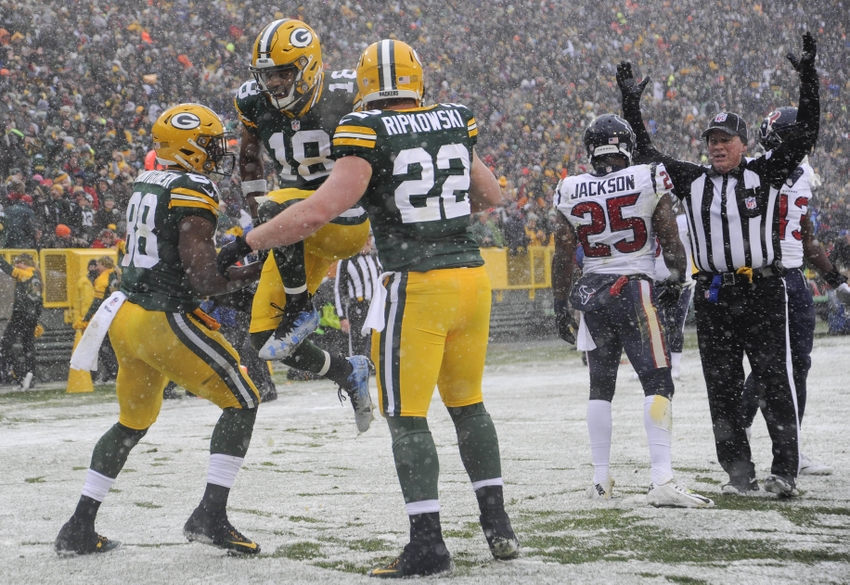 The Packers moved to 6-6 and kept their playoff hopes alive with a 21-13 victory over the Houston Texans this Sunday. Here's my quick reactions from the win.
Mike McCarthy finally gave up on James Starks as the featured back. It took him long enough. Both Ty Montgomery and Christine Michael looked stronger and more explosive in their limited carries, Montgomery especially. They should be the team's primary ballcarriers down the stretch.
I really hated some of McCarthy's play calling in the early parts of the game. Take the Packers' second offensive possession. First down, 9 yards to Nelson. Second down, Starks for no gain. Third down, Starks for -3. Punt. That's brutal.
I was really impressed by the play of the secondary today. Granted, it was against Brock Osweiler in snowy conditions. But save for Micah Hyde's putrid angle on the touchdown at the end of the game, the safeties and corners were aggressive and disciplined in their coverage.
There's few things more frustrating than giving up first downs on draw plays on third-and-medium/long.
One of those few things is giving up first downs on Brock Osweiler scrambles on third-and-medium/long.
I wondered if Davante Adams could keep up his great play against a good Texans pass defense. Instead, it was Jordy Nelson who stepped up with some really tough, important catches. Those two will probably alternate back and forth for the rest of the season as Rodgers' favorite target.
Two very good drives to end the game, but overall, not a particularly encouraging day for the offense. There were far too few passes thrown on time. It's a good thing the pass protection was good enough to allow Rodgers to consistently hold the ball for  five-plus seconds.
Clay Matthews was a complete non-factor. He was undoubtedly limited by his shoulder injury, but he never even got a sniff of the quarterback. He probably shouldn't be rushing the passer much until he's healthy again.
Jake Ryan and Letroy Guion, on the other hand, both had very good games on defense.
Joe Thomas is pretty clearly outside his comfort zone defending the run.
I really like having Randall Cobb return punts. He's having a very quiet season on offense, so it's good to give him additional opportunities to make an impact.
Not a pretty win by any means, but the Packers didn't lose any ground in the playoff race, and that's really all that matters at this point.
This article originally appeared on