Chicago Bears won't be fooled by Aaron Rodgers 'injury'
Green Bay Packers quarterback Aaron Rodgers suffered a calf injury early in a 38-10 blowout of the Seattle Seahawks last Sunday and left the game early as a precaution, leaving mop up duty to Brett Hundley and the Packers running game.
Rodgers, who has played through a calf injury and other lower-body injuries before, managed to pick apart the Earl Thomas-less Seahawks despite being hampered by the calf.
The 33-year-old QB has yet to practice this week ahead of the Week 15 showdown at Chicago where some absurdly cold weather conditions are expected. The forecast projects temperatures on Sunday to reach a high of 3 degrees (fahrenheit!) and a low of minus-13 with winds of 10 to 20 miles per hour. Conditions like that will not do a tight, strained muscle any favors. Still, the Bears are not expecting anything but Rodgers' best. They've learned that the hard way.
"I have a funny story about Aaron Rodgers," Bears defensive lineman Akiem Hicks said on Thursday, via ESPN's Jeff Dickerson. "[I'm with the Saints] in 2014 and he pulled his hamstring in the Superdome and then ran the ball in for a touchdown later in the game. I don't put anything past the guy. I'll tell you this … we didn't think he was going to run it 25 yards for a touchdown [on a bad hamstring]."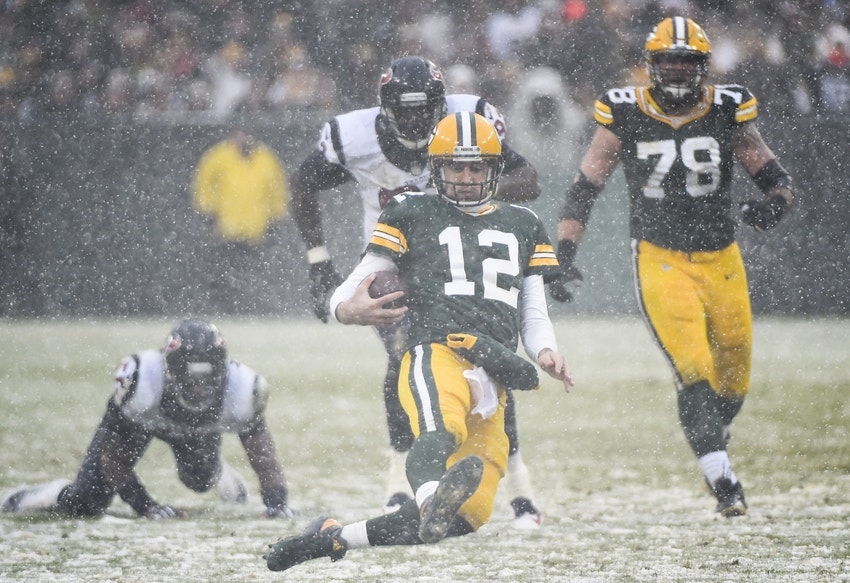 Rodgers fully expects to be out there on Sunday, as do the Bears, and the quarterback has said it's a matter of pain management.
"I've dealt with a lot of injuries over the years, and you just learn about pain management and how to keep yourself in the best shape to play on Sunday, and then playing with pain," Rodgers said. "Obviously, I hurt it on the third play of the game and had to gut it out through some very difficult pain speaking to me at times and obviously slowing me down with some of the stuff I'm good at moving in the pocket or outside the pocket."
So, no, the Bears won't be altering their game plan or expecting to see any lesser version of Rodgers as the Packers, winners of three straight, attempt to run the table and capture the NFC North. Even in the upcoming Arctic conditions.
"That's Aaron Rodgers" Bears linebacker Pernell McPhee said. "Don't let [talk about that injury] fool you."