Packers at Titans Recap, Highlights, Final Score, More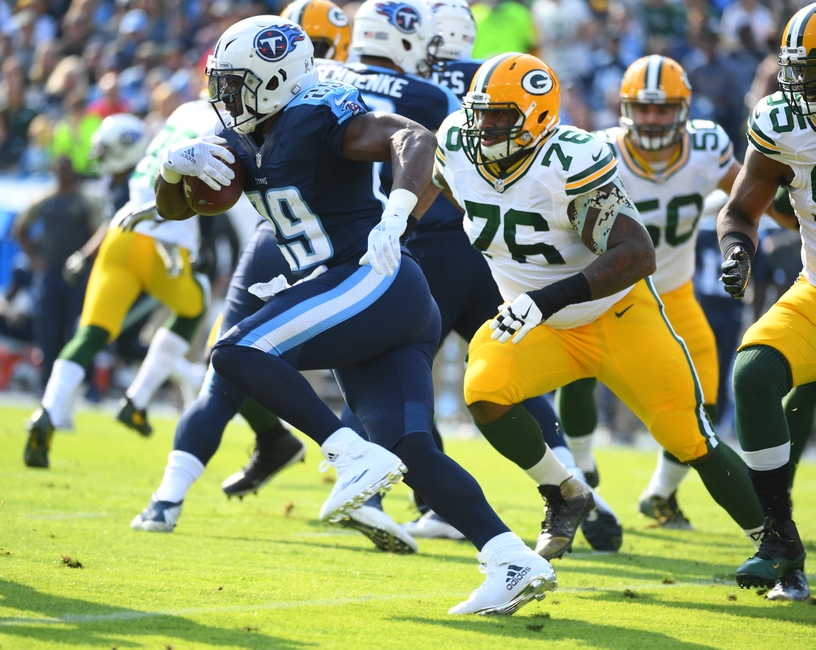 Right from the opening kick, the Tennessee Titans owned the Green Bay Packers to pick up a huge win to get back to .500

25

47
Given the power of both the Tennessee Titans and Green Bay Packers offenses, many expected a shootout in Week 10 when these two teams met at Nissan Stadium. However, that was far from what happened. Right from the start, this game belonged to the home Titans in a big, big way.
DeMarco Murray took his first carry of the day for 75 yards to the house and set the tone. The Tennessee defense followed suit, forcing the Packers to punt after short drives. Murray then threw a touchdown pass, the first of his career, to push the first-quarter lead to 14-0. Another Titans stop then led to a Marcus Mariota touchdown pass to go up 21-0, still in the first frame.
Though Aaron Rodgers and the Packers finally got their offense going through the air, it was all too late and their defense didn't have any answers for Mariota, Murray, and the Titans offense. Tennessee simply dominated every time that they had the ball and ultimately ran away with it to pick up an emphatic win and get back to .500 on the season.
Three Stars
Marcus Mariota, Titans – The second-year quarterback for Tennessee was superb on Sunday. He finished the day going 19-of-26 for 295 yards and four touchdowns.
DeMarco Murray, Titans – Tennessee's running back also burned the Packers all day long in every facet. Murray took 17 carries for 123 yards and touchdown, caught two balls for 33 yards, and threw a 10-yard touchdown pass.
Jordy Nelson, Packers – Nelson had himself a day, even in the big loss. He caught 12 of his 18 targets for 126 yards and touchdown on the day.
Highlights
Next Game
Back at .500, the titans will now look to pick up a big AFC South win in Week 11 as they go on the road to face the Indianapolis Colts. Green Bay's search for answers will take them to Sunday Night Football next week on the road against the Washington Redskins.
This article originally appeared on