Packers at Falcons Week 8: 3 things we learned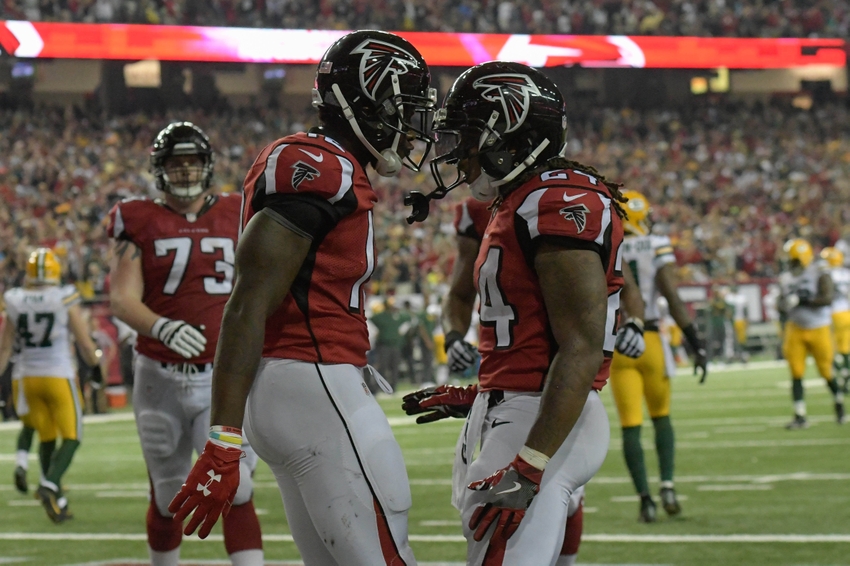 The Atlanta Falcons defeated the Green Bay Packers on Sunday afternoon in Week 8, 33-32. Here are the three biggest takeaways from this NFC game.
The Atlanta Falcons edge out the Green Bay Packers in Week 8, 33-32. Atlanta improves to 5-3 on the season, while Green Bay slips to 4-3. Both teams played well enough to win, but a game-winning drive by Matt Ryan was ultimately the difference.
Atlanta keeps control of the NFC South, while Green Bay is still very much alive in the NFC North and NFC Wild Card mix. Here are the three biggest takeaways from the Falcons' win over the Packers on Sunday evening in Week 8.
1. Aaron Rodgers is still good and Ted Thompson isn't helping him out at all.
Aaron Rodgers played well enough to lead the Packers to victory over the Falcons. He still has all the tools of a superstar quarterback, but he can't do it all by himself. Green Bay has an incredibly thin roster. That falls back on general manager Ted Thompson.
Sure, it doesn't help to lose three front office executives to other NFL general manager jobs, but Thompson can't keep being so rigid in his rosters construction. It is wise for Green Bay to spend more money to get the guys they want in NFL free agency. These players coming with compensatory picks just aren't cutting it.
Rodgers still has a few more years of prime football left in him, but Thompson has to get this roster back on track if Green Bay wants to win another Super Bowl with Rodgers as its starting quarterback.
2. Atlanta might have found itself a pass rush.
The Falcons haven't had much of a pass rush since John Abraham exited his prime earlier in the decade. It has been crushingly painful for Falcons fans to not see its defensive line drive opposing quarterbacks into the turf.
In the last few weeks, Atlanta has become to show live in the pass rush. 2015 first-round pick Vic Beasley now has over 7.5 sacks on the season. He had four all of last season. Adrian Clayborn is thriving in this Atlanta pass rush, too. Maybe this has a ton with the mentorship program both are in under future Pro Football Hall of Famer Dwight Freeney?
The pass rushing levee has broken in Atlanta and the Falcons can compete on defense because of it. Beasley and Clayborn are the two keying the Atlanta pass rush. This Falcons defense still gives up points and yards, but it is getting better every week under head coach Dan Quinn.
3. Welcome to the ATL, Mohamed Sanu!
The NFL knows all about Falcons star wide receiver Julio Jones, but the Atlanta receiving game isn't just one guy. The Falcons have other playmakers in the receiving corps and 2016 free agent acquisition Mohamed Sanu is becoming the No. 2 receiver Atlanta needs to orchestrate a deep NFC Playoffs run.
Sanu complemented A.J. Green for years with the Cincinnati Bengals. Green and Jones are probably the two best No. 1's in football. However to win against elite teams, other guys have to step up.
Sanu has the foot speed, the physical nature, the hands, and the route-running ability to be the possession receiver Atlanta has missed since Roddy White nose-dived out of his prime. Sanu had the game-winning touchdown reception. He is a hero in Greater Atlanta in late October thanks to his best game as a member of the Falcons.
More from FanSided
This article originally appeared on