Packers at Falcons Recap, Highlights, Final Score, More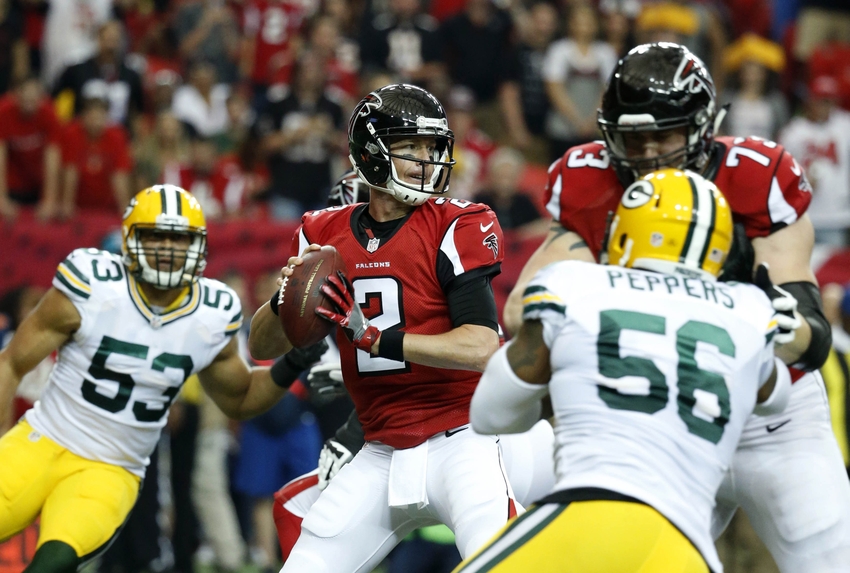 Matt Ryan led a game-winning drive late in the fourth quarter to push the Atlanta Falcons past the Green Bay Packers

32

33
When the Green Bay Packers invaded the Georgia Dome in NFL Week 8 to square up with the Atlanta Falcons, offense was obviously going to be the name of the game. With that expectation, Matt Ryan and Aaron Rodgers lived up to the billing, though it was an unlikely cast of supporting characters helping them do so.
This was a shootout in the purest sense of the word on Sunday afternoon down south. Atlanta jumped out to a 10-7 lead at home in the first quarter. However, Rodgers started getting into a groove in the second 15 minutes, even without Randall Cobb, Eddie Lacy, and Ty Montgomery on Sunday. That gave the Packers a 24-19 lead going into halftime.
In comparison to the rest of the game, the third quarter was a bit mundane and slow. The only scoring came as the result of a masterful 14-play drive from the Falcons. They drove down the field and were able to punch it in from one yard out with Devonta Freeman.
Things went bonkers in the final period, though. Trailing 26-24, Rodgers drove down the field with a wonderful display of all his talents, delivering a picture-perfect throw to Jeff Janis to take the lead. He then converted a two-point conversion with his legs, putting Green Bay ahead 32-26. Late in that final period, though, Matty Ice made an appearance. With the game on the line, Atlanta's signal-caller put together a gorgeous drive and came up with the biggest throw of the game with under a minute remaining. Ryan found Mohamed Sanu over the middle for six points. After a Matt Bryant extra point, the home team had a one-point lead.
Rodgers and the Pack got the ball once more, but it was a fruitless effort as they went four downs before turning the ball over. The clock ran out and the Falcons were able to hold on to the lead and get the win.
Three Stars
Matt Ryan, Falcons – Obviously Ryan gets a star for leading the game-winning drive late in the fourth quarter. However, he also had a big day overall as he went 28-of-35 for 288 yards and three scores.
Aaron Rodgers, Packers – It turns out, Rodgers is just fine. The Packers quarterback, short on weapons, threw for 246 yards and four touchdowns while also rushing for 60 yards.
Mohamed Sanu, Falcons – Sanu caught the game-winning touchdown pass to cap off a great day as he grabbed nine of his 10 targets for 84 yards and the score.
Highlights
Next Game
The Packers will be back in Lambeau next week, welcoming Andrew Luck and the Indianapolis Colts to town. Meanwhile, Atlanta has a short turnaround as they play on Thursday night on the road against the Tampa Bay Buccaneers.
This article originally appeared on