One thing every NFL team can be thankful for in 2016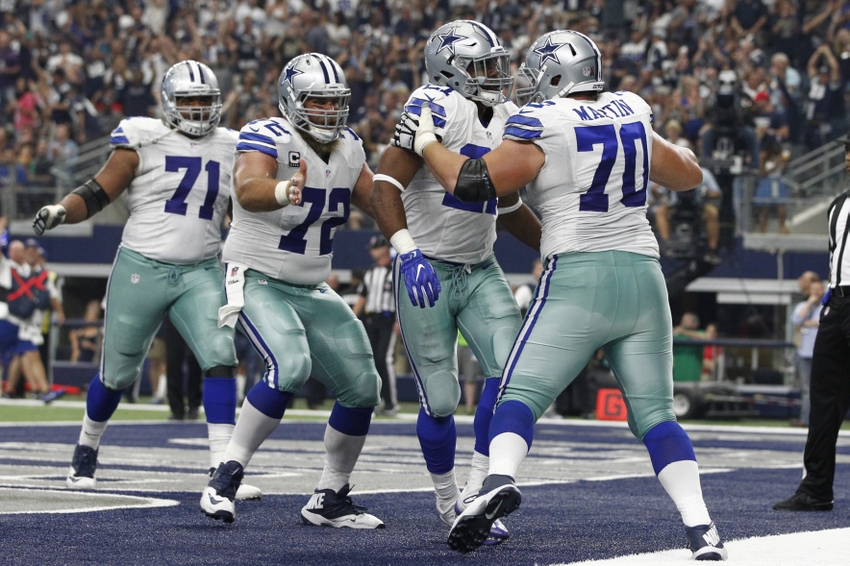 Thanksgiving starts the beginning of Week 12 of the 2016 NFL season. Here is one thing every NFL can be thankful for Thanksgiving in 2016.
Week 12 of the 2016 NFL season coincides with Thanksgiving 2016. With only six weeks left of the 2016 NFL regular season, we have a good idea of which teams are going to the playoffs and which ones are staying this January.
Football and Thanksgiving go hand in hand. The NFL thankfully will put three of its games on this national holiday so you can get zone out the ramblings of a relative mid-afternoon Thursday. Be thankful for football. Here is something every NFL team can be thankful for this Thanksgiving.
Arizona Cardinals: They can get a better quarterback than Carson Palmer.
It happens. Quarterbacks on the wrong side of 35 will inevitably have their scheduled date with Father Time. Last season, Peyton Manning fell off a cliff at age 39 for the 2015 Denver Broncos. 2016 has given us the beginning of the end for Carson Palmer with the Arizona Cardinals.
Yes, he is coming off his best season as a professional in 2015 as the runner-up to NFL MVP, but we knew this day was coming. After the disgusting six turnover game in the 2015 NFC Championship that only Jake Delhomme can relate to, Palmer is rapidly decaying as an NFL signal caller before our very eyes. This should be the last year that he starts in Arizona and that's okay.
Though he did suffer chest pains are a bad loss on the road to the Minnesota Vikings, Cardinals head coach Bruce Arians is the type of offensive mind that can land another strong quarterback in the Valley of the Sun. Arizona has a solid roster that general manager Steve Keim has put together. They should be able to land a decent signal caller in either 2017 NFL free agency or this spring's NFL draft.
Arizona is 4-5-1 and very likely not going to make the NFC Playoffs. The Cardinals aren't catching Seattle and the NFC Wild Card picture will almost certainly unfold in the NFC East. Cardinals fans should be thankful that Arians, Keim, and the Bidwell Family have created a winning culture that will allow the franchise to be in great position to land its next star quarterback in 2017.
Atlanta Falcons: Everybody in Flowery Branch is on the same page.
The Atlanta Falcons are 6-4 coming off their Week 11 bye. They lead the NFC South with one of the most explosive offenses in the NFL. The defense isn't great, but the young players on it are growing every week.
This isn't a likely Super Bowl team, but the 2016 Falcons are certainly playoff-caliber because everyone in Flowery Branch is one the same page. For a team that sank in the second half of 2015, the high-flying Falcons have found consistency through brotherhood.
While a strong defensive line can push around its less-than-stellar offensive guards, we tend to get the same type of Falcons team week to week. This likely gives the Falcons an edge in an interesting NFC South race where are all four rival teams are in it.
Owner Arthur Blank, team president Rich McKay, head coach Dan Quinn, and general manager Thomas Dimitroff seem to be in lock-step in the Flowery Branch war room. Quarterback Matt Ryan, wide receiver Julio Jones, and running back Devonta Freeman play for each other on offense.
Atlanta may not win a playoff game this season, but the Falcons organization has everybody on the same page. This is one of the most unified teams in the NFL season. That matters and Atlanta should be thankful for this entertaining and well-coached football team.
Baltimore Ravens: Run defense makes them a threat in the AFC playoffs.
While they are only 5-5 and the usually stoic Joe Flacco just had a press conference for the ages after Week 11's road loss to the Dallas Cowboys, there is a lot for the Baltimore Ravens to be thankful about this holiday season.
Though playing in the worst AFC North in years absolutely helps, the one component of the 2016 Ravens that makes them the likely team to win the division is the stellar play of the run defense.
Dallas Cowboys star rookie running back Ezekiel Elliott didn't routinely humiliate the Ravens on Sunday. Outside of another meeting with Le'Veon Bell of the Pittsburgh Steelers coming in a few weeks, that will be the toughest test the Ravens run defense will face all year.
The North is likely going to go to either the Ravens or the Steelers in 2016. The Cleveland Browns have been eliminated from playoff contention at 0-11. Let's not overlook how bad things have gotten with the reeling 3-6-1 Cincinnati Bengals.
Pittsburgh has massive issues with inconsistency and playing down to teams they should beat. Yes, Baltimore has to deal with regular-season Flacco for a few more weeks, but he'll get better in the AFC Wild Card round. Baltimore could be a scary underdog team come playoff time because of this stout run defense of coordinator Dean Pees.
Buffalo Bills: Despite record, they are playing a winning brand of football.
While the Buffalo Bills are 5-5 and probably not going to make the AFC Playoffs for another season, it is not all bad in Orchard Park this Thanksgiving. If we look beyond the record and into how the Bills have played this season, this is a decent football team.
Yes, head coach Rex Ryan has cost the Bills a few games with poor decision-making in tight ball games. But there is a recipe for success in western New York, not only for the rest of 2016, but for potentially the next few years.
Buffalo has had a ton of injuries on both sides of the ball, had to fire its offensive coordinator in Week 2, and had Ryan on the hot seat almost from the get go. The Bills have been a tough out every game they have played in since Week 2's inexplicable loss at home to the awful New York Jets.
Buffalo can run the football. He's not great, but Tyrod Taylor gives the Bills something positive from the quarterback position they haven't had in years. While the Pegula Family overpaid to keep Taylor in Buffalo, he is a quarterback that gives the Bills a chance to win every week.
It's not a lot, but we've seen more talented Bills teams in recent years play worse and implode. This group has resiliency and should be an interesting watch the rest of the way. Their style of play bodes well in cold-weather games on the horizon. The Bills have an identity and their fans should be thankful for that.
Carolina Panthers: Still able to lean on the defensive front-seven.
Seeing star middle linebacker Luke Kuechly cry after sustaining a concussion was one of the worst moments of Week 11. Carolina managed to beat the rival New Orleans Saints on Thursday Night Football after Kuechly had to be carted off the field. He shouldn't be rushed back to the field under any circumstance.
The Panthers are alive in the NFC South race by being only two games back of the Atlanta Falcons. Carolina is essentially in win-now mode every game the rest of the way. After a 1-5 start, Carolina should be thankful to even still have a slim shot at the NFC Playoffs at this time.
While the offense is contingent on often-injured running back Jonathan Stewart's health, it won't be quarterback Cam Newton that will get the Panthers in the NFC Playoffs. The only chance Carolina has if it can lean on its weakened defensive front-seven in a time of need.
Fortunately for the Panthers, they have enough playmakers up front defensively to at least keep Carolina in close, low-scoring games. Cold-weather favors the Panthers. Maybe they do have a shot at making the NFC Playoffs?
Chicago Bears: A new franchise quarterback is on the way.
Chicago sports fans have really nothing to complain about because the Chicago Cubs won the 2016 World Series. However if they want to nitpick their most hapless professional team in the NFL's Chicago Bears, so be it.
The Bears are awful at 2-8. Even in a bad NFC North division, there is about zero chance that the Bears will make the 2016 NFC Playoffs. When your best player is an often-injured offensive lineman, you've got serious issues.
So is there really anything to be thankful for with this dysfunctional football franchise in the Windy City? Well, maybe 2016 is the last you'll see of both head coach John Fox and quarterback Jay Cutler with the Bears. That's a start.
Cutler is playing better in some ways, as he knows that he is clearly auditioning for his third NFL job. Chicago is almost guaranteed to be picking in the top 10 of the 2017 NFL Draft. That could mean the Bears could land either Deshaun Watson, DeShone Kizer, or Mitch Trubisky. Either way, Chicago can be thankful that this dumpster fire of a 2016 season and the Cutler experiment is almost over.
Cincinnati Bengals: "You don't live in Cleveland!"
Nobody feels worse about itself entering Thanksgiving than the pitiful 3-6-1 Cincinnati Bengals. Cincinnati saw two of its best offensive players in wide receiver A.J. Green and running back Giovani Bernard succumb to potential season-ending injuries in Sunday's 16-12 loss at home to the Buffalo Bills.
Even in a division where maybe 7-9 wins the crown, the 2016 Bengals are about as done as that Turkey you'll eat on Thursday with family members you really don't enjoy tolerating. When the best thing to happen on a football field in Cincinnati last weekend was Batman kicking field goals at nearby Nippert Stadium, you can say there is close to nothing Cincinnati can be thankful for.
Maybe the most pessimistic of Bengals fans can feel pretty good about Marvin Lewis' chances to get canned at the end of the season. It wasn't like 0-7 Lewis was going to win an AFC playoff game anyway, not with hot heads on the defensive side of the ball in Vontaze Burfict and Adam "Pacman" Jones.
We're seriously dredging the entire Ohio River to find something positive that Bengals fans can be thankful for this holiday season. Picking in the top 10 and maybe a new head coach will be neat. Let's be honest, the only thing that will cheer Bengals fans up is Sam Wyche's "You don't live in Cleveland!"
Cleveland Browns: Joe Thomas remains forever faithful.
Entering Week 12, the only team in the NFL that has been mathematically eliminated from playoff contention is the winless 0-11 Cleveland Browns. We knew that the Browns were going to be bad in their rebuilding efforts in 2016, but we probably didn't expect to see roster full of guys that were on college scholarships maybe just two seasons ago.
The youth movement in Cleveland is on par with the hyper-tanking efforts of the Sam Hinkie Philadelphia 76ers. Cleveland has to trust the process of general manager Sashi Brown and front office executive Paul DePodesta to see this roster overhaul through.
Even in all the losing, there have been positive signs from the Browns this season. Head coach Hue Jackson seems to be a good culture fit for the team. Rookie quarterback Cody Kessler has shown signs of promise. The running game is solid again.
However, the most important thing to know with regards to the Browns had to be All-Pro offensive tackle Joe Thomas' loyalty. Thomas has spent his entire NFL career playing for the awful Browns. He's played at a Hall of Fame level since 2007, blocking for a revolving door of inept quarterbacks.
Thomas could have been vocal about the Browns' perpetual dysfunction through out the last decade. He has remained steadfast to the Browns organization. He is the symbol of the undying loyal many Clevelanders have for the Browns. Thomas is someone Browns can be thankful for.
Dallas Cowboys: An offensive line that can move the Himalayas.
There is so much for Dallas Cowboys fans to be thankful for. The Cowboys have the best record in the NFL at 9-1. They have two emerging superstars in rookies quarterback Dak Prescott and running back Ezekiel Elliott. Even the once lousy Dallas defense is playing well.
Let's be real for just one second. Dallas needs to be most thankful for this historically dominant offensive line of theirs. This Dallas front-five can move the Himalayas. It is that good.
It's early, but the Cowboys might have three future Pro Football Hall of Famers on their offensive line: tackle Tyron Smith, guard Zack Martin, and center Travis Frederick. As long as Dallas has this outstanding offensive line, the Cowboys can contend for Super Bowls.
The only thing that is going to derail the Cowboys' 2016 NFL season will be any damage to this offensive line. Being thankful for Dak and Zeke is fine and all, but realize that Frederick, Martin, Smith, and company are largely responsible for these rookies' early NFL success.
Denver Broncos: Gary Kubiak can mask any quarterback deficiency.
The Denver Broncos are 7-3 on the season heading into Week 12. Many thought that the Broncos would fall off a cliff after several key offseason losses after winning Super Bowl 50 over the Carolina Panthers in February.
Denver has stayed in the AFC playoffs mix mostly because it has one of the best defenses in football. Broncos fans can be thankful for the vaunted Denver defense, but they should really be appreciative of head coach Gary Kubiak's ability to mask any quarterback deficiency thrown his way.
The former career backup to John Elway in Denver has made a great coaching career without having truly strong quarterback play. He won Super Bowl 50 last season during his first year in Denver with a decaying Peyton Manning and a bland Brock Osweiler. Now, Kubiak is able to win games with a former Northwestern Wildcats platooning quarterback Trevor Siemian.
Siemian is clearly a stop gap quarterback until 2016 first round pick Paxton Lynch is ready to rock in the next year or so. Kubiak will still be able to coach winning football by putting a not-so skilled Siemian in advantageous situations. If Kubiak wasn't a quarterback whisperer, who knows what Denver's record would be this season.
Detroit Lions: Matthew Stafford lives for the fourth quarter.
At 6-4, the Detroit Lions lead the NFC North and would be the No. 3 seed in the NFC Playoffs if the season ended today. Detroit was expected to flounder without future Pro Football Hall of Fame wide receiver Calvin Johnson, who retired after nine NFL seasons with the Lions.
Not only has Detroit flourished in Johnson's absence (Ewing Theory?), but 2016 has been the most important season of quarterback Matthew Stafford's NFL career. The former No. 1 overall pick out of the University of Georgia has been unbelievable in fourth quarter of games for the Lions.
Without Stafford, Detroit maybe 0-10. The Lions' margin of victory/defeat has never been more than seven points this season. The poise of a veteran quarterback with an absolute cannon for a right arm has forced Detroit into the NFC Playoffs conversation in late November.
One could argue Stafford into the 2016 NFL MVP conversation as well. He's not a front-runner for the award, nor is his football team expected to do much should the Lions make the NFC Playoffs, but Stafford's late-game heroics have the Motor City abuzz about its football team.
Green Bay Packers: Embrace the struggle to grow from it.
After losing to the Washington Redskins on Sunday Night Football in Week 11, the Green Bay Packers have fallen to 4-6 on the 2016 NFL season. Yes, playing in the weak NFC North has the Packers only two games back of the Detroit Lions and the Minnesota Vikings in the divisional race.
However, it does not seem likely that the Packers will be playing in the NFC Playoffs this January. It is time for Cheesehead Nationa to embrace the struggle to hopefully grow from it. 2016 is an opportunity for the Packers fans to stop being pom-pom wavers and ask for some serious changes to the organization.
Mike McCarthy is a good head coach and Aaron Rodgers is a Hall of Fame level quarterback. Both have played well enough to get another chance in 2017. However, those two's constant friction might force McCarthy out of town.
If the blame is going to fall on anyone, would the bulk of it go on defensive coordinator Dom Capers or general manager Ted Thompson. Capers' defense has been scorched far too many times by a poorly put together roster by Thompson. Thompson has to target players in 2017 NFL free agency. Green Bay just isn't hitting in the NFL Draft like it use to.
This season has been a rough one for the Packers, but this is the type of year the organization can grow and learn from. Green Bay can be thankful it at least has the opportunity to honestly assess the situation to improve. Some organizations never admit they are in the wrong.
Houston Texans: It's great to play in the AFC South!
The Houston Texans are 6-4 and lead the AFC South. It's great to play in the AFC South! The NFL makes it a priority of winning the division and despite a tough loss in Mexico City on Monday Night Football to the Oakland Raiders, the Texans looked poised to win the AFC South in back-to-back seasons.
Houston is far from a perfect team. The Texans are a slog to watch on offense with Brock Osweiler under center. Houston is going to have to win with defense in the AFC Playoffs, not sure if it can do that in January. However, Houston has the best chance to win the AFC South.
They have the best head coach in Bill O'Brien and the best defense in the AFC South. Houston still hasn't lost a home game this season and is a perfect 3-0 in divisional play this year. 10-6 wins the AFC South easily. 9-7 probably does as well.
Nobody views Houston as a top-10 team in the NFL outside of the Houston metro area. However, this seems to be a team that feels destined to host an AFC playoff game this year. Win at home, beat the Colts in Indianapolis, and the Texans will be AFC South champs.
Indianapolis Colts: Andrew Luck is on the Colts.
Don't let franchise quarterback Andrew Luck fool you. The Indianapolis Colts are one of the most dysfunctional organizations in the NFL and have been for a long time. Luck is able to succeed in the NFL quarterbacking the Colts despite having a lackluster supporting cast.
His undeniable talent has helped get the Colts to 5-5 and be very much in the AFC South race in 2016. Luck is the duct tape that his holding this poorly run football organization together. How bad would the Colts be if Luck isn't their starting quarterback? Would we really want to know any way?
While he has the best physical tools as an NFL quarterback prospect since Elway, there are two things that Indianapolis should be very thankful for that Luck is their franchise quarterback: 1.) He is willing to take control of games in victory and defeat. 2.) He will willingly fall on the sword of perpetual dysfunctional behavior so others in the Colts organization won't have to.
In short, Luck wants the Colts to win or lose games on his right arm rather than see it porous defense do its best leaky faucet impression. This makes it easier for Luck to take the blame for a loss when most of the time it comes down to the poor play of his teammates. Indianapolis should be thankful that Luck is a stand-up guy.
Jacksonville Jaguars: Gus Bradley is not getting a fifth year.
Unless Jacksonville Jaguars owner Shahid Khan flexes his eccentric billionaire muscles, the Jaguars will have a new head coach in 2017. There is almost no conceivable way that Khan could bring back the ineffective Gus Bradley for a fifth season in North Florida.
This team spent a small fortune in 2016 NFL free agency and did a solid job with their 2016 draft picks. Yet, this Jaguars team is a pitiful 2-8 on the year. The defense is far too inconsistent for Bradley, a defensive-minded head coach, to get any more leash.
The losing culture in Jacksonville has clearly rattled starting quarterback Blake Bortles. He has regressed considerably after his breakout 2015 NFL campaign. To save him and the Jaguars, they are going to need to bring in a new coaching staff in 2017.
The Jaguars are only a week or so away from being mathematically eliminated from playoff contention anyway. It's time to get ready for the 2017 NFL Draft. Be thankful that the NFL world has taken notice of the horrendous job Bradley is doing with this football team, Jacksonville. We feel for you and hopefully you get a solid new head coach to right this sunken ship.
Kansas City Chiefs: Maybe Week 11 was the annual Andy Reid clock game?
Without debate, the Kansas City Chiefs have one of the five best head coaches in the NFL in Andy Reid. In his fourth year with the Chiefs, Reid has his team poised to make a serious AFC playoff push. His teams are usually slow and methodical offensively, while winning games with an ultra-aggressive defense.
This style of play leads to good things like defensive touchdowns and winning the turnover battle. However it isn't all great, as Reid offenses chew up a ton of clock to score points. This leads to Reid being painfully one of the worst clock managers in recent NFL history.
Reid, Jim Caldwell, and Mike Smith are the Unholy Triumvirate when it comes to clock management. Wasted timeouts in fourth quarters have cost these three coaches so many games over their coaching careers.
Kansas City is 7-3 and thankfully for the Chiefs, Sunday's loss against the Tampa Bay Buccaneers might have been the annual Reid "are you seriously reading a sundial?" clock management fiasco.
Reid took an inexplicable timeout at the end of the first half, emboldening the Buccaneers to kick a field goal. Tampa Bay would eventually get down the field with Reid's help and what o you know, eventually won 19-17.
Chiefs fans may have hated the loss, but should be thankful the Reid reading a clock wrong game is in the books in 2016. This means he probably won't do it in the 2016 AFC playoffs. It's good to get this one out of the way before the games really matter.
Los Angeles Rams: For better or worse, Jared Goff is the starting QB.
The most boring team in the NFL just got a whole lot more interesting. Or not. Regardless, No. 1 overall pick in the 2016 NFL Draft quarterback Jared Goff out of Cal is the Los Angeles Rams starter the rest of the way.
Goff lost his first NFL start 14-10 to the surging Miami Dolphins in a rare rainy day in Los Angeles. He wasn't bad, but wasn't good either. Either way, it was a good first NFL game for the Goff era of Rams football.
The Rams offense is so archaic that it the team that was once exciting on HBO's Hard Knocks has become an absolute snooze-fest. With the Rams rapidly falling out of the NFC Playoffs picture, this team needed a spark to keep interest in Los Angeles with its recent relocation to the West Coast.
No matter how Goff plays this season, he is the future of Rams football and Case Keenum isn't going to start again this year. If you can't be good, be interesting. The Rams are great on defense, but are now interesting on offense thanks to head coach Jeff Fisher finally deciding to go with Goff at quarterback.
Miami Dolphins: Adam Gase is down to pound the rock with Jay Ajayi.
Well, what do you know? The usually dysfunctional Miami Dolphins made some solid organizational moves this past offseason. Newly renovated Hard Rock Stadium looks great, Laremy Tunsil was worth the mid-first round gamble, and Adam Gase is looking like an excellent NFL head coach.
Gase was the hot commodity in terms of a first-time NFL head coach this past run on the coaching carousel. He had been a pass-first offensive coordinator while with the Denver Broncos and the Chicago Bears.
Gase came to Miami to help get the most out of Dolphins quarterback Ryan Tannehill. That didn't work initially, so Gase decided to pound the rock with running back Jay Ajayi. It has worked out wonderfully and Miami is on a five-game winning streak.
Gase seems to be the disciplinarian head coach that a beach city football team like the Dolphins needs to keep them focused. His great leadership has helped Ajayi become a Pro Bowl-caliber runner and has in turn made Tannehill a better passer in 2016. Miami may not make the AFC Playoffs, but the Dolphins are absolutely trending in the right direction under Gase.
Minnesota Vikings: The rest of the NFC North is bad, too.
What a calendar year it has been for the Minnesota Vikings. From the egregious Blair Walsh missed chip-shot field goal in the 2015 NFC Playoffs to season-ending injuries to both Teddy Bridgewater and Adrian Peterson in September, the Vikings somehow find themselves at 6-4.
Minnesota began the year at a miraculous 5-0. The Vikings went on their Week 6 bye and then imploded to lose four straight before beating the Arizona Cardinals at home in Week 11. Minnesota is a middle of the pack team with a good defense and special teams units. However, the Vikings' offense remains static at best.
Through all their struggles in October and November, the Vikings find themselves in a great position to win the NFC North. They are tied atop the division with the Detroit Lions and both the Green Bay Packers and the Chicago Bears are below .500.
The Vikings picked a good year to have a bad one, as a mediocre team is going to end up winning the worst division in the NFC. Minnesota should be thankful that against all odds that the Vikings still have a legitimate shot to make the 2016 NFC Playoffs.
New England Patriots: Tom Brady is playing like an MVP at age 39.
The New England Patriots are 8-2 on the season despite missing four games from their future Hall of Fame quarterback Tom Brady because of that whole Deflategate thing. Since returning in Week 5, Brady has played like an NFL MVP at age 39.
While the Patriots were able to go 3-1 in Brady's extended absence, his return has galvanized an otherwise so-so Patriots team. New England has major issues defensively and its skill position players are dropping like flies to injuries.
Could the Patriots be leading the AFC East with Jimmy Garoppolo at the helm over Brady? Maybe, but the Dolphins are playing great ball now and the Buffalo Bills are a tough get every week.
What Brady is doing for the 2016 Patriots is acting as this club's panacea in a season that they may not otherwise have it. Because Brady has come back to play like an NFL MVP, it would be shocking to not see the Patriots play in their sixth straight AFC Championship Game in January.
New Orleans Saints: Drew Brees is Peter Pan.
As long as Drew Brees is playing quarterback for the New Orleans Saints, this NFC South team will always have a competent offense. With the defense getting better under new defensive coordinator Dennis Allen, head coach Sean Payton can have his team compete for the NFC South division title.
Brees is another one of those all-time great quarterbacks that doesn't appear to age. He is playing as good as he did in his late 20s. Brees is the Peter Pan that New Orleans needs to indoctrinate this youth movement on offense.
Nearly all of his offensive weapons besides Mark Ingram are in their first few year in the league. Their youthfulness has made the family man Brees play like a kid in a school yard well into his late 30s. If he wants to play into his mid-40s, maybe he can?
Playing in a dome and being an accurate passer will lengthen Brees historic quarterbacking career. The Saints faithful need to be thankful that Brees is still willful and young at heart. Wouldn't it be something to see Brees win another Super Bowl in New Orleans before hanging up the spikes? He might play long enough to see that happen.
New York Giants: Steve Spagnuolo is doing a great job with the defense.
The New York Giants are 7-3? The New York Giants are 7-3! How are they doing this? While the Giants have arguably the best receiving corps in the NFL, their running game is atrocious and quarterback Eli Manning is as consistently inconsistent as he ever was.
If there is any logical reason behind the Giants' 7-3 start, it isn't Ben McAdoo's massive play sheet on offense. Let's give credit where it is due: Steve Spanuolo is doing an outstanding job as the Giants defensive coordinator.
New York spent a ton of cash in improving its lackluster defense from a year ago. Spagnuolo is coaching it up and is getting major contributions from all areas of its defense. Landon Collins is becoming a star in the secondary and Jason Pierre-Paul is as good as he ever was in the pass rush, minus a couple of digits.
The Giants play in a tough NFC East. Though their 7-3 start may be a bit flukey, the Giants' improving defense looks to be legit. If New York get into the NFC Playoffs at 10-6, would it be all that shocking to see them get to Super Bowl LI? We've middling regular season teams in New York win Super Bowls before. Why couldn't we see a solid 2016 defense bring a fifth Lombardi Trophy to East Rutherford?
New York Jets: Change is inevitable at the quarterback position.
Ryan Fitzpatrick, Geno Smith, Ryan Fitzpatrick, Bryce Petty…Ryan Fitzpatrick? New York Jets head coach Todd Bowles might as well throw out 2016 second round pick Christian Hackenberg, who couldn't complete 60 percent of his passes during his junior year at Penn State, because the Jets have no idea what they are doing at the quarterback position.
The Jets have four quarterbacks that have combined to win New York three games this season. Maybe the Fitzpatrick holdout was a terrible idea for both parties? Fitzpatrick isn't the near Pro Bowler signal caller he was a year ago. That $12 million that Jets owner Woody Johnson spent on Fitzpatrick was definitely worth the price of admission to MetLife Stadium…if you love near geniuses throwing a ton of interceptions and costing your favorite football team games.
There is not a lot to be excited about with the Jets this holiday season other than Just End The Season, the most obvious acronym for the Jets. Whether Bowles gets a third year in New York or not, one thing is certain with the Jets in 2017: they will have a new starting quarterback.
New York might be bad enough to be picking in the top 10 of the 2017 NFL Draft. The Jets should conceivably land one of the three franchise quarterbacks probably in the draft: Clemson's Deshaun Watson, North Carolina's Mitch Trubisky, and Notre Dame's DeShone Kizer. New York should be thankful to know that the Fitz-magic era in the Big Apple is over, even if he starts on Sunday.
Oakland Raiders: Derek Carr's energy is infectious.
Raise your hand if you thought the 2016 Oakland Raiders would be 8-2 and in first place in the AFC? Exactly. The Raiders have been one of the best stories in the NFL this season. One more win this year will give Oakland its first winning season since its last trip to the Super Bowl in 2002.
There have been several major factors keying the Raiders' turnaround. Mark Davis has been a great owner for them. Reggie McKenzie is an elite general manager. Jack Del Rio has his team playing with brash and bravado. However, it's all about the starting quarterback and Derek Carr's energy is infectious.
Carr's charisma has elevated this once-downtrodden AFC West franchise. Nobody in the AFC and maybe on the NFC's Dallas Cowboys are having as much fun as the 2016 Raiders. Carr isn't perfect in his third season out of Fresno State, but he is exactly the type of franchise quarterback Oakland needs to be very good for a very long time.
In an AFC West that has two other strong playoff caliber teams in the Denver Broncos (7-3) and the Kansas City Chiefs (7-3), the 8-2 Raiders would not only win that division, but would have home field advantage in the AFC Playoffs should the season end today. Oakland has the strength of schedule tiebreaker over the New England Patriots. Carr is not the MVP, but who wouldn't want to play on his team?
Philadelphia Eagles: Jim Schwartz is a fantastic defensive coordinator.
The Philadelphia Eagles are 5-5, not bad for a team many tabbed as a lock to finish 2016 at a terrible 5-11. Philadelphia isn't without its issues. The Eagles are running a cheap imitation of an Andy Reid offense in Philadelphia. How is that not ironic? Reid was coaching the Eagles as late as 2012.
The weak offensive play calling of head coach Doug Pederson and the up-and-down play of rookie starting quarterback Carson Wentz have the Eagles in last place in the elite NFC East. It's not all bad though for the Eagles. Their playoff hopes are still alive, they win in the trenches just about every game, and defensive coordinator Jim Schwartz is doing an outstanding job.
Schwartz is getting great penetration from his defensive front-seven. Even his weakened secondary is playing hard for him. If Philadelphia is not careful, the Eagles could lose Schwartz to a head coaching gig in 2017. He's been that good as a defensive coordinator.
This was a year that most expected Philadelphia to be largely non-competitive. The Eagles may not make the NFC Playoffs, but they are a fun team to watch every Sunday. Eagles fans should be thankful that Jim Schwartz is coaching their defense. Otherwise, this might be a two or three-win team.
Pittsburgh Steelers: The AFC North is awful this year.
The Pittsburgh Steelers need to get it together. Congratulations, you beat a winless Cleveland Browns team on the road to get back to .500 at 5-5 and you're still not even in first place.
That isn't the end of the world, as somebody is going to have to win the AFC North and it won't be either Cincinnati or Cleveland. The only two teams that can realistically win the AFC North are Pittsburgh and the Baltimore Ravens. Baltimore may have the head-to-head tiebreaker, but the Steelers are very much in the AFC North mix.
The truth is Pittsburgh has to win the AFC North to reach the 2016 AFC Playoffs. The Broncos, Chiefs and Dolphins are all better football teams than the Steelers with above-.500 records to show for it. Pittsburgh is on par with the 5-5 Bills, who are good but almost out of it entirely.
Both North divisions in the NFL are terrible this year. Pittsburgh has the roster to win their gaggle, but the are Steelers aren't anywhere close to being buttoned-up as a football team. Thankfully for the Steelers, they play in a putrid North.
San Diego Chargers: The young stars are popping.
Don't kid yourself. The San Diego Chargers are still a 4-6 football team an in last place in the AFC West. However, this team is still a fun watch every week because of its high-flying offense centered around quarterback Philip Rivers and the young stars are popping all across the gridiron.
Regardless of where the Chargers play next season (San Diego or Los Angeles) or whomever is coaching them, this could be a near playoff team in 2017 because of the emergence of key young players.
Joey Bosa might win Defensive Rookie of the Year, despite missing a few games because of a contract dispute. Denzel Perryman looks great at linebacker. Tyrell Williams has been solid at wide receiver. Even running back Melvin Gordon has shown flashes of why he was a 2014 Heisman finalist.
Injuries and the unshakable thirst for shooting oneself in the foot in the fourth quarter of games have derailed a pretty promising Chargers bunch. The ownership isn't great, but there are a lot of solid young players on this team to be thankful for.
San Francisco 49ers: Chip Kelly will get his franchise quarterback.
Don't do it. Don't even think about it. Stay in the NFL for at least a few more years to groom the new franchise quarterback you are sure to get this offseason. The San Francisco 49ers are an atrocious 1-9 and will be picking in the top three of the 2017 NFL Draft.
This will give 49ers head coach Chip Kelly the opportunity to draft the franchise quarterback of his choosing. He can go with either Kizer, Trubisky, or Watson and it will be better than the Blaine Gabbert/Colin Kaepernick clown show Kelly has had to deal with in 2016.
Sure, San Francisco could try to land an also-ran quarterback in 2017 NFL free agency, but would going after a supreme NFL prospect from the college ranks be the right course of action? Yes, but we've seen the 49ers make one bad personnel move after another in the last few seasons.
The 49ers are a week or so away from being mathematically eliminated from NFC Playoff contention. It's on to the NFL Draft. 49ers fans should be thankful for having at least the opportunity to upgrade the quarterback position in the 2017 NFL Draft.
Seattle Seahawks: An aggressive defense that will wear opponents out.
While the Dallas Cowboys have the best record in football at 9-1, the favorite to win the Super Bowl has to be the 7-2-1 Seattle Seahawks. This elite NFC West team is undeniably great on defense, well-coached, and improving on offense.
Seattle feels like it is inevitably going to reach the 2016 NFC Championship Game this season. Whomever the Seahawks go up against, one would have to believe that the Seahawks would be the favorite to come out of the NFC because of their ultra-aggressive defense that will wear its opponents out
Why is this significant? Well, because this will help the Seahawks win the turnover battle and get away with more penalties than any other team in the NFL. Because of Seattle's aggressive nature, the officials aren't going to call every penalty they see from the Seahawks. Not that the referees can blow the whistle every play, but the referees could blow the whistle on every play when Seattle is on defense.
It is an edge possibly greater than the 12th Man at CenturyLink Field. Most NFL teams aren't prepared for playing against this Pete Carroll defense. There will be a playoff game where Seattle will get a favorable call because the Seahawks are the hardest team in the NFL to officiate.
Tampa Bay Buccaneers: Doug Martin balances Dirk Koetter's Air Coryell.
The Tampa Bay Buccaneers are 5-5 and very much alive in the NFC South race. Tampa Bay is only one game back of the first place Atlanta Falcons (6-4) in the NFC South. These two budding NFC South rivals split their season series, with the road team winning both games.
Tampa Bay isn't without its warts. The Buccaneers have been largely inconsisten in the secondary, at quarterback, and with the running backs. Now that Pro Bowl running back Doug Martin seems to have his health, this is fantastic news for the Buccaneers offense.
For head coach Dirk Koetter to run his patented Air Coryell, he needs a reliable running game to help out second-year quarterback Jamies Winston. Martin gives the Buccaneers offense the balance it needs to have a shot at winning the NFC South.
If Tampa Bay goes 5-1, maybe even just 4-2, the Buccaneers can win the NFC South for the first time since Jon Gruden was the head coach in Tampa. This team is getting better at the right time of the season. The Buccaneers may not make the NFC Playoffs, but they are very much in the NFC Playoff mix this Thanksgiving.
Tennessee Titans: Marcus Mariota is a franchise quarterback.
Who says the NFL is devoid of young NFL quarterback talent? Jameis Winston is getting better in Tampa Bay and we all know about Dak Prescott and Derek Carr. There is one other young signal caller that is becoming the star of an 80's sitcom: Tennessee Titans quarterback Marcus Mariota.
While the Titans struggle to win back-to-back games, Mariota has shown flashes of why he can be a star signal caller in Nashville for the next decade plus. Mariota has elite arm strength, great mobility, and very much a rhythm thrower. He has been sensational in the red zone in 2016.
Obviously, Titans general manager Jon Robinson has to get Mariota some better perimeter weapons for 2017. However, it seems that the Mike Mularkey/Terry Robiskie offense is doing just fine for Mariota in Nashville. He is proving to be more than just a disciple of the Chip Kelly/Mark Helfrich Oregon Ducks spread.
He is still in his early 20s, but Mariota has the chance to be the best quarterback in Titans history. Mariota could eclipse the late Steve McNair, maybe even the Hall of Famer Warren Moon from the franchises years as the Houston Oilers. Tennessee is only 1.5 games back of Houston in the AFC South. There is a lot to be thankful for in Nashville this holiday season.
Washington Redskins: Kirk Cousins is about to get paid. Ooh-wee!
Sunday Night Football in Week 11 told us several things: 1.) Dan Snyder likes House of Pain's "Jump Around". 2.) The Green Bay Packers are awful. 3.) Kirk Cousins is a franchise quarterback that is going to get paid.
You like that? Ooh-Wee! How do you like me now? Cousins played arguably his best game as an NFL quarterback against the Packers on Sunday Night Football. He threw frozen rope after frozen rope through the frigid Landover, Maryland wind. This Washington offense is one of the best in football thanks to Cousins and running back "Fat" Rob Kelley.
Washington will have an absurdly quick turnaround in Week 12. The Redskins will play the 9-1 NFC East rival Dallas Cowboys at 4:00 p.m. ET on Thanksgiving Day in Arlington, not even four full days since beating the Packers at home on primetime.
Dallas will be an overwhelming favorite in this game. However, the Redskins are a team destined to get back into the NFC Playoffs. At 6-3-1, the Redskins know exactly who they are as a football team. They have a franchise quarterback in Cousins and Snyder will have to pay him handsomely.
This article originally appeared on