One NFL team challenged a draft prospect to a staring contest at the Combine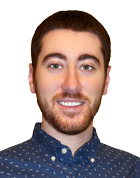 The NFL Scouting Combine if a place for the best prospects in the world to showcase their skills. It's also a time for them to be poked, prodded and asked more bizarre questions than you've ever been asked in a job interview.
If you don't believe me, take one prospect's word for it.
Kutztown guard Jordan Morgan told PennLive.com that the strangest thing he was aked at the Combine was how long he can keep his eyes open for. No, this isn't a joke.
He was actually put through a staring contest, but not with a person – with any object he liked. Morgan chose a water bottle.
"The strangest thing I had asked of me at the Combine was how long I could have my eyes open in a staring contest. I thought it was weird, but it's one of those things you don't question on the spot.
"I didn't blink at all. He told me I could stare at anything. I just focused on a water bottle. I don't know how long it was, but it was pretty long. My eyes were fogging up. I couldn't see after. He was just like, 'I got what I need. You can stop now.' "
It's unclear exactly how a staring contest can help an offensive guard, but perhaps it can be a way for a player to intimidate his opponent. Or not.
Morgan couldn't decline the request from the team because his future in the NFL is on the line, so all he could do was oblige and stare at that water bottle … for a long, long time.