Oklahoma's Charles Walker Declares Early: Was It the Right Choice?
Oklahoma's Charles Walker Jr. declared early for the 2017 NFL Draft, but has he put up enough on tape or on paper to live up to his lofty expectations?
The decision to declare early for the NFL Draft is one of the most exciting moments in a young college football player's life. But it's also one of the scariest. No one can predict with absolute certainty how the draft process will go. Life can get into the way of your plans to get drafted high, or kill the combine.
But that is the decision Oklahoma's defensive tackle prospect Charles Walker made on Wednesday. Walker cited wanting to prevent future injuries this season related to concussions and focus on his daughter's welfare, according to Graham Watson of Yahoo Sports.
This decision will be dissected by most NFL teams in a negative light. No matter how you spin it, this is the equivalent of quitting on your team in order to protect your own interests. However, I'm not here to discuss the character implications of this move. But I want to shift the focus to whether Walker made the right decision to declare early based on his film and production over the last two seasons.
Many major players in the media like Ian Rapoport are reporting that he may be projected high.
#Oklahoma star DT Charles Walker told coach Bob Stoops that he's leaving the team immediately to prepare for the draft. He's projected high

— Ian Rapoport (@RapSheet) November 15, 2016
But is this really the case? Or are there reasons other than injury that Walker may be trying to avoid before the draft process begins? Let's find out first what Walker's film says about him as a player. Then, we'll look at what it could spell for him in future projections.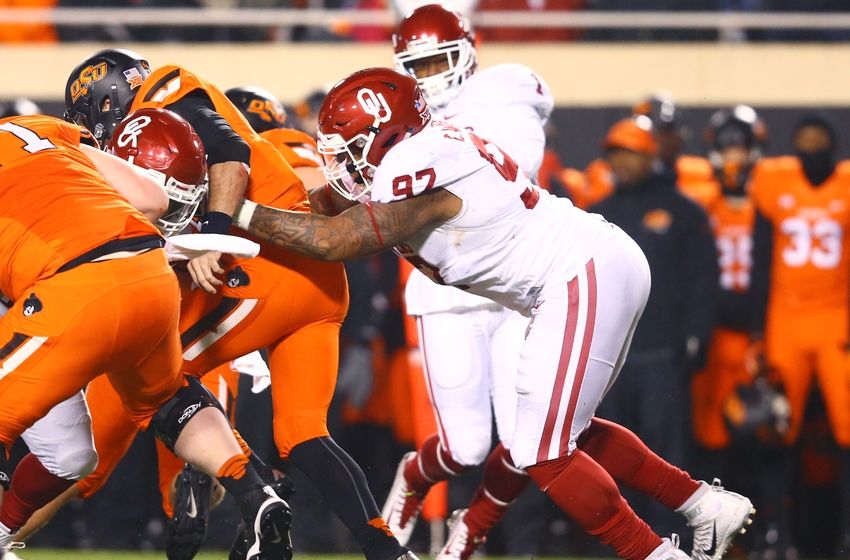 Film Perspective
Based on Walker's games against Texas Tech (2015), TCU (2015), Houston (2016) and TCU (2016), there is a noticeable difference in his performances from 2015 to 2016. And it might be something I would dig into further with interviews as an NFL team. That's because he may have been battling concussions coming into this year that were not reported by him. But other than those initial concerns, based on the tape I've seen, Walker is a terrific athlete for his size.
He is explosive, flexible and fluid in space. That is what Walker is probably banking on with his early draft declaration. He will hope an NFL franchise will draft him as a raw athlete with lots of upside. There are many holes to poke into that approach as a draft prospect, since any freak accident or injury during draft prep can hamper that goal. But he will have to play the stud athlete card as his film has a lot of rawness to it.
For example, his awareness as a pass rusher and run defender is average on tape. Moreover, there was a big drop in his awareness from 2015 to 2016. He appeared more attentive and locked in last season compared to this year.
From just a pass rushing perspective, he has a decent bull rush along with a fairly effective swim move. However, he doesn't have a highly refined array of pass rush moves on tape in addition to not having a ton of polish to the moves he does have. Moreover, his inconsistencies in getting off blocks and recognition when he is being baited to over pursue plays up the field shows up. Regardless, Charles Walker was a promising project player in 2015.
That said, there is a steep regression in his 2016 tape. Some of that may be injury related as I mentioned earlier, but this is a player who should exist be going on Day 3 or become a priority free agent based on tape. Certainly that's not what you want to hear as someone who just left college early to enter the draft. But I find his move after watching his tape to be a huge unnecessary risk.
Production Profile
Let's start with a quick look at the Sooner's production and how it stacks up to past players at the position:
This what Charles Walker's 2015 production looks like compared to other DT starters. pic.twitter.com/fFbzKsvOuv

— Jim Cobern (@Jimetrics) November 16, 2016
Based on Charles Walker's production from 2015, he was above average in solo tackle, sack and tackles for loss market share production. This puts him in a potential Pro Bowl level of production compared to over 800+ defensive tackle prospects since the 1995 NFL Draft class. With the only concern being that he doesn't do one thing outstandingly, it's all decent production in the aggregate for Walker.
But many past Pro Bowlers in his range hit high 80 or 90 percentile production in one of the three market share perspectives. And again Walker was productive enough in 2015 to be someone with well rounded stats, but not one stat is mind-blowing.
My general instincts from analyzing the data say that Walker is more of a curiosity than a sure thing, despite the solid production in the aggregate. I haven't done a more comprehensive exploration into seeing if a major production regression like Walker did from 2015-2016 is truly a big concern.
However, Walker's production continues to paint him as more of a Day 3 Prospect. He's simply not someone who can step in day one and contribute in a very impactful manner. Which brings us to the ultimate future outlook.
Future Outlook
As an NFL prospect Charles Walker is intriguing. He has the athletic traits you are looking for at one of the hardest positions to play in the NFL. What's more, there are big positives from his 2015 production and 2015 film that points toward a prospect on the cusp of becoming a very good player.
I can sympathize with Walker's decision to leave early as he doesn't want to risk injury and has a young daughter that can weigh heavily on anyone's plans. But there is no doubt from the film I've seen that there may be a bit more to this than not wanting to risk injury. Frankly, he didn't put up great tape this year. And the reasons why could be injury related or could just be that he wasn't putting in enough work after a promising season to take the next step.
I can't confirm these speculations as I don't have the resources to interview Charles Walker or the Oklahoma football staff.  But NFL teams do.
These are the questions NFL scouts and teams will dig into this draft season. However, none of this smoke points toward a great outcome in the draft process unless Walker is completely honest with evaluators about what happened this season.
I don't believe Charles Walker is ready for the NFL based on tape. And having a daughter to take care of doesn't give you an advantage in a sport where there are numerous players as talented as you with just as many mouths to feed. It's a business that puts emphasis on production and the durability to endure. It's not a place for the wounded or inexperienced. Both are labels that Walker has shown to have.
So, no; I don't believe Walker declaring early was the best decision—even though it may have been the inevitable one. Not everyone gets a Hollywood ending in the business of football. And in Walker's case, I wish him the best going forward and hope he can find success going forward. But this move raises more questions than answers that some NFL teams will not want to answer.
Overall Draft Grade: Day 3 to PFA
This article originally appeared on