Ohio State Buckeyes v. Oklahoma Sooners: Week Three Game Preview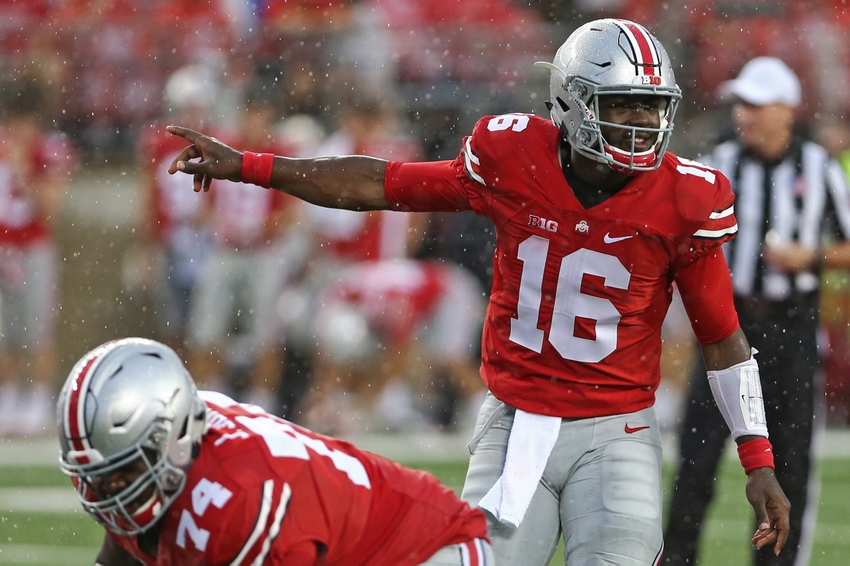 A top-15 battle will be waged in Norman Saturday night between No. 4 Ohio State and No. 14 Oklahoma.
---
With a possible College Football Playoff birth hanging in the balance, the Ohio State Buckeyes and Oklahoma Sooners will duke it out Saturday in Norman under the lights.
It's just their third meeting ever, but the resulting implications stemming from this top-15 matchup couldn't be any greater.
Following an appearance in the 2016 CFP, Oklahoma (1-1) is in need of a real statement win after being upset in their season-opener by Houston.
No such surprises have occurred at Ohio State (2-0), as the Scarlet and Gray are coming off of two blowout victories over Bowling Green and Tulsa.
Who will walk away from this highly anticipated showdown in full command of their path to the playoff?
Let's break it down.
Why Ohio State Will Win
The Buckeyes are a deeper, faster, and more athletic team than they were a year ago, and that's saying something.
Ohio State Football: Situation Has Changed For This Player?
Heisman Trophy candidate J.T. Barrett leads things off at quarterback and is playing like his healthy, 2014-self again. Though he's a proficient passer, it's Barrett's ability to gouge defenses with his legs that makes him dangerous.
There's no shortage of weapons for Barrett to work with, either. H-back Curtis Samuel has been a key target and is off to a blazing hot start, racking up 401 total offensive yards thus far. Nimble bruiser Mike Weber has also impressed as the team's top tailback.
If Samuel and Weber consistently get their hands on the ball in some sort of fashion, then Ohio State should have no problem taking advantage of a defense that's looked anything but airtight.
On the flip side, forcing Baker Mayfield into becoming a one-dimensional player under center will be the main objective for Buckeyes' star inside linebacker Raekwon McMillan and Co.
By erasing Oklahoma's running threat, Ohio State could experience the same success Houston enjoyed during their memorable upset.
Why Oklahoma Will Win
Few teams are capable of defeating the Sooners in the confines of Gaylord Family Oklahoma Memorial Stadium. Even less possess the caliber of defense necessary to take on the likes of running backs Samaje Perine and Joe Mixon, as well as Mayfield.
Ohio State FanSided Expert Answers Questions on Sooners-Buckeyes
Oklahoma's three-headed attack is predicated on their effectiveness in the run game. Perine and Mixon are absolute chores to bring down and shoulder much of the load on offense.
Although neither have really gotten it going yet this season, there's no better time than the present.
Defensively, the Buckeyes' secondary has been lights out through the first two weeks. Their front seven, on the other hand, is pretty vulnerable, which makes Mayfield and the Sooners' backs all the more difficult to handle.
It may be a long night for Ohio State should Oklahoma's talented trio find their groove on the ground.
Prediction
It's officially do-or-die time for coach Bob Stoops and his Sooners.
There isn't much room for error on Saturday, and that'll bode well for the opportunistic Buckeyes.
Riding the play of a confident, explosive offense, Ohio State will overwhelm Oklahoma and sink their hopes of returning to the CFP.
While Mayfield should be able to keep his team in this one for the most part, it simply won't be enough.
Final Score: Buckeyes 38, Sooners 27
This article originally appeared on