Ohio State Alum Ezekiel Elliott Trolls Michigan Alum Rich Eisen (Video)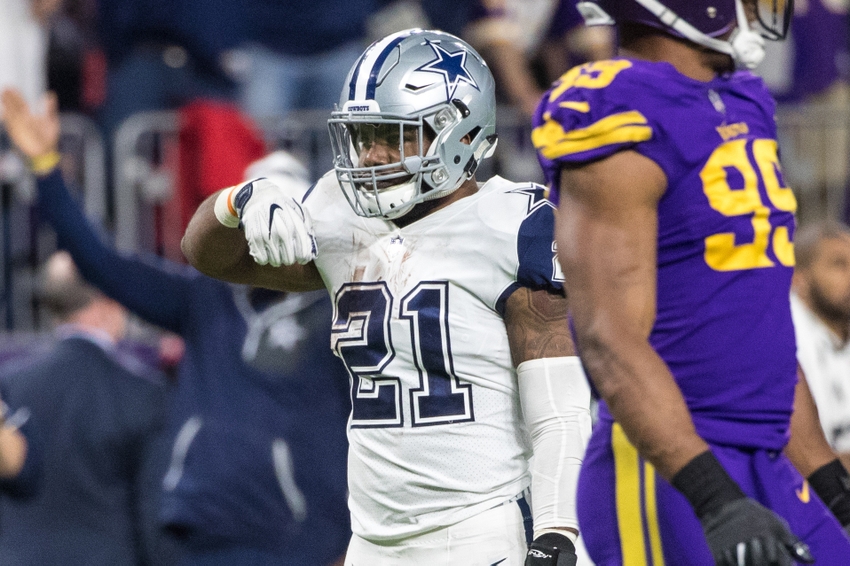 Dallas Cowboys rookie and former Ohio State star Ezekiel Elliott wasn't about to let Rich Eisen, a Michigan grad, forget the result of The Game.
Ezekiel Elliott didn't have the game he'd likely hoped for on Thursday Night Football. Despite the Minnesota Vikings run defense being called into question entering the matchup, the Dallas Cowboys rookie had to work for his keep. He finished the night with 20 carries for 86 yards and one touchdown. That's not a bad night, but it's paltry for the record-setting rookie.
However, Elliott was still in good spirits after the game. Not only had his Cowboys outlasted the Vikings on the road to pick up their 11th-straight win, but his former college team also is coming off a huge rivalry win. In The Game, Zeke's Ohio State Buckeyes topped the Michigan Wolverines in an overtime thriller between the No. 2 and 3 ranked teams in the country at the time.
So when the rookie joined the NFL Network crew for a postgame interview, that was still fresh in his minds. Subsequently, Elliott couldn't help himself when he saw Michigan alumnus Rich Eisen with a microphone. Almost immediately after sitting down, Zeke looked at Eisen and hilariously quipped, "How 'bout them Buckeyes:"
Ezekiel Elliott waited all of about two seconds before hitting Michigan grad @richeisen with a "How 'bout them Buckeyes?" pic.twitter.com/oDwy2LDMsR

— Eleven Warriors (@11W) December 2, 2016
With the rampant popularity of the Cowboys—especially in good times like at 11-1—the team sometimes becomes relatively hated. However, it's hard sometimes not to be charmed by Elliott and fellow rookie Dak Prescott at time.
Both on the field and when they're off it, this duo seems to exude joy and fun whenever they're in front of the camera. They love the game of football and, clearly, are pretty damn good at it. But when you can come off of the field and troll and NFL Network host in that manner, so hilariously, it's hard not make more fans.
This article originally appeared on