Officials Screwed Houston Texans on Monday Night vs. Raiders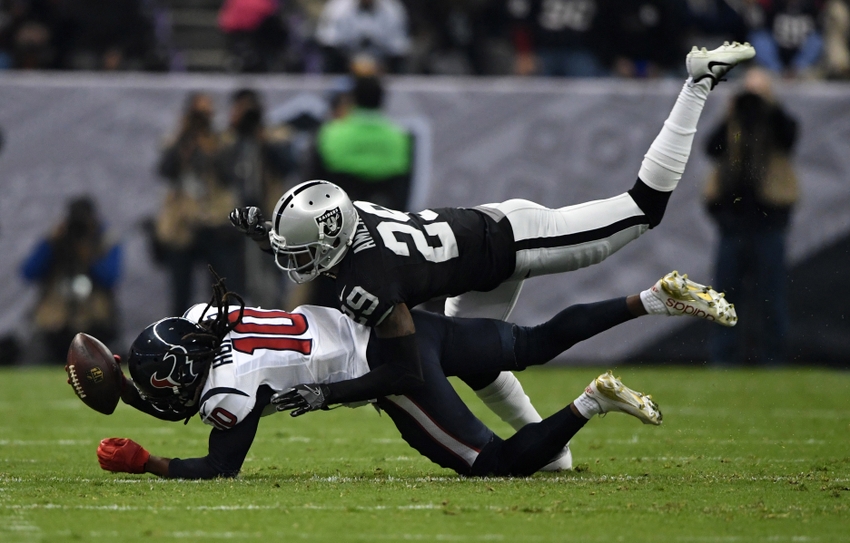 The Houston Texans were royally screwed on Monday night against the Oakland Raiders in a 27-20 loss. And there's nothing they can do…
It's always fun to complain about officiating after your team loses a big game. At least for a moment, it justifies your loss for some other reason than your team just played terribly.
On Monday Night Football, the Houston Texans were defeated by the Oakland Raiders 27-20 in Mexico City, and that's all the standings will recognize at the end of the year. However, we have a platform to talk about the officiating, and while I'm rarely one to publicize negativity toward the stripes, this was too much for even me to handle.
The officials were in control of the game from the very start on Monday night, and the Houston Texans had a touchdown on their initial drive taken away by a premature whistle. Look at this:
Deandre Hopkins got robbed! https://t.co/Gj6jsYTIel pic.twitter.com/dj9pXxqhCb

— SB Nation (@SBNation) November 22, 2016
Hopkins does come dangerously close to the sideline here, but he clearly doesn't step out. Because the play was ruled dead where the player stepped out of bounds, it's not reviewable. The Texans asked for a review anyway, and weren't penalized for it, which they should have been.
It may have been adding insult to injury, but it's another big whiff by the officials.
Then, late in the fourth quarter, the Texans had an opportunity to take a lead. Foolishly, Bill O'Brien didn't just take three points, or at least try for it, and he went for a fourth down and inches. Maybe just one inch. The play prior should have been challenged, because Lamar Miller pretty clearly had a first down when his knee hit the ground.
This is absolutely incredible. Watch the play and look where Miller's body winds up:
3rd & 2 .. Lamar Miller EASILY picks up the 1st down by a whole yard, ref gives a BAD SPOT… announcer says, "First Down" TWICE! #HOUvsOAK pic.twitter.com/IoiPuI61bu

— Joseph Nowak (@jnowak0617) November 22, 2016
Unreal.
The Texans decided to go for it on the next play, and they again appeared to have a first down. Akeem Hunt took a hand-off and this play was a lot closer than the one prior, which the Texans should have challenged, but this was a huge momentum shifting play in the game.
The officials marked Hunt short of the line to gain, shockingly, and a couple of minutes later, the Raiders had a seven point lead.
And everyone was just scratching their heads, wondering what had just happened.
I've seen plenty of bad calls in my time, and I won't discredit the Raiders here either. They made big plays offensively and took what was given to them. However, the officials actually took points off the board in this game, perhaps multiple times. The Texans made plenty of errors on their own in this one, but the officials are largely at fault for some major momentum shifting plays that would have otherwise given the Texans a lead, or a pretty good shot of closing the game down late.
There's nothing we can do about it except talk about it, and we know bad calls happen both ways in most games. However, this was a game to forget for this particular officiating crew. Unfortunately for them, nobody's forgetting about these critical errors anytime soon.
The Texans got hosed.
This article originally appeared on