Offensive skill position grades for Jets after bye week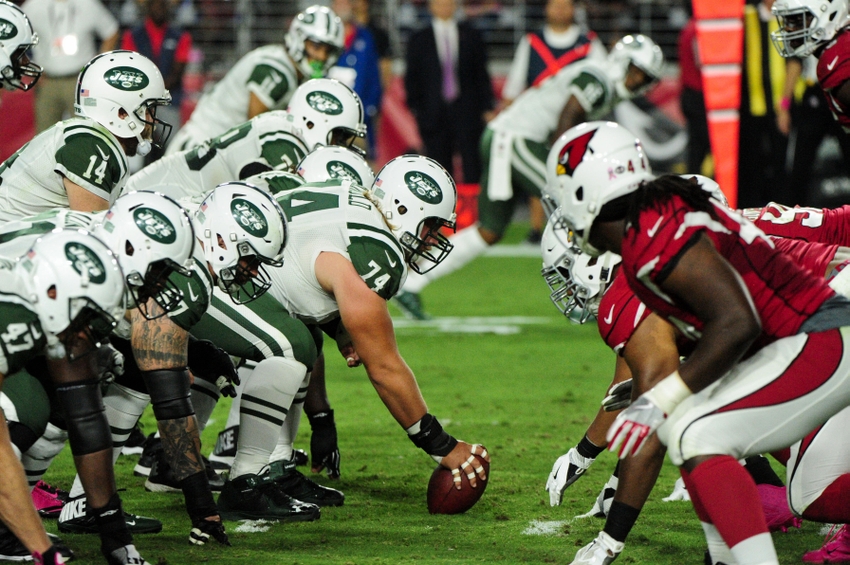 As the New York Jets come off their bye week, they prepare for a matchup against the New England Patriots. Before this, though, let's check out their midseason grades by offensive skill-position.
*Disclaimer: Players such as Jalin Marshall, Robby Anderson, and Eric Decker weren't included due to lack of playing time and injury. It hurts my heart to type this. Just end this nightmare of a season!
Ryan
Fitzpatrick
QB,
New York Jets
D-
The only reason I don't have Fitz at a "F," is because of his toughness at the quarterback position. As much as fans want new faces under center, such as
Bryce Petty
, you can't deny Fitzpatrick's knack to go the extra mile for a yard or two. This was exemplified when his helmet was knocked off mid-play against Cleveland, and Fitz dove, taking a face full of grass with him. Besides this, he has arguably been the worst quarterback in the NFL. He has 8 touchdowns and 13 picks, tied with
Blake Bortles
in interceptions. Although, Bortles has 10 more touchdowns to show for. Fitzpatrick has a 67.6 QBR, second-worst next to his 58.2 QBR back in his rookie year in 2005 with the Rams. There is no doubt that the Jets need to either get a veteran QB next season, or continue to develop Petty and Hackenburg. Unfortunately, from how they've handled the QB situation, it seems as though New York doesn't seem confident in either young-gun.
Matt
Forte
RB,
New York Jets
B
Forte came to New York to win a championship with a roster that was build to win now. Unfortunately, that will not be fulfilled this year, but the veteran back has been productive to say the least. Forte brings a different dynamic to the Jets that
Chris Ivory
couldn't. He is a great pass-catching, versatile running back, and has made a career out of it. Forte ranks 8th in the NFL in rushing, with 732 yards and 7 TDs on 189 carries. Unfortunately, the offensive line play from the Jets has been mediocre at best this year due to underperformance and injuries. Forte, although efficient, does seem slow at times. Maybe that's age catching up, or being in the league long enough to let plays develop. Regardless, I feel as if I find myself begging for more
Bilal Powell
play after play. Powell shoots out of the backfield like a cannon, and consistently makes plays in which he's put back on the bench after. That being said, you can't hate on what Forte has brought to this team.
Bilal
Powell
RB,
New York Jets
B
As hinted in Forte's overview, Bilal Powell is one of the most explosive backs in the league. Although he is very underused, you can see his effectiveness right as the ball is snapped. I wish I could give Powell an "A+," but his lack of playing time doesn't justify obtaining such a high grade. Giving him a grade of "B" plays into his underuse in the offense. Powell has been a fan favorite because of his ability to create opportunities and generate momentum. Need a first down? Powell will give you the best chance in this offense. He reminds me of a younger
Darren Sproles
with his size, vision, and quickness. It wouldn't be surprising if Powell draws major buzz this coming offseason.
More from The Jet Press
Brandon
Marshall
WR,
New York Jets
C-
Is it just me, or does it seem like
Brandon Marshall
thinks too highly of Fitz? I get that Fitz had the year he had last season (and showed us why he is Fitz Week 17), but when will Marshall realize the QB isn't that great? Regardless, it has been nothing short of a letdown of a year from the 11th-year receiver. Of 10 games, he has a mere 43 catches for 601 yards and 2 (yes, TWO) touchdowns. He also is third in the league in dropped passes, with 6. Marshall is on pace to receive for less than 1000 yards, an unwanted feature that he has marked two other times in his career. His rookie year (2006) in which he had 20 catches for 309 yards, and 2014 in his last season with Chicago, where he totaled 721 yards on 61 catches. Marshall faced an injury-plagued season in 2014, and missed most of it due to 2 broken ribs and a collapsed lung. Nonetheless, this is a disappointing season. It's hard to watch Marshall, a star receiver, become a victim of Ryan Fitzpatrick's unproductiveness. I'm sure he wishes that the bet placed with
Antonio Brown
could be delayed….
Quincy
Enunwa
WR,
New York Jets
A
Cleary the biggest upside of the New York Jets' season, is the emergence of second-year receiver
Quincy Enunwa
. After his Week 1 performance in which totaled 7 catches for 54 yards and a touchdown, I became a huge fan. Last year, we saw a glimpse of Enunwa. A big, yet quick and elusive tight-end/receiver hybrid who can dash past linebackers and out-muscle corners. It's a defensive coordinators nightmare. Enunwa had a habit of dropping balls last year, which comes with being a rookie. He had 5 drops on 47 targets, and has 3 drops on 69 targets this year. Improvement? Yes. But, Enunwa has had his productivity become inconsistent and unpredictable, due to laughable quarterback play.
This article originally appeared on