Odell Beckham Jr. Should Thank Rashad Jennings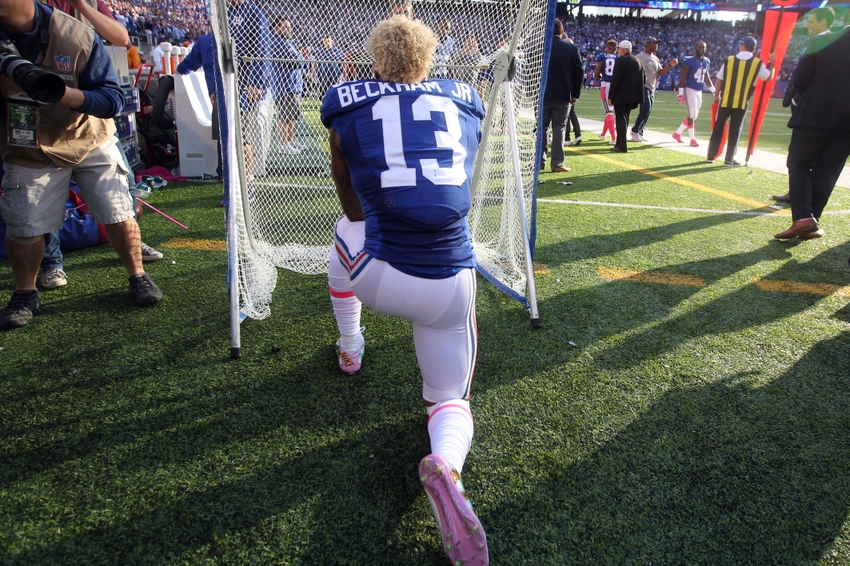 Odell Beckham Jr has a lot to be thankful for this year, including teammate Rashad Jennings.
With Thanksgiving right around the corner, many are beginning to reflect on what they're most thankful for. And if you're New York Giants receiver Odell Beckham Jr, that list includes things such as a very successful NFL career, good health overall, and teammate Rashad Jennings.
Yes, I said Odell Beckham Jr. should be thankful for Rashad Jennings.
Jennings' pass-blocking skills certainly help Beckham, Jr. However, the Giants running back really came through with the assist of a lifetime on Halloween. Dressed as Cupid, Jennings decided to use his matchmaking skills to help Beckham and his then-on-and-off fiancé, Annette, rekindle their romance.
Annette and Odell have been the center of attention (not all good) because of their whirlwind relationship. The two were off to a rocky start when their emotions got the best of them during the Giants' Week 3 loss against the Washington Redskins.
However, the two hugged it out after Odell Beckham Jr. scored his first touchdown of the season two weeks later. The following week, the Giants receiver took the plunge, proposing to Annette after scoring the game-winning touchdown. She accepted! Talk about an exhilarating love affair!
After the proposal, rumors began swirling that Annette had called off the engagement because she wasn't feeling anything. The emotions were all from Odell. And it was clear that he was smitten.
"Our relationship is growing," Beckham told Sam Gentille of Sporting News after the game. "I thought we might as well make it serious. I proposed and she said yes. Me and the net are going to get married sometime soon. Hopefully it all works out. I'm 23, so I don't know much about marriage. She seems like a pretty nice gal."
Beckham turned 24 on Nov. 5, but appeared to be wiser already on Halloween. He recruited Jennings to win Annette back and when Cupid struck her with his arrow, Beckham finally presented Annette with a ring as he proposed a second time at Rashad Jenning's event (Beckham didn't have a ring the first time since it was a spontaneous idea).
After all, if you like it, then you should put a ring on it right, Bey? And not just any ring. No, only the best ring will do and Odell did good as he slid a 51-karat rock (one that would leave Mariah Carey envious) onto Annette's hand. Why 51 karats? Well Odell explained that Annette really wants a Super Bowl ring but will take the 51 karat ring representing the upcoming game that she hopes to attend while seeing her other half play.
Odell Beckham Jr. had to celebrate his legendary Kobe year in a way that would be remembered for years to come and he succeeded!
I was fortunate enough to be at Rashad Jennings' Monday Night Madness, a gamewatch event for his foundation. Anyone that attended the event had the opportunity to celebrate Halloween in a giant way while also supporting the Rashad Jennings Foundation, which works to "inspire youth by making education fun, to provide mentorship for individual success, and to promote health and fitness worldwide." They also witnessed one of the coolest proposals to date.
Dancing to Jagged Edge's "Let's get Married," Beckham and his Giants teammates danced and approached Annette. After dropping down to one knee and professing his never ending love for her, he made her Mrs. Odell Beckham Jr., proposing and marrying her that night.
Halloween was a giant success for Odell Beckham, Jr. and Rashad Jennings. The former is now happily married to the game (cheers to the happy couple!) The latter made it happen while raising funds for his Foundation and celebrating with a bow-and-arrow but not getting fined by the NFL for doing so.
This article originally appeared on