Odell Beckham Jr. Rocks Wild American Flag Mask (Photo)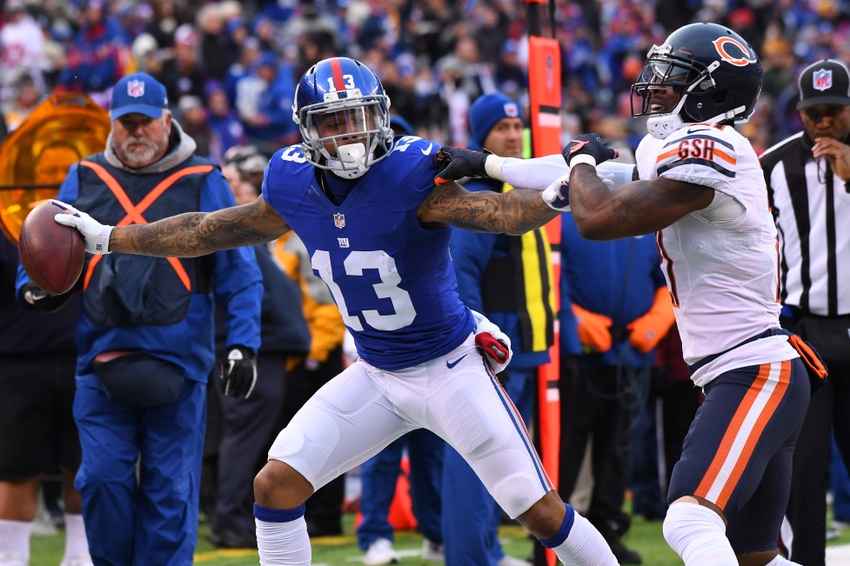 New York Giants wide receiver Odell Beckham Jr. looks poised for a monster Week 12—and he already looks like a monster in pre-game warm-ups.
Odell Beckham Jr. hasn't gone over 100 yards of receiving since blasting the Baltimore Ravens for 222 yards and two scores in Week 6. The New York Giants wide receiver did enjoy a 10-catch, 97-yard outing with a touchdown in Week 10 against the Cincinnati Bengals before a quiet Week 11 against the Chicago Bears.
Facing the Cleveland Browns on the road today, Beckham Jr. seems destined to light up Cleveland on the stat sheet. Beckham has been killer against the AFC North to this point, and the Browns are the softest matchup he'll face.
We are expecting a scary game from Beckham Jr., but I don't think we expected him to come out wearing a scary mask.
I guess he was going for a patriotic look, but this mask seems pretty bizarre.  It also doesn't match the cleats he's wearing at all, though we've come to know Beckham Jr. for his crazy shoe color schemes.
Beckham is averaging 81.9 receiving yards per game in the 2016 season, and this would actually be a career-low for the former LSU star. If he doesn't notch triple digits in this game, then we might have to ask why Eli Manning didn't hit him up more frequently. The fact that Beckham's numbers are a bit down is more of a reflection of the slump the offense was in earlier and this is a great chance for the Giants to make a huge statement on that side of the ball.
You know, a statement that's even bigger than the one Odell is making with this mask.
This article originally appeared on