Odell Beckham Jr. leaps for second TD grab vs Eagles (Video)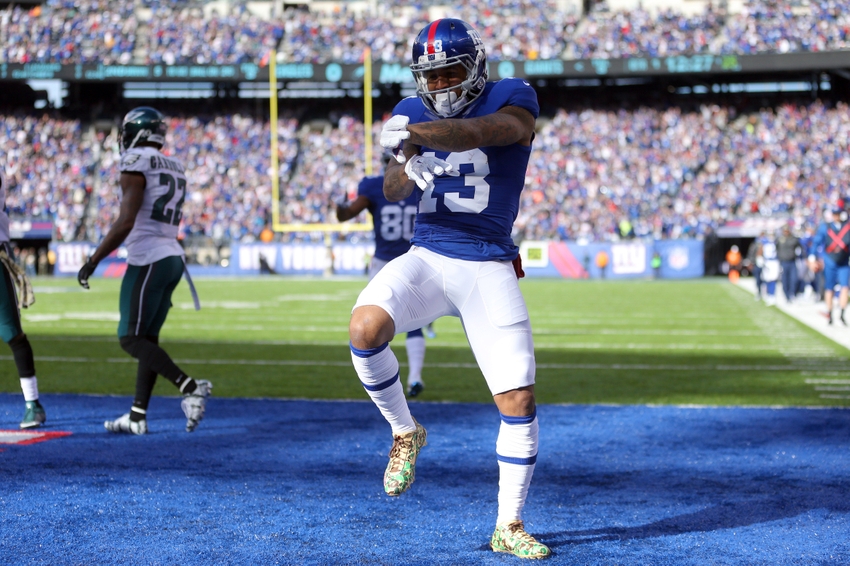 Odell Beckham Jr. has to go up and get his second touchdown pass of the game against the Philadelphia Eagles on Sunday afternoon. Beckham has great hands.
The Philadelphia Eagles know that New York Giants quarterback Eli Manning wants to throw the ball in wide receiver Odell Beckham Jr.'s direction. Jim Schwartz's Philadelphia defense is not doing a good job of that early, as Beckham already has two touchdown receptions in the first half.
Beckham has to jump as high as he can to come down with this impressive goal line touchdown catch from Manning. The made Robbie Gould PAT would make it 21-10 for the Giants at home against rival Philadelphia in Week 9.
Another one.

Eli. OBJ. Got 'em again.
Touchdown, @GIANTS. #PHIvsNYG https://t.co/N122MFbcG9

— NFL (@NFL) November 6, 2016
This huge NFC East rivalry game has major implications in the divisional race. While teams trail the Dallas Cowboys in the NFC East standings, the NFC East is the only division in football where all four teams are .500 or better entering Week 9.
That could mean the NFC East will be able to get one, maybe even both of the NFC Wild Card berths this season. The winner of this game will improve to 5-3 and be right in the thick of things in the NFC Wild Card race.
So far, Philadelphia has turned the football over early in this game. Manning and Beckham have been huge in the Giants getting points against Philadelphia in the first half. It's strange to see the usually strong Jim Schwartz Eagles defense struggle this badly in defending the pass.
Manning and Beckham are clearly on the same page early in this one. Beckham might be facing exclusively double teams the rest of the way. With the way that Manning is slinging the pigskin, that may not matter.
This article originally appeared on