Odell Beckham Jr. Injury Update: Giants WR Hurts Thumb, Leaves Game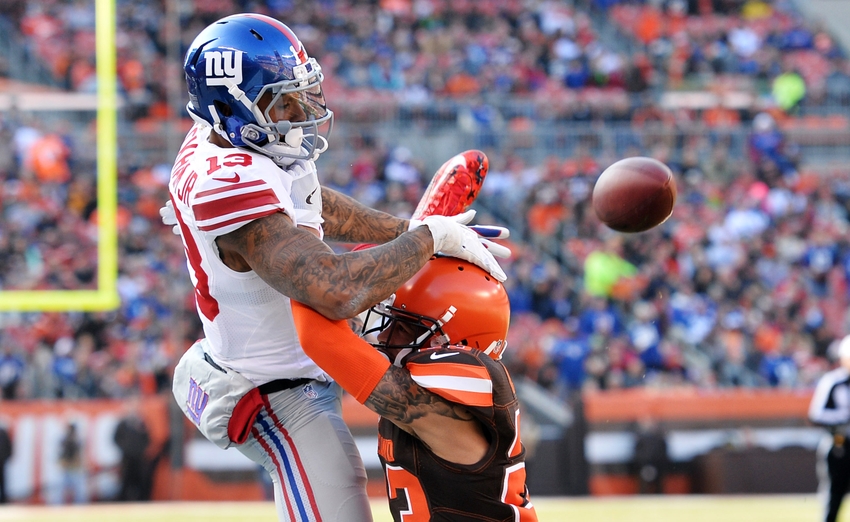 New York Giants star wide receiver Odell Beckham Jr. left their Week 12 game against the Cleveland Browns in the first half with a thumb injury.
Odell Beckham Jr. is no doubt the biggest catalyst in the New York Giants offense. Yes, Eli Manning is important as all quarterbacks are vital to success. However, the catching ability and ability to break open big plays from OBJ is absolutely massive for the Giants. As they try to avoid being upset by the winless Cleveland Browns in Week 12, though, they might not have that big weapon at their disposal.
In the first half as the Giants struggled to create any separation from the Browns in the early-going, Beckham went up for a catch and seemingly did something to his hand. He came off the field and onto the sidelines.
Unfortunately, it appears that OBJ has done something to his thumb. He was taken out of the game for further evaluation and the Giants are calling him questionable to return following the injury:
While the G-Men have weapons at their disposal without Odell Beckham Jr., that's a huge loss for their offense. Sterling Shepard can't carry the offense the way that the electric OBJ can and his loss could prove costly.
Considering that the Giants finished the first quarter scoreless with the Browns, they could use all of the offensive help that they can get. More importantly than avoiding the loss to winless Cleveland, New York is also just two games shy of the Dallas Cowboys in the NFC East. So a loss here would be critical. We'll keep you updated as to Beckham's status as more information is available.
This article originally appeared on