Odell Beckham Jr. Explodes 61 Yards for Touchdown (Video)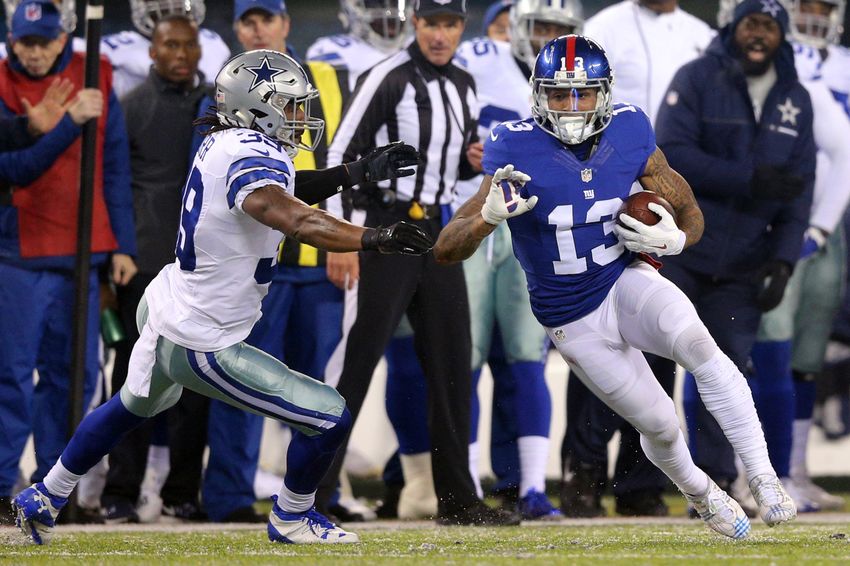 Odell Beckham Jr. struggled early on, but the New York Giants star burned the Dallas Cowboys in a huge moment on Sunday Night Football.
The New York Giants had to be wondering what was on the mind of star wide receiver Odell Beckham Jr. through the majority of the first three quarters of Sunday Night Football. Save for scarce catches, the enigmatic star was producing more gaffes than anything else. Those mistakes included touching a punt as the returner and having to recover the fumble and dropping a first-down catch in wide-open space.
But the thing about a player like Beckham is that he's always one sliver of space with the ball in his hands from breaking a game open. Late in the third quarter with his Giants trailing 7-3, that's exactly what OBJ was able to do.
Eli Manning found his star receiver in the middle of the field on a short slant route. After he hauled it in, though, he had enough room to turn on the jets and just straight-up embarrass the Cowboys defense. The electric star put on some simple moves while still burning by everyone and wouldn't be caught as he took a pass that he caught less than 10 yards beyond the line of scrimmage 61 yards to the house:
There goes @OBJ_3!
No one can catch him.

61 yards and the @Giants have the lead! 😱 #DALvsNYG https://t.co/KaGoAEod2u

— NFL (@NFL) December 12, 2016
That's such a massive play in the context of this game, but it's impressive regardless of situation or game. OBJ's speed is forever impressive and impossible to stop for 99 percent of humans.
At home in such a big game at MetLife Stadium, though, that's such a massive momentum swing. Despite the struggles of Dak Prescott, the Cowboys still felt like they were in control. With the crowd going, Beckham moonwalking, and everything else, it felt very much in favor of the Giants following the 61-yard touchdown.
This article originally appeared on