Oakland Raiders Wild Card Opponent Preview: The Houston Texans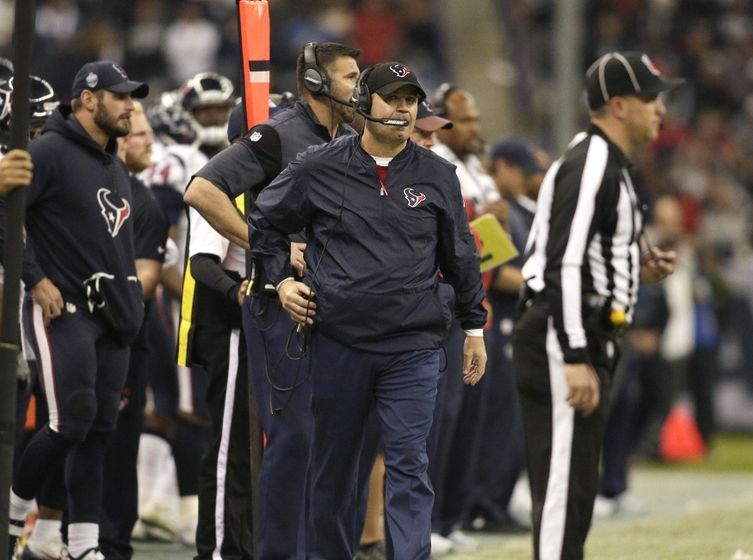 Here is everything you need to know about the Oakland Raiders Wild Card Opponent, the Houston Texans.
The regular season has come and gone, and with it, a new sun has risen on the Silver and Black. Albeit, not the one we expected. Derek Carr circled the wagons this season and took the Oakland Raiders to the playoffs, the promised land.
However, Derek's injury and subsequent departure begs the question as to whether the Raiders can be prosperous in the new frontier of the postseason. With their sheriff absent, is there yet another that can help the Raiders draw water in this harsh new environment?
For the Raiders, last week was an astounding disappointment. Whilst many echoed support for and belief in Matt McGloin, the fact remains that he looks anything but a suitable backup. With free agency looming, McGloin may have just shot himself in the foot with a dismal performance, going 6-11 for 21 yards before suffering a painful shoulder injury. McGloin looked scared from the get-go, and he wasn't helped by a subpar running game that failed to reignite the offense's success against Denver earlier this season.
Defensively, it looked like watching the shells of 11 men play, footballers whose sounds had left their bodies. That may sound very existential, but it was clear how much Derek's injury as the best player and brightest leader meant to even the defense. Laziness, arm tackles and poor discipline in coverage were strikingly evident.
Oddly enough, the lone bright spot was Connor Cook. Cook was by no means perfect, tossing an interception, fumbling twice and losing one. But looking past that, he was a respectable 14-21 against a stout Broncos defense. Cook threw his first NFL career touchdown pass and the interception came on a play where Cook made the right read, but just put too much mustard on the delivery as it sailed over Rivera's head.
Cook displayed a velocity on his throws that McGloin lacked, and demonstrated (despite the fumbles) a better sense of pocket awareness than McGloin. Cook for the most part, didn't look put off by the Broncos (unlike McGloin). His big game college experience (Rose Bowl MVP) no doubt is a great asset for him.
The Raiders don't have many wagons left. Cook is the last one we can hitch onto.
Our situation is clear. Cook is where the game will hinge. It's almost as if the whole 53-man roster (bar to his credit, Cook) played with the emotions of Carr's injury still on their minds. If Cook can play well and give them some confidence from the quarterback position, then the Raiders may well be able to eke out a win in Houston.
As always though, let's start by examining Houston's coaching staff:
Head Coach: Bill O'Brien
Offensive Coordinator: George Godsey
Defensive Coordinator: Romeo Crennel
Special Teams Coordinator: Larry Izzo
If you watched Hard Knocks last year, you will already have a good idea of O'Brien as a coach. A tough, blue-collar no nonsense kind of guy. A coach that is indicative of Houston's defense. A defense, that like him, is tough and in your face. Houston's offense hasn't been nearly impressive, in fact, easily the teams Achilles heal. Yet O'Brien displayed some moxie a few weeks ago, benching $72 million guaranteed man Brock Osweiler for backup Tom Savage who played well in the former's stead.
It's that type of tough decision making (that brings results) that will endear players to their head man. Having squeaked out a 9-7 record and the AFC South crown, it's fair to say that pretty much every AFC playoff team hoped that if they couldn't secure their division, they'd be able to play Houston.
Of course, these teams met earlier this year in Mexico City, with the Raiders outlasting the Texans 27-20. That game of course wasn't without controversy (spoiler: Hopkins did actually step out of bounds) but with Carr and Tom Savage both out, and questions surrounding Osweiler at every turn, this week's showdown is a different kettle of fish.
Speaking of, let's take a look at Houston's current offense:
Texans Offense
QB: Brock Osweiler
RB: Lamar Miller
WR: Deandre Hopkins
WR: Will Fuller V
TE: C.J. Fiedorowicz
LT: Duane Brown
LG: Xavier Su'a-Filo
C: Greg Mancz
RG: Jeff Allen
RT: Chris Allen
(Also shoutout to the Texans who actually list their teams up to date depth chart before the game unlike some others. *Cough* Chiefs. *Cough*).
Houston is such a fascinating offense to dissect at this point in the season. Firstly, they rank 29th in the NFL in both passing and total offense. Yet, lo and behold, they rank 8th in rushing. On the other side of the coin, they rank tied 2nd last in the league for rushing touchdowns with 8. They also rank 31st in the league for red zone offense and tied for 26th in turn over differential.
So with that dog's breakfast of stats, what on earth can we actually ascertain about Houston's offense heading into this matchup?
Firstly, it's not at all inappropriate to use the earlier Raiders Texans tilt as a blueprint for this week's matchup. Yes Carr is out, but the Texans are back to Osweiler with Savage injured too. If you remember from that matchup, the Texans passing game wasn't exactly stellar, but they were boosted by some of Lamar Miller's long runs, especially his 40-yard dash down the right hand sideline.
Hopkins no call touchdown is revealing in and of itself as well. Yes it was called back (rightfully), but had it not have been, the score would have been a result of Hopkins YAC ability, turning a short gain into a long streak for the touchdown. Hopkins, not Osweiler, would have been the major responsible party for that touchdown. Fiedorowicz's touchdown was a red zone strike as well, against some pretty soft coverage from Oakland.
So all in all, what does this tell us? Houston possesses a potent running game, one that will chew up yards but will struggle in the end zone. Miller has chugged along for a 1,00 yard season but for only 5 touchdowns. For comparison, Murray only had 788 yards this year, but ran the ball in 12 times.
Passing game wise, they lack a quarterback who can make big time throws, struggles with accuracy and pocket presence. While the Texans have actually protected their quarterback quite well (top ten in fewest sacks allowed) Osweiler has still struggled to the tune of 15 touchdowns and 16 interceptions with a 72.2 rating. Any big plays in the passing game will have to come through the YAC-ability (yes it's a word, at least according to Cris Collinsworth) of Hopkins and Fuller.
Hopkins is a beast of a receiver, but has no doubt suffered due to poor quarterback play. Finishing short of 1,000 yards, Hopkins has only caught 4 touchdowns this year, and only 1 in his last 11 games. On the other hand, Fuller has caught 6 touchdowns for just over 600 yards. Expect the Texans to lean on their running game, and minimize the amount of responsibility Osweiler has, for his sake and the team's.
Now let's examine the defense:
Texans Defense
DE: Christian Colvington
NT: Vince WIlfork
DE: Jadeveon Clowney
OLB: Whitney Mercilus
ILB: Brian Cushing
ILB: Benardick Mckinney
OLB: John Simon
CB: kareem Jackson
FS: Jonathan Joseph
SS: Andre Hal
CB: Quentin Demps
The 2014 NFL draft was no doubt a turning point for the Raiders. Mack, Carr and Gabe Jackson. Mack of course, was destined to be compared with Clowney. For the first two years of Clowney's career, rumours swirled that the Texans GM really preferred Mack, and that the former Gamecock star lacked a mature mindset and work ethic to succeed. Whilst no Raider would ever trade Mack away for Clowney, credit Jadeveon for becoming a force to be reckoned with this year.
Clowney is far and away the standout on this defensive front. It is scary to imagine how good they will be when Watt comes back next year. *Shudders*. Clowney has dominated one on one matchups, excelling initially in the run game, especially in notching tackles for loss. Of late, Clowney has further pushed himself in the pass rush, and all in all, has put together an absolutely stellar season.
Clowney is the number one threat for Oakland this week. With 6 sacks and 52 tackles, Clowney is beginning to grow into what many hoped he would be. When the Raiders and Texans faced off earlier this year at Azteca stadium, Clowney was almost single handedly responsible for Oakland's less than average rushing attack (30 yards on 20 carries).
Earlier this week, Clowney said "I hope we blitz Connor Cook all game". Clowney is the main threat, and with Donald Penn likely to miss the game, could well wreck the offensive gameplan.
Apart from Clowney, this Texans defense has been a strong force in the 2016 season. They are the number 1. total defense in the NFL. They rank 2nd against the pass and 12th against the run, with linebackers Cushing and Mercilus in particular enforcing a physical presence behind an imposing defensive front of Cowney and Wilfork.
In addition, the Texans rank 8th in red zone defense, excelling at stifling their opponents run game close to the line. Perhaps a by product of Watt's absence and Clowney's continued growth in rushing the passer, they rank 25th in the NFL in sacks, with only 31.
While Clowney might hope the Texans blitz Cook all game, that might be in a desire to pad some otherwise undesirable stat lines for an otherwise stellar defense. For the Raiders, it could be a case of catch 22. They can play the run against Houston knowing they are weaker on that front, but be faced with Clowney who could threaten to wreck that completely like they did last time.
On the other hand, throwing Connor Cook in straight away against the 2nd best pass defense in the league would be wildly irresponsible to the poor young man who has showed good promise.
Will the rookie be able to capture Oakland's first postseason win in over a decade? We'll have to wait to find out. The silver lining being that a Raiders collapse would only strengthen Derek Carr's MVP case, having already received a vote from Adam Schein.
This article originally appeared on