Oakland Raiders: Week 1- Pressures, Hurries and Knockdowns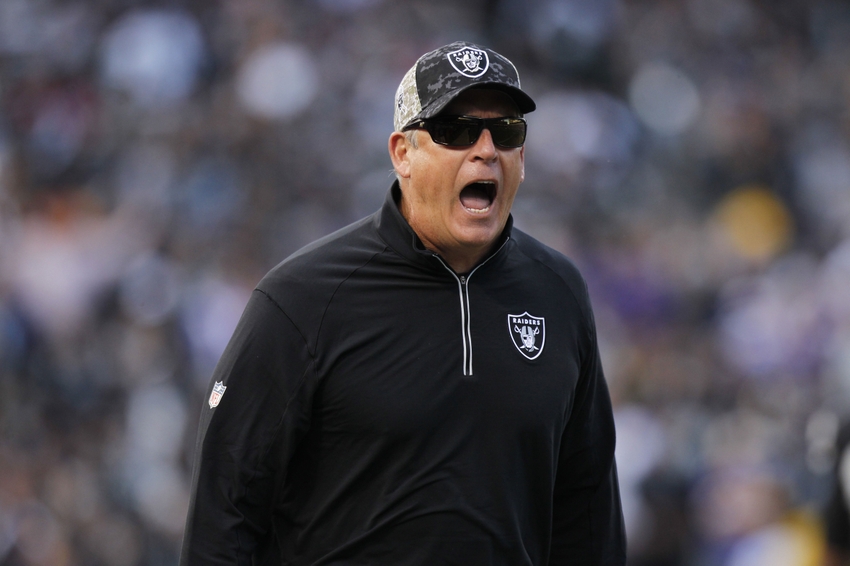 JBB is bringing back this popular weekly series, titled Pressures, Hurries and Knockdowns. Here is the first edition for the Oakland Raiders 2016 season.
After another solid draft combined with targeted free agent signings and talent gathering over the past two years, the Raiders come in to 2016 facing something they are not used to — high expectations and the pressure that comes.
This team hasn't had a winning record since 2003, and aside from a couple of 8-8 seasons, didn't really come anywhere close in the last thirteen years.
The Raiders showed significant improvement under first-year coach Jack Del Rio in 2015, improving their record to 7-9 after a 4-12 record in 2014. But this wasn't an anomaly in the midst of constant rebuilding like those 8-8 seasons.
This was the beginning of a young nucleus learning how to win.
With young core leaders Derek Carr and Khalil Mack playing at high levels and demanding excellence from their teammates, that should only continue this season.
General Manager Reggie McKenzie has done an excellent job building a deep, talented roster with few glaring holes. The long-proud franchise has been wounded of late, and Raider Nation is just about out of patience.
The time to win starts now. With expectations comes pressure. Who is under the most pressure in the first game? Difficult to pinpoint with expectations being as high as they are, but there are certainly situations which stand out.
PRESSURE
Menelik Watson – RT
Watson has had one of the more interesting — and frustrating — football odysseys around.  A natural athlete who aspired to play soccer for Manchester City while growing up in Great Manchester, England, Watson broke his ankle as a teenager and was advised by a doctor to quit playing sports altogether.
He instead switched to basketball, and was good enough to garner a scholarship to Marist College in New York State. Realizing basketball wasn't his calling, he transferred to known football powerhouse Saddleback College in 2012 and played American football for the first time at the tender age of 23.
Watson's intelligence and 6'5, 300 pound frame combined with incredible footwork garnered on the soccer pitch and the basketball court allowed him to excel immediately. After one season he transferred to actual football powerhouse, Florida State where he promptly started 12 of his first 13 games.
Menelik declared for the NFL draft, and the Raiders saw enough in his limited experience but great football IQ and athleticism to take him in the second round of the 2013 draft.
Since then, he's probably found himself thinking of soccer many days. He's been injured a bit, mostly in his lower body. He missed significant time his rookie season with knee and calf injuries and again in 2014 with foot and ankle problems.
Finally healthy coming into 2015 training camp, he was playing at a high level and poised to beat out incumbent starter Austin Howard for the right tackle job. But in the third preseason game, he tore his Achilles tendon. He missed all of 2015 and is eager to repay the team's loyalty to him.
Watson has only been on the field for 17 of a possible 48 games in his career. The pressure is on.
He's healthy again this season and played like a bona fide starter alongside lineman stalwarts Rodney Hudson, Gabe Jackson, Kelechi Osemele and Donald Penn. He was winning the right tackle job anyway when Austin Howard went down in the final preseason game with a knee injury. Howard's injury just made it obvious.
Watson is under significant pressure immediately, as he's the only unproven commodity on the Raiders vaunted offensive line. He hasn't seen many significant game snaps during meaningful action.
The Raiders are counting on their line to create holes for backs Latavius Murray and DeAndre Washington, and to give "Carr Insurance" to their valuable third-year signal caller.
Watson finally has a chance to prove he belongs at this level after many questioned McKenzie's selecting him that high in the draft with his limited football experience. Nobody has ever questioned Watson's size, strength, athleticism or work ethic. It's the small sample size and inability to stay healthy that plague him. He has only played football for four years. Four.
McKenzie has paid a lot of money for this line and it's supposed to be special. If Watson comes out Sunday and fails to protect Carr or open running lanes as per his job description, the Raiders know they have a viable replacement when Howard is healthy.
At 27 and with little actual game experience, Watson's time is running out to show he's the answer. He's under pressure to play well to help the Raiders reach expectations — and to keep his job.
PRESSURE
Raiders Secondary
No area of the team got more attention or love from McKenzie this offseason than the defensive secondary. That's because last year it was a secondary only a mother could love, with the Raiders ranking 26th in the NFL overall pass defense despite Khalil Mack's 15 sacks and constant QB pressure.
McKenzie had a lot of money to use this offseason, and he spent quite a bit to bring highly regarded corner Sean Smith from the rival Chiefs and ball-hawking safety Reggie Nelson — who played for Del Rio in Jacksonville as a young player — from the Bengals. He also drafted heat-seeking missile Karl Joseph, the strong safety from West Virginia expected to do big things sooner than later.
This secondary is much improved on paper — the pressure lies in bringing that to the field.
Smith is a shutdown corner, ranking as the 12th best corner in PFF's ranking system. The Raiders received high-level corner play from just David Amerson last season — now they have someone to pair him with.
At 6'3″ with long arms, Smith excels at disrupting receivers by jamming them at the line, and has the speed and savvy to turn and run with them when required. He gave up a catch-rate of only 53.2% while snagging two picks and deflecting eight passes in 2015.
Nelson has the second most (21) interceptions over the past three years, trailing only Richard Sherman (26). That's impressive. Nelson made the Pro Bowl last year after leading the NFL with eight picks, and has always been a playmaker.
Joseph is currently second to veteran Nate Allen — back healthy after missing parts of last season with a knee injury — on the depth chart, but don't expect that to last. Joseph is both a ball-hawk — he had five interceptions through four games for the Mountaineers last season before tearing his ACL — and one of the hardest hitters out there.
Upcoming

Schedule

9/11

at

New Orleans Saints
9/18

Atlanta Falcons
9/25
at

Tennessee Titans
10/2
at

Baltimore Ravens
10/9

San Diego Chargers
Drew Brees just signed a huge contract extension, and the New Orleans defense was historically bad last season. While they made improvements in the offseason, they continue to be plagued by injuries and will bring a depleted unit to the field on Sunday.
As such, expect the Saints to take to the air and try and score a ton of points to stay in this game. The Saints defense gave up an NFL-worst 45 touchdown passes last season, and Carr and Cooper look poised to take advantage of that.
Mark Ingram is a great running back, but it's unlikely the Saints will be ahead far enough for the Raiders to worry about Ingram carrying the ball a ton of times. More likely Brees will throw it 40+ times, and he owns the Raiders.
In Brees' last seven games against the Silver & Black, he is 7-0 with 16 TD's and 0 INT's. That's owning a team, and that puts a lot of pressure on the secondary.
All those factors make it seem as if the Saints will throw the ball a ton against the Raiders perceived weakness. But the Raiders feel the secondary is now a strength.
The new pieces in the secondary are under pressure to produce as expected, and the unit as a whole must keep Brees honest and cover long enough to allow Mack, Bruce Irvin and company to get home and turn Brees into jambalaya.
If Brees can pick them apart as usual and the Raiders improved secondary isn't, in fact, improved as of yet, then this team will have a long plane ride home while the Saints celebrate on Bourbon Street.
Starting with a loss would be devastating this season considering the expectations, and the winnability of this game. The pressure is on the secondary to stop Brees from taking their lunch money yet again.
HURRIES
Very disappointing to hear Mario Edwards Jr. is on short-term IR with his hip issue. After recovering from a scary neck condition he was poised for a big year. The Raiders will need UDFA Darius Latham and second-round pick Jihad Ward to play well and pickup the slack.
I wish I had, but I just didn't see the "vast improvement" that D.J. Hayden was supposed to have made during the preseason. He still looks unsure and hesitant — and that trumps any talent or practice strides he may have under his belt. He needs to believe in himself and play more aggressively or else he needs to go. T.J. Carrie still looks like a better player.
Interested to see how DeAndre Washington is used on offense in the first game. He looked positively dynamic both running and catching the ball in preseason, and should get plenty of opportunities to spell Latavius Murray as the Raiders are overly wary of putting too much on Murray after the way last season ended.
Speaking of Washington — he, Jalen Richard and Johnny Holton looked quite good returning kicks in the preseason. Seabass is down 10 pounds and kicking like it's 2005 and Marquette King punted like a man possessed in the preseason. With the additions of coverage men Daren Bates and Brynden Trawick on special teams, the overall unit may be one of the best in football.
Al Davis' final draft pick, supplemental third-round quarterback Terrelle Pryor, is now a starting wide receiver for the Cleveland Browns.  Davis was always great at spotting athletic ability, and Pryor has that in spades to go with a massive 6'4″, 210-pound frame and exceptional speed. Though he didn't make it as a Raider or a quarterback, he will always be remembered by many as a fitting last pick by the old rebel — who was right one last time.
KNOCKDOWNS
Raiders Can't Win on the East Coast
First, let me say that this part of the column typically speaks to something we learned last week in the last game — or over the course of the season thus far.
Since there is no real last week — I'm through overreacting to preseason stuff — and little material to work with as of yet,  we go back to a trend that was somewhat ended last year.
After winning in Cleveland during week three of the 2015 season, the Raiders found themselves in unfamiliar territory. They were victors of game played in the Eastern Time zone. It was surreal.
Oakland Raiders: Del Rio discusses right tackle competition
You see, the Raiders had lost sixteen straight games in the Eastern Time zone. Sixteen.
That is an entire NFL season's worth of games — in a row — in a single time zone. This spanned six seasons. 
Well, the Raiders not only beat the Browns — which I mean, come on — they also beat the Titans in EST. Two wins in one year. Yes, they did lose four, but they won two.
While the Titans and Browns weren't exactly NFL powerhouses in 2015, a Raider victory in the Eastern Time zone hadn't happened in — repeat it with me now — six whole years and sixteen games. So even beating the Culinary School of Western Michigan would've been significant at that point.
The Raiders were done no favours in the Eastern Time zone department by 2016 NFL schedule makers, as I pointed out in this article during the summer. Coach Del Rio mildly expressed his slight annoyance with the schedule during an interview with Sporting News.
Back-to-back games in Jacksonville and Tampa and traveling to Kansas City for a Thursday game on a short week are the biggest beefs, but this team proved last year that they can win in the Eastern Time zone. They should've had a third win against the Bears but some poor clock management and ill-timed defensive lapses cost them that one.
At the very least, the psychological baggage of six straight seasons of losing in the Eastern Time zone is gone, and it's no longer a matter of the team being defeated before they even kickoff. This team believes they can win, and believes they should win. Wherever. Whenever.
More from Just Blog Baby
This article originally appeared on