Oakland Raiders vs. Seattle Seahawks: Winners and Losers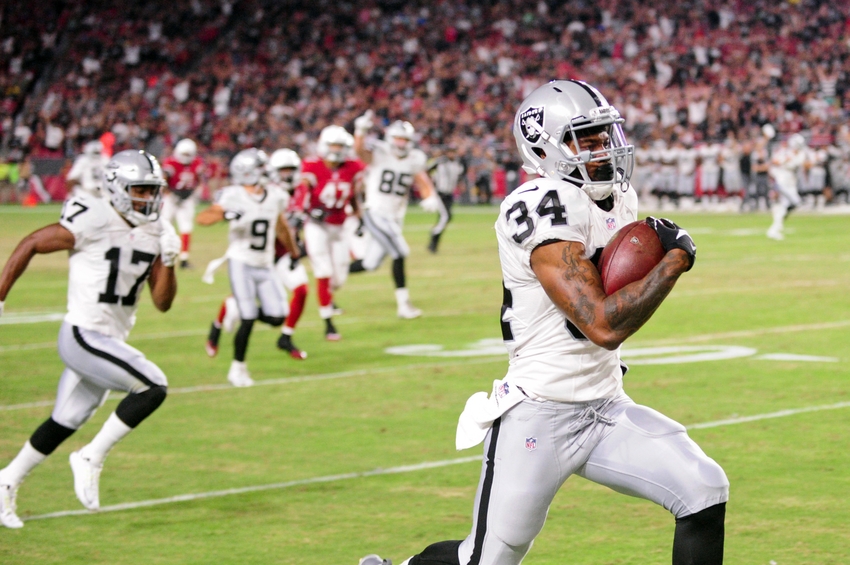 Breaking down the winners and losers from the Oakland Raiders preseason finale against the Seattle Seahawks.
The Oakland Raiders fell to 1-3 in the preseason, following a 23-31 loss to the Seattle Seahawks.
After an impressive debut against the Arizona Cardinals, it of course isn't ideal to drop three straight games, but there is plenty of time to prepare for the Saints on September 11th.
As always, there was good play mixed with bad play, so let's take a look at winners and losers from the third preseason game.
Winners
Denico Autry
Autry dominated in the finale, recording six total tackles, with an incredible five of them being for a loss. He also had a sack, a pass deflection, and a QB hit.
He had a quiet preseason up to this point, so it was great to see Autry have a breakout game. If Edwards Jr. misses extended time, the team needs Autry to step up in a big way. He's certainly capable.
George Atkinson III
Atkinson has become a regular in this column, and he's making one last appearance in the finale. He logged a rushing TD, had a great game on the ground (seven carries, 56 yards) as well as a punt return TD.
The lost fumble hurts, but his overall body of work has been impressive. I'm sure the team would love to keep him, but it will be difficult to find room.
Marquette King
Marquette is ready for the regular season to start. He was a busy man Friday night, punting the ball eight times for 391 yards, good for an average of 48.9. Five of those punts ended up inside the 20-yard line, and a few of them were closer to the 10.
Football is a game of inches, and field position is critically important. King has always been able to boom it, but his accuracy has improved a great deal.
Darius Latham
Latham put a stamp on his preseason performance, with another great game in the finale. He was disruptive all game long, recording five tackles, including one for a loss, and he batted a pass down at the line of scrimmage too.
I also noticed Latham on special teams, which is important for any rookie trying to make the roster. We're already past that point with Latham, though. He'll be on the 53.
DeAndre Washington
Washington is a YAC machine. On a couple of receptions, he picked up a nice chunk of extra yardage after the catch. That is something this team desperately needs, and he's made a strong case that he should be the third-down back.
Washington also had a big kick return that was called back due to penalty.
Losers
Taiwan Jones
Taiwan didn't play a snap against Seattle, and he hasn't played much at all this preseason.
It's been a bit of a fall from grace for Taiwan, who has been the team's swiss army knife the last two seasons. Running back, corner back, special teams gunner, kick returner — he was a valuable player.
But that's what happens as the team gets more talented. Other plays have filled those voids equally well, or maybe even better. It's a youth movement in Oakland, and Taiwan's time might be up.
Austin Howard
Howard filled in admirably for Menelik last season, but his injury against Seattle should seal the deal — Watson will once again win the starting job.
Watson was the favorite, but it was a close race. Now there should be no doubt.
Discipline
Once again, penalties were a problem. For the first three games, Oakland committed double-digit penalties and in this one, it was eight penalties for 64 yards.
One in particular hurt, which called back a big kick return by DeAndre Washington. Mistakes like that can lose games, and they need to get this cleaned up sooner than later. The regular season is nine days away, and counting.
Connor Cook
Cook didn't have a great night. 15 for 30 for 145 yards and he threw an interception for the third straight game.
His highlight of the night was a rollout throw against his body to Jaydon Mickens on the sideline, but there were few positives outside of that.
The interception in particular was horrendous, and it turned into a pick-six. There were several other really questionable decisions, and the play before the nice throw I mentioned, he threw the pass in the ground way before the intended target.
He's definitely a work in progress, and isn't ready to be the backup quarterback quite yet. McGloin's injury seems minor, and hopefully that is the case.
This article originally appeared on