Oakland Raiders: Three Bold Player Predictions for the 2016 Season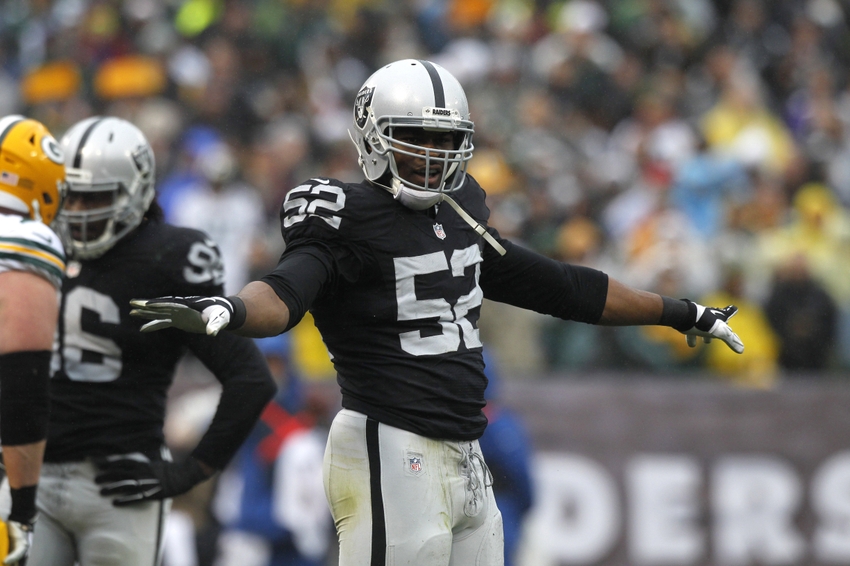 Three bold individual player predictions for the 2016 Oakland Raiders season.
The 2016 regular season is just around the corner. On Sunday, September 11th, the Oakland Raiders open the season on the road against the New Orleans Saints.
While the streak of non-winning seasons continued, the 7-9 year campaign in 2015 was definitely progress, and fans have plenty of reason to be excited about the future. Even more so after the team's strong offseason.
With new additions like Kelechi Osemele, Sean Smith and Bruce Irvin, paired with the continued development of players such as Derek Carr, Khalil Mack and Amari Cooper, expectations for the 2016 season are high.
Here are three bold player predictions for the upcoming season.
Khalil Mack Breaks the Single-Season Sack Record
Last year in a similar column, I predicted that Khalil Mack will lead the NFL in sacks. And while he didn't quite get there, his 15 sack breakout season was a big-time accomplishment, which was good for second place.
This year, I'm raising the bar, because I fully expect Mack to do the same thing. He is going to break Michael Strahan's single-season sack record of 22.5.
The first eight games of 2015, Mack only registed four sacks. In the final eight games, he totaled eleven sacks — so if he can maintain that game pace, that puts him at 22.
He only would need one more sack to break the record, and there are a few reasons why he can do it.
For one, he'll be better, no question. And reason number two is because he'll have more help, with Bruce Irvin on the other side for the full year, and when Aldon Smith returns. Reason number three is because the secondary is better, and will be able to cover wide receivers for longer, giving Mack more time to get after the quarterback.
Plus, just look at the guy. I rest my case.
#OaklandRaiders #Raiders McClain on Khalil Mack's athleticism https://t.co/Im73fbrmrl pic.twitter.com/3632QldcxK

— Oakland Raiders Fans (@RaidersSupport) July 16, 2016
Amari Cooper Will Catch 100+ Passes
In his rookie season, Amari Cooper caught 72 passes on 130 targets. As in encore in his second season, he's gonna top the 100 mark.
One thing that will raise that number is limiting the amount of drops. Coop had 10 in his rookie campaign, second most in the NFL. Getting that number cut in half adds five receptions by itself.
The second thing that will help Amari reach this goal is increased chemistry with Carr. We've already gotten a taste of that in the preseason, and we'll see it in action once the regular season starts. The two were roommates during the offseason, so there is no doubt they'll be on the same page on game days.
The volume for Cooper will also increase. He was 18th in the NFL in targets, and getting another 30 passes thrown his way will put him into the top ten.
Increased chemistry leads to better timing, knowing how one another operate. This will increase the percentage of targets that are completed. In 2015, 55% of passes thrown to Cooper were completed.
If Carr and Cooper can connect on between 66% to 69% of passes, a number achieved by Julio Jones and Antonio Brown, with 150 targets, that will give him between 99 and and 104 receptions.
Only seven players in 2015 caught 100 or more passes. Amari joins that club in 2016.
David Amerson Ties for the League Lead in Interceptions
David Amerson was the biggest surprise for the Raiders in 2015.
A big-time athlete with great size, Amerson was a second-round pick, seen as a player with a ton of potential because of his physical tools.
After struggling mightily in Washington — PFF graded him as the second-worst CB in the NFL at one point — Amerson thrived in Silver & Black.
He picked off four passes, tied for 13th in the league. And maybe he could have grabbed one more had he played the first few games in Oakland.
In 2016, Amerson gets eight INT's and ties for the league lead.
One reason why this could happen is due to an increase in targets. With Sean Smith as the number one cornerback, and one of the better CB's in the NFL, teams will look the other direction when possible.
That other direction will be Amerson.
With his size, athleticism, and aggressive play style, this is something he can take advantage of.
This article originally appeared on