Oakland Raiders: Reinstatement On The Horizon For Aldon Smith?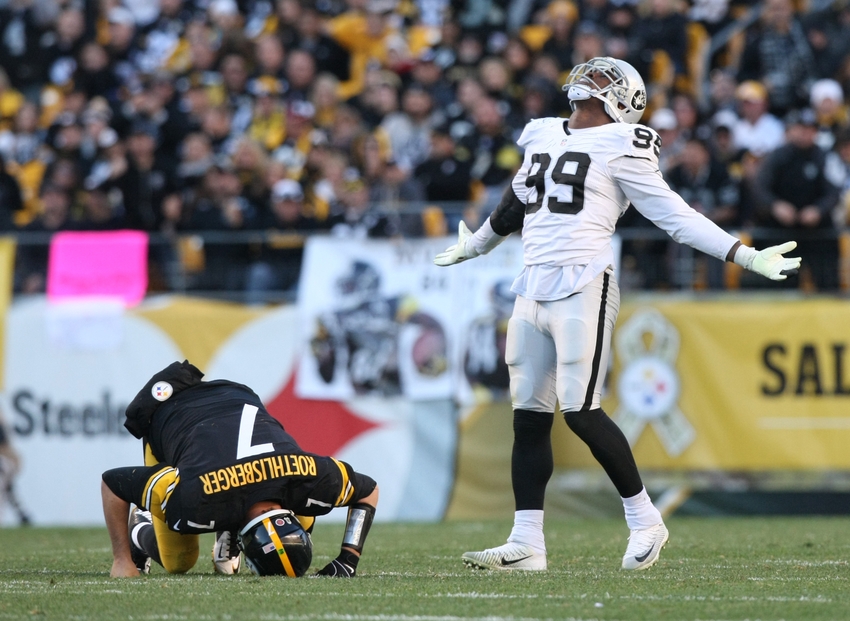 The Oakland Raiders have two of the NFL's best pass rushers, but they could soon have an embarrassment of riches up front if Aldon Smith is able to return.
Though the 8-2 Oakland Raiders are 29th in the league in yards per game allowed and 20th in scoring defense, Ken Norton Jr.'s unit has made profound improvements with each passing game. Veteran defensive backs like Reggie Nelson and Sean Smith have shown an increased comfort level with each other after joining the team as free agents and young stars Karl Joseph and David Amerson have been important pieces behind a front seven that contains Khalil Mack and Perry Riley.
One player who could give the Raiders defense an even bigger boost is long-time Bay Area NFLer Aldon Smith, who had 33.5 sacks in the first two seasons of his career.
Smith is one of the NFL's most talented pass rushers and he is in the athletic prime of his career at the age of 27. He hasn't played this season, but the Raiders organization has always made it clear that they will support a player struggling with alcohol abuse.
The former San Francisco 49ers star has applied for reinstatement after entering rehab this offseason for the second time, and ESPN's Adam Schefter reports that the NFL will respond to Smith's request this week.
Per Schefter, there is "guarded optimism" from the Raiders regarding Smith's ability to play this season and he cites sources stating that rehab had a "profound effect" on Smith.
I hope the latter part of that is true, because Smith really did need help. I'm glad the Raiders have stood by him and, from a football standpoint, it would be nice for them to get some strong play out of Smith this season. There's a reason why he's held in high regard as a football player. And he, Mack, and Irvin could form the league's best pass rushing trio (and by some distance).
We'll see what the NFL says, but it seems like the Raiders cautious optimism is well-placed.
More from NFL Spin Zone
This article originally appeared on