SI's MMQB: It's Halloween and the Raiders are scary and good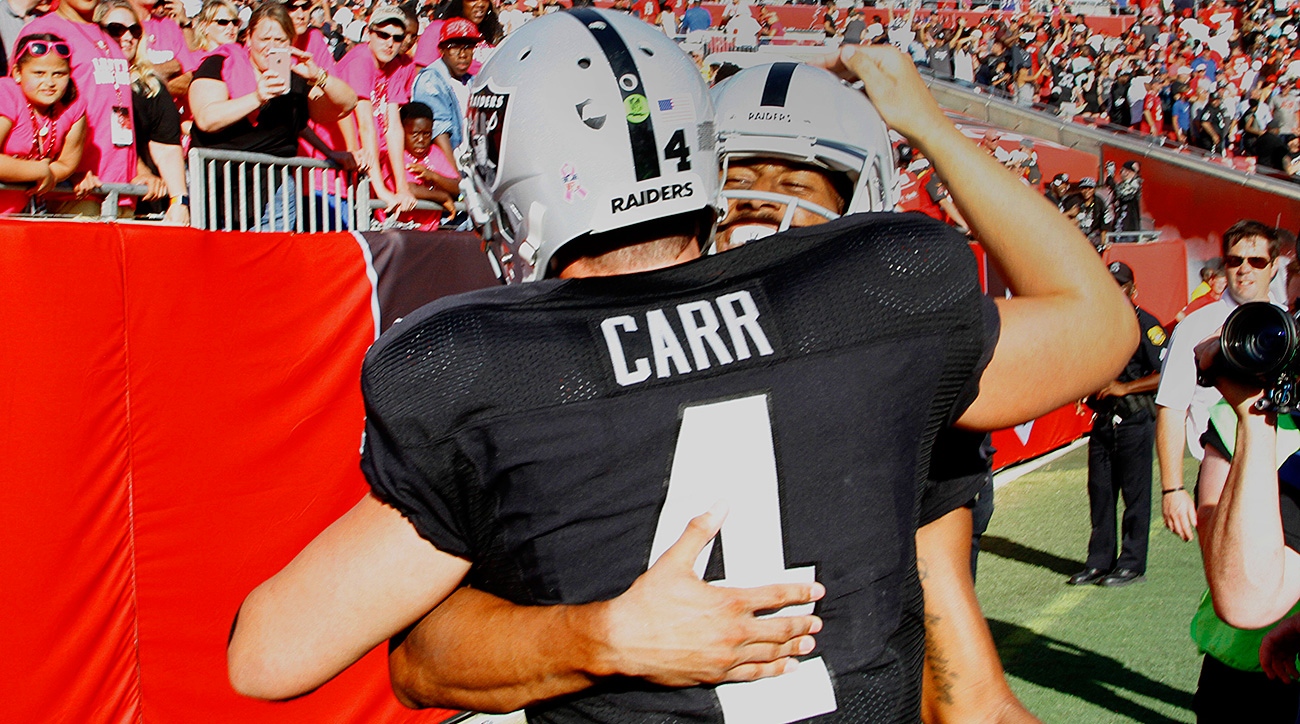 Two years ago, when Derek Carr and Khalil Mack were Raider rookies, and Oakland stumbled to an 0-10 start and lost by 52 to the Rams and got swept by a combined 57 by Denver, Carr would say the same thing so many Sundays to Mack after another debacle. "Look at me," Carr would say. "It's gonna get better. I promise. We gotta stick together. It's on us—me and you. Be loyal to your faith and our families and our team, and we'll be okay. We're gonna earn it. Okay?"
The Raiders won a totally bizarre football game Sunday at Tampa Bay. They set an NFL record with 23 accepted penalties for 200 yards. The best kicker ever from 50 yards away, Sebastian Janikowski, missed the game-winner from 50 as time expired, and missed from 52 on the first series of overtime. But on an 86-degree afternoon, the precocious Carr, playing the best game of his life, set the record for this 57-year-old franchise with 513 yards and threw the game-winning touchdown pass 13 minutes into overtime.
Oakland is 6-2 and 5-0 on the road. Next Sunday night: Denver (also 6-2) at Oakland for the AFC West lead. In November.
Totally spent, Carr still walked around his locker room after the game to check on his mates. "When I got to Khalil," Carr said from the bus on the way to the Tampa airport afterward, "we just hugged, and we just laughed. You think of those times a couple years ago, but there was nothing to say. Khalil and I know where we were, and we know where we are now. We just laughed."
On the verge of death Sunday morning, a 97-year-old league had a pretty good 14 hours on Sunday. Though the league continues to set all-sport records for ticky-tack fouls called in a season, the NFL had a big day:
• And a night, too. From Tony Romo vs. Sam Bradford in 2015 to Dak Prescott vs. Carson Wentz in '16, and I didn't hear any complaints Sunday night. Dallas, down 23-13 with 12 minutes left in the game, scored the game's last 16 points. You know what I loved about Prescott down the stretch? He did next to nothing for 3.5 quarters, and he didn't wilt. He finished a 90-yard drive late in the fourth quarter with a scoring pass to Dez Bryant, and capped the only drive of OT, a 75-yarder, with a touchdown pass to Jason Witten. Prescott's got a six-game winning streak heading into Dallas' game at 0-8 Cleveland next week. I kinda like the Cowboys.
And the Raiders. Remember when they were good? Like, eight coaches ago? They might be good again.
* * *
"When I get off the phone with you," Carr said, "I'm going right to sleep. I am just exhausted. Longest game of my life."
But he did want to savor the moment, here on a fairly quiet bus. Quiet, because playing five quarters in a place that feels like the dead of summer tends to wear out a team.
"You play for the franchise that had Ken Stabler, Daryle Lamonica, Jim Plunkett and Rich Gannon play quarterback," I said. "You just threw for more yards [513] than anyone in Raider history ever did. What's that like?"
"I am not even kidding you," he said. "Someone mentioned that to me after the game, and I almost started crying. THAT IS CRAZY. I'm a Cali guy. My mom's side of the family were Cowboy fans. My dad's side were Raider fans. Now I'm a Raider. This little kid from Fresno and Bakersfield … you mean, I did that? I did that?! It is crazy.
"I remember my rookie year how hard it was throw for 130 yards. It was hard. It was hard to get a first down. And now, where we are — we still have a lot of work to do. A lot. Those penalties … ridiculous. But we'll fix that. I know we will. But what we've done so far … God is good. God is good. I love the people on this team so much. I love how we've worked and played together."
Carr was rambling, in sort of a tired and giddy way. But what he did in this game was put himself into a few conversations. The MVP conversation, for one. Apace to throw for 4,600 yards with 34 touchdowns and six picks, Carr will be in the discussion if Oakland keeps winning. And in the discussion with the best quarterbacks playing today. He's still got to string together some big wins and big games. But some of his throws Sunday in Tampa, a few dropped into a bucket from 25 or 30 yards away, and one in particular placed as well as a quarterback can place a huge throw, convince me Carr, 25, is fit to be one of the next generation to take over for the Manning/Brady/Brees class.
With 1:40 to go in the fourth quarter, Oakland trailed 24-17. The Raiders had the ball at the Bucs 7-yard line. Oakland was going to flood the secondary with five receivers: two wideouts would do short outs, two receivers would do posts from opposite sides, and tight end Mychal Rivera would troll the middle with a short crossing route around the goal line.
"Goodness," said Carr. "they covered it so well. Then, something we didn't expect — they dropped an eighth man into coverage. So it was five receivers and eight guys covering."
The imbalance had one advantage for Carr. He could wait an extra second or so, because he had five offensive linemen blocking three Tampa rushers. That gave him a chance to see who was being doubled and where a small crease might be. And he saw Rivera flashing across the middle, covered well by Tampa linebacker Kwon Alexander. But perhaps not well enough.
A quarterback — a good one, anyway — knows he's going to have to fit some crucial throws into small areas. That's the difference, quite often, between good and great passers. And here, Carr threw a pass low and outside for Rivera. The tight end probably wouldn't catch it, but it was the best shot for Carr in such a mismatched 5-on-8 setting.
"When I look at my throws on plays like this," he said, "I never look and say, 'Look at that that throw.' I look at the catch, or the receiver trying to make the catch. I'm such a fan. So often I look and wonder how he caught that ball. I'm still a football fan, and the catches these guys make, it blows my mind sometimes. And this play, Mychal's catch was the great moment."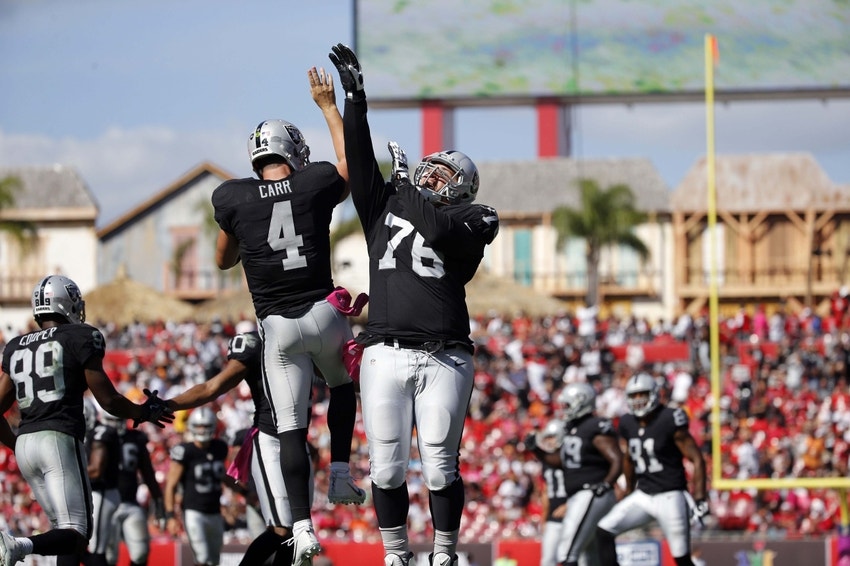 Well, the ball was placed perfectly, and Rivera went down and got it, close to the ground, with Alexander clinging to him. Great example of Rivera knowing exactly where he had to go to get the ball and getting it, and of Carr putting it where his man — only — could nab it.
I asked Carr how good his team was, and whether it was ready to play at the league's highest level. "I don't look at that," he said. "I know everyone else does, but we're so young, and we have a long way to go."
Good attitude to have, especially with the Super Bowl champs coming to town. Oakland hasn't beaten a team that currently has a winning record, and its two losses — to Atlanta and Kansas City — were against winners. So the Raiders have things to prove. But the next four games include three at home and a neutral-site game with Houston in Mexico City on Nov. 21. Now it's up to Carr and Mack to build a good team at home to go with the one that's had a road-field advantage this year.
Read the rest of Peter King's column here.
This article originally appeared on