Oakland Raiders Opponent Preview: Get To Know the Jacksonville Jaguars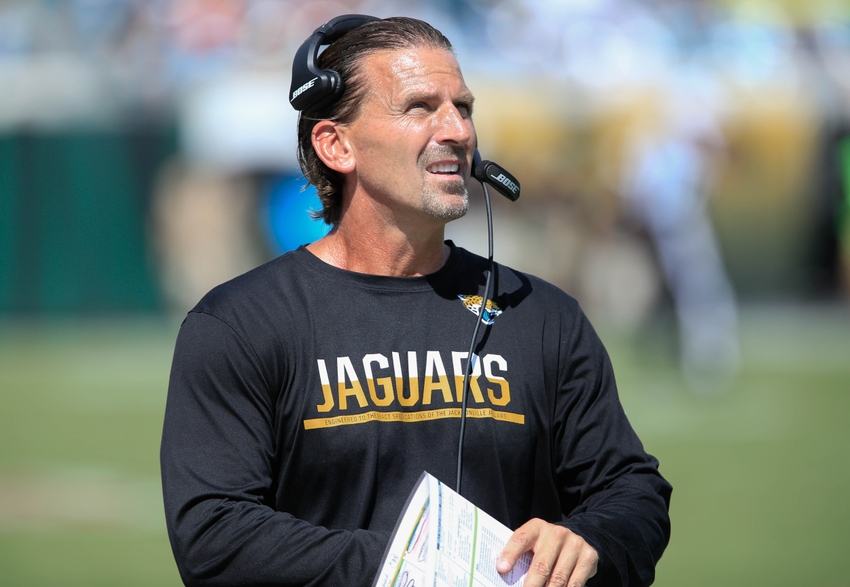 Here is everything you need to know about the Week 7 opponent of the Oakland Raiders, the Jacksonville Jaguars.
If you know the enemy and know yourself, you need not fear the result of a hundred battles. If you know yourself but not the enemy, for every victory gained you will also suffer a defeat. If you know neither the enemy nor yourself, you will succumb in every battle."
Thanks for the intro, Sun Tzu.
Let's get to know Oakland's Week 7 opponent, a team that has many similarities to the Raiders — the Jacksonville Jaguars.
Both of these teams have been on a similar path these last few seasons — a young up and coming team with young talent, both teams believing they have a franchise quarterback, a dynamic No. 1 wide receiver, and so on.
The Raiders and the Jaguars were pegged as the winners of the offseason, and both teams faced lofty expectations as a result. Oakland has gotten off to a 4-2 start, while Jacksonville has won two straight to get to 2-3 on the season.
Let's see what this Jaguars team is about — what are their strengths, their weaknesses, etc.
We'll start with the coaching staff:
Head Coach: Gus Bradley
Offensive Coordinator: Greg Olson
Defensive Coordinator: Todd Wash
Special Teams Coordinator: Mike Mallory
There isn't a nice way to say it — the Jaguars have one of the worst coaching staffs in the NFL.
Led by Gus Bradley, who has a 12-38 record as head coach of the Jaguars — a winning percentage of 24. How a coach can get 50 games under his belt, lose more than 75 percent of them and still be employed is beyond me, but hey, that's their prerogative.
Jacksonville's offensive coordinator is someone Raiders fans are quite familiar with. Under Greg Olson in 2013, the Raiders had the 23rd ranked offense in terms of total yardage. They were dead last in Olson second and final season with the team.
Olson has continued his trend of being worse in year two, with the Jaguars going from ranked 18th in 2015 to 31st so far in 2016. Just spend a few minutes with #JaguarsTwitter and you'll learn that their fanbase is as tired of Olson as we once were.
On defense, the Jags spent a ton of money (and high drafts) to get their defense improved. With new defensive coordinator Todd Wash and the influx of talent, Jacksonville has improved from 24th in 2015 to 4th through the first six weeks of 2016.
Here is a look at the Jaguars offense:
QB Blake Bortles
RB TJ Yeldon
RB Chris Ivory
WR Allen Robinson
WR Allen Hurns
WR Marqise Lee
TE Julius Thomas
LT Kelvin Beachum
LG Patrick Omameh
C Brandon Linder
RG AJ Cann
RT Jermey Parnell
It's a talented group, at least at the skill positions. Bortles is a player that many people are split on, but he has a functional arm, so he therefore should be considered dangerous against this Raiders secondary.
The wide receivers pose the biggest threat, particularly Allen Robinson. He's quite possibly a top 5 wideout, and can run up 150 yards on this secondary in his sleep. Allen Hurns isn't a player to take lightly, and although Lee hasn't lived up to his college production, he can fly.
The weakness on this side of the ball is with the offensive line. Beachum is dealing with an injury, so that is something to monitor. But as mentioned above, this group has allowed Bortles to be brought down 14 times.
Here is a look at the Jaguars 4-3 defense:
DE Dante Fowler Jr.
DT Malik Jackson
DT Roy Miller
DE Jared Odrick
OLB Tevin Smith
ILB Paul Posluszny
OLB Dan Skuta
CB Davon House
CB Jalen Ramsey
CB Prince Amukamara
FS Tashaun Gipson
SS Jonathan Cyprien
Jacksonville has invested a ton into improving their defense, and considering that they have the 4th ranked group in the league, it's paid off.
Fowler Jr. and Odrick bookend a talented defensive line, which is anchored by Malik Jackson — a player the Raiders heavily pursued during the offseason. Rookie DE Yannick Ngakoue actually leads this team in sacks, with 4.
Tevin Smith is one of the better young linebackers in the NFL, and Poslusnzy is a veteran tackling machine. Dan Skuta is decent. This group also features Myles Jack, who is off to a slow start.
The Jags strength on defense lies with their secondary, where they are the 8th best in terms of yards allowed per game.
With Davon House, Jalen Ramsey and Prince Amukamara as the top three cornerbacks and with Tashaun Gipson as the top safety, it makes sense. This is a solid group — especially Ramsey, who looks as good as advertised.
Gispon, Amukamara, Cyprien and Odrick — four starters — were on Jacksonville's injury report, so that is something to monitor.
More from Just Blog Baby
This article originally appeared on