Oakland Raiders Drop to #3 in ESPN's NFL Power Rankings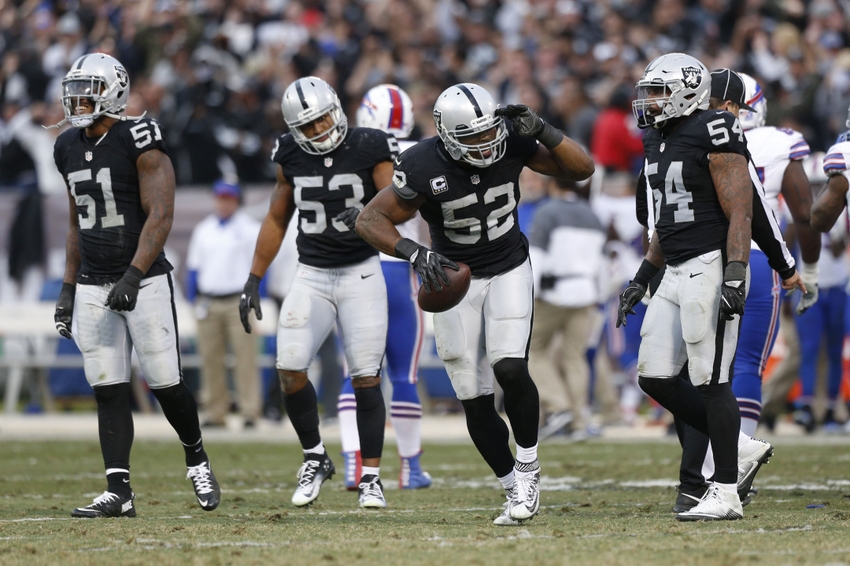 Week 14 edition of where the Oakland Raiders land on ESPN's NFL Power Rankings.
Thanks to their sixth 4th quarter comeback victory on the season, the Oakland Raiders are 10-2, are still atop the AFC West, and have regained the #1 seed in the AFC. Where will this rank in ESPN's NFL Power Rankings?
We've been tracking each week how ESPN is ranking the Raiders. They have floated just outside of the top ten for much of the season, and were ranked as high as 3rd after embarrassing Denver.
After beating the Panthers in Week 12, the Raiders jumped up to #2 — the highest they have been since the 2002 season. After another win in Week 13, ESPN felt the need to drop them one spot, down to #3.
The Patriots are back to up to #2. Here is what ESPN had to say about Oakland's ranking:
Derek Carr gets the Raiders the lead, and Khalil Mack keeps it that way. Mack has three strip-sacks in the fourth quarter in his past four games, and he recovered the fumble each time. No other player in the NFL has done that (sack, forced fumble, fumble recovery) in the fourth quarter in that time.
It's curious that the Raiders had a 14-point victory against a team who had a winning record — the Bills — while the Patriots had a 16-point victory against literally the worst long-tenured coach the NFL has ever seen — Jeff Fisher and the 4-7 Rams — but somehow, this warrants switching spots?
The Raiders also regained the #1 seed in the AFC thanks to earning a tiebreaker advantage — wins/record against a conference opponent. So yeah, it's a peculiar decision to drop Oakland to 3rd with all of that considered.
Anyway, perhaps we'll settle this Raiders-Patriots debate once and for all, sometime in the near future.
More from Just Blog Baby
This article originally appeared on