Oakland Raiders: Derek Carr lights up hapless Bucs secondary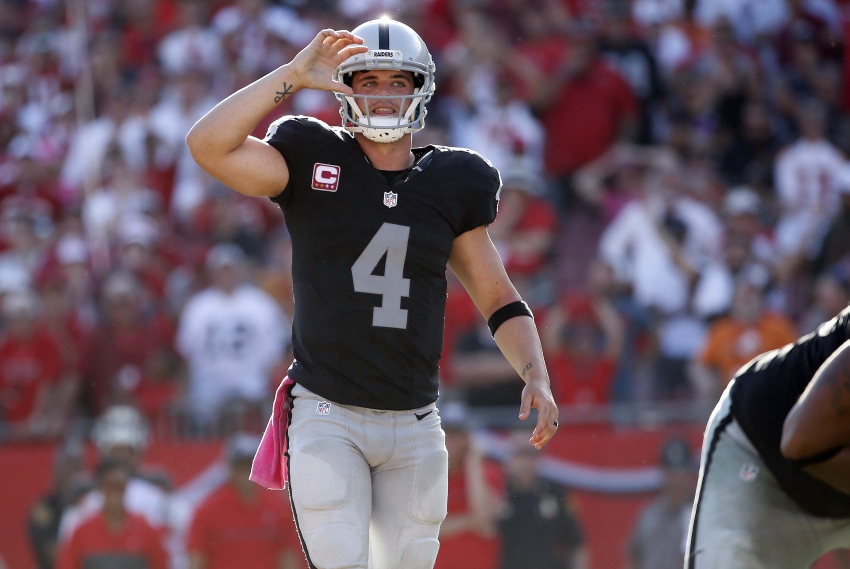 The Oakland Raiders remain in first place in the AFC West after Derek Carr lit up a hapless Tampa Bay Buccaneers secondary on Sunday afternoon…
The Oakland Raiders have done it again, and it's no surprise they did it behind another stellar performance from quarterback Derek Carr.
Carr and the Raiders remain in first place in the AFC West, which looks right now like the toughest division in football. More than just the numbers on the day, Carr was clutch for the Raiders. In the fourth quarter, facing a seven-point deficit, Carr was surgical in moving the ball down the field for the Raiders and made big play after big play.
He finished the game 40-of-59 passing for 513 yards and four touchdowns with no interceptions. Ten different Raiders players caught passes in the game, including offensive tackle Donald Penn, playing against his former team.
Offensively, at least in the passing game, things are really clicking for Carr and the Raiders. They rank fourth in the NFL in yards going into this week, sixth in scoring, fourth in passing, and eighth in rushing. The competition hasn't always been remarkably great, including this week in a close game against Tampa Bay, but the Raiders are getting it done.
This throw in overtime to Seth Roberts makes the Raiders look like a team of destiny…
#JustWinBaby! @DerekCarrQB finds @SethTRoberts to give the @RAIDERS a HUGE OT victory in Tampa! #OAKvsTB https://t.co/tikMlhK9ms

— NFL Canada (@NFLCanada) October 30, 2016
Here's a look at the clutch finish to a great drive in the fourth quarter that got this game to at least overtime in the first place:
What a drive by @DerekCarrQB and the @Raiders to TIE it up in Tampa.#OAKvsTB #RaiderNationhttps://t.co/vb5I8cn82D

— NFL Network (@nflnetwork) October 30, 2016
Carr is playing MVP caliber football right now, and next Sunday Night, he faces the biggest test of the season going up against the Denver Broncos and their vaunted secondary. Carr and the Raiders got the best of the Broncos in Denver last year in an ugly back and forth game, but he has struggled against the Broncos since he came into the league in 2014.
Whatever the outcome of next week's game, we're currently witnessing the emergence of a star quarterback in this league. He's really coming into his own.
This article originally appeared on