Oakland Raiders: Derek Carr Boosts MVP Profile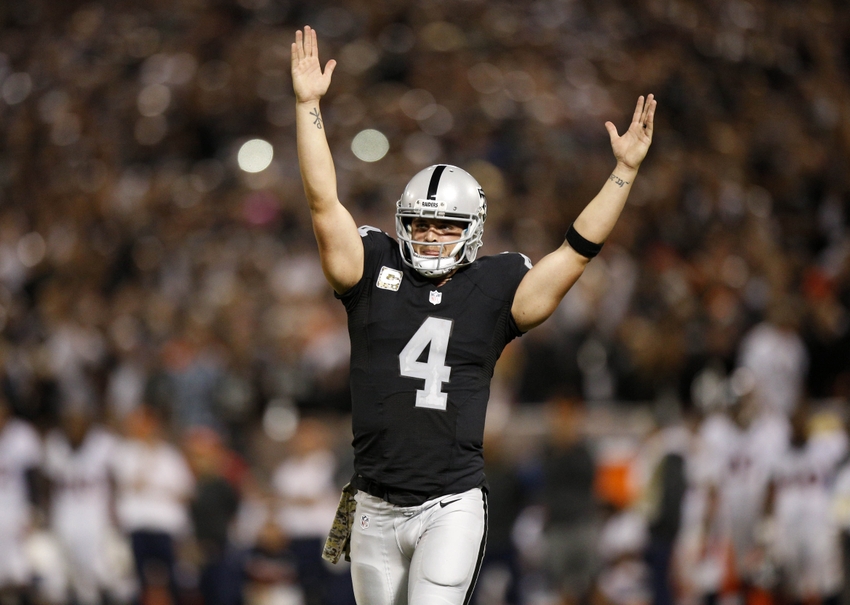 Despite the Oakland Raiders struggling through three quarters, quarterback Derek Carr turned into a magician and pulled two touchdowns out of a dead offense.
Maybe it's not as impressive as David Blaine spitting out live frogs, but Oakland Raiders quarterback Derek Carr pulled his own magic trick on Monday Night Football against the Houston Texans.
The Raiders offense went into the fourth quarter with fewer than 200 yards gained and 13 points on the board. By the final whistle, Oakland nearly doubled both totals. Carr "magically" brought a dead offense back to life for an impressive comeback win against a top-five defense in yards allowed.
Through 45 minutes, Oakland seemed ill-prepared to handle a big moment on Monday Night Football on a neutral field enveloped in Mexico City's hostile environment. The Texans converted on 8-of-16 third downs. Moreover, Houston's defense completely stifled the ground attack. Oakland's running backs notched 18 carries for 32 rushing yards.
As MVPs should, Carr came through in the clutch without a complementary rushing offense that's balanced the Raiders attack in previous outings.
If analysts and writers came into Week 11 hesitant to throw Carr's name in the MVP conversation, they should all reconsider after his most recent magician act as the Silver and Black savior.
How did the Raiders quarterback pull through?
Short-Term Memory
Don't blame Carr's ball placement for the incomplete passes in the first half. Wide receivers Michael Crabtree and Seth Roberts dropped critical passes for first downs. Crabtree, who's shown the stickiest hands in the league during the season, struggled with slippery fingers and finished with three catches for five yards. Typically, Roberts offers a 50-50 chance at reeling in a pass. He has a 52 percent catch percentage through 10 games.
Before wideout Amari Cooper's 35-yard touchdown catch, aided by Roberts' block, the team's leading receiver only caught three passes for 22 yards.
Despite the drops and low production, Carr held faith in his receivers and fired away. Eventually, he found fullback Jamize Olawale, who offensive coordinator Bill Musgrave cleverly disguised as a wideout, and then Cooper for the winning score.
The @RAIDERS tie it!@derekcarrqb to @jrolawale for the 75-YARD TD! #HOUvsOAK #MiPartidoMiNFL https://t.co/NfFuoMMKaw

— NFL (@NFL) November 22, 2016
Considering the fullback position is "dead" in today's NFL, Carr certainly brought it back to life with this trick.
Ball Distribution
As mentioned, Musgrave designed a game plan to exploit the Texans linebackers in coverage. To do so, he frequently placed his running backs on the line of scrimmage or devised running back pass routes in potential shallow areas within Houston's defense.
In the first quarter, the plan showed promise. Running back Jalen Richard brushed off a linebacker on initial contact and squeezed through two defenders for a 17-yard touchdown reception. Then, the offense went to sleep.
Three quarters later, Olawale burned the Texans on a 75-yard touchdown catch. On the following drive, running back Latavius Murray's 35-yard catch-and-run play set the Raiders up on Houston's side of the field. Carr tossed a screen pass to Cooper for the dagger.
The Raiders signal-caller completed a pass to seven different receivers on Monday. In addition to the wideouts, four running backs caught passes and amassed 11 catches for 199 yards.
Do you remember when Carr earned the name Checkdown Carr because he only looked for the first two reads during his rookie year? Now, he's Clutch Carr who hits the open man whether he's the first or fifth read. It's a testament to his progress over three years.
Carr. Cooper.

35-yard @Raiders TOUCHDOWN! #HOUvsOAK #MiPartidoMiNFL https://t.co/H9CcC2kGCD

— NFL (@NFL) November 22, 2016
Killer Instinct
Every week, we see New England Patriots quarterback Tom Brady's passion, which further illustrates his killer instinct with the game in his hands. Let's not place Carr on Brady's level yet, but the same fire exists.
The Raiders quarterback idolized future Hall of Famer Kobe Bryant. What does that tell you about how he approaches competition? He wants to snatch your heart directly from your throat in the fourth quarter and that's what he did against the Texans.
Not only did Carr's arm complete a fourth-quarter comeback, but he tossed an accurate pass to Richard for 29 yards downfield to drain the clock. Of course, Carr saw the matchup between his sure-handed running back and Texans linebacker Benardrick McKinney as an opportunity to ice the game. With a few runs for Murray up the middle, the Raiders successfully ate the final three minutes for a 27-20 victory.
Sometimes, at the end of games, the best defense becomes an offense that can eat the clock via a quarterback's judicial throws or a situational run game that burns time. Nonetheless, before the Raiders took the victory formation, Carr's exceptional play in crisis mode built the bridge to 8-2.
This article originally appeared on